Mix up a cocktail of seduction, espionage, and intrigue, (Shaken, not stirred of course), to add some excitement to your next trip!
As a duo with a shared sense of adventure, my boyfriend Winston and I were looking for inspiration for a romantic getaway to Europe. While there's nothing wrong with finding a desolate beach somewhere to park ourselves sipping drinks for days, some couples like us crave a cocktail of thrills and adventure instead.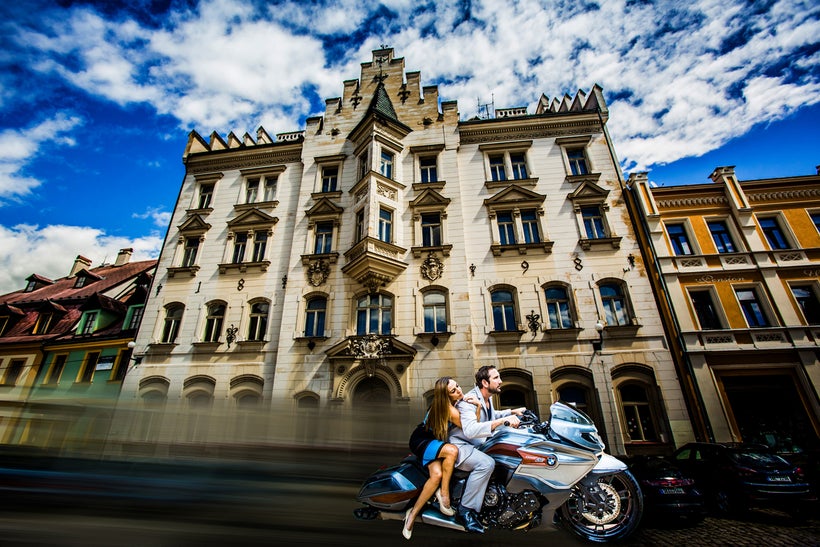 We didn't really know where or how, but as a travel photographer, writer, and jet-set junkie myself, I find my inspiration for my adventures in many different ways. I am always looking for a great story to tell, so it was no surprise that the idea for our next adventure would come to me one night while we were cuddled up in bed watching the James Bond movie, Casino Royale.
Let's just say that watching Daniel Craig on the screen is sort of a win-win situation for us both. James Bond, AKA 007 and possibly the world's best known spy is just a ridiculously sexy character. He gets all the women, the spy gadgets, races the best cars and boats, has friends in high places, and can kick ass like a hero. All the men want to be him and all women want to be one of his many Bond girls.
But what really got to me while watching Casino Royale, was the epic scenery in this film. All of the castles and quaint villages, opulent casinos, luxurious hotels, and Italian coastline gave Winston and I some serious wanderlust wanting to jump into the scenery ourselves. I immediately googled where the scenes of the movie were shot and was surprised to discover that most of them were filmed in the Czech Republic as well as the UK and Italy, even though the movie was supposed to be placed in Montenegro. As an American, the Czech Republic is a country that really hasn't ever been been on my radar to go to, but after seeing its beauty on the movie screen, I knew that an epic idea for our next adventure trip had been born.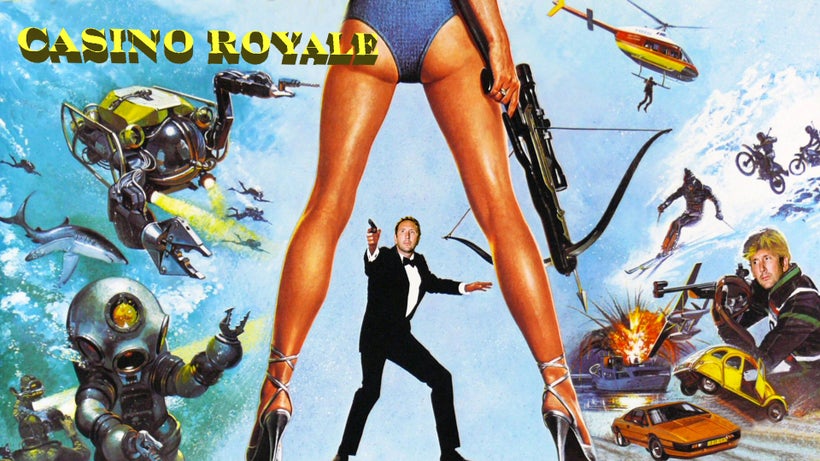 "Babe, what if we did a James Bond-themed adventure road trip across the Czech Republic to visit the scenes from Casino Royale? Let's rent a bad-ass sports car and you could be James Bond!"
Winston's immediate response was,
"Well who would be my other Bond Girls?".
Seriously, such a guy thing to say, but then a light bulb went off!
"Wait, Babe, I can be all of your Bond girls! I am going to need some wigs and some amazing outfits, but let's do some James Bond movie poster-style photo shoots at each location!"
I mean, gorgeous locations, fancy cars, luxurious clothing, and a chance to play dress up with your love? What's a better way to add some daring, intrigue, mystery and James Bond sexiness to your romantic getaway or Honeymoon! For a couple of adrenaline junkies like ourselves, we knew we had to make this mission happen. In order for Operation Shaken Not Stirred to go off without a hitch, we would quickly have to go through a Bond Bootcamp to become more "Bondian". Here are some ways that we found to master the art of becoming Bond… James Bond.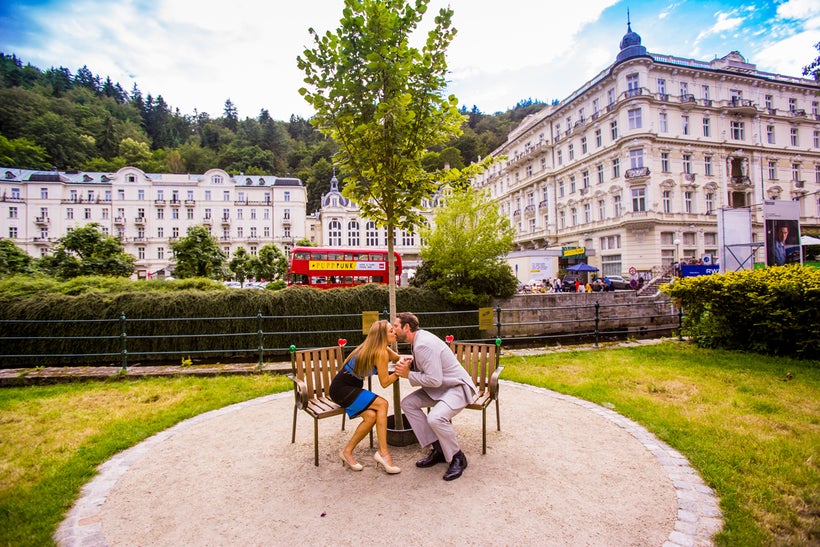 Vacation in beautiful places
Whether you are jet setting to The Czech Republic, Monte Carlo, or somewhere local, we knew we would have to figure out the backdrop for our vacation activities, just as Bond would do. So first came some prep and research. We needed to know where to go and how to get there. This is where contacting the Board of Tourism of the Czech Republic turned out to be an invaluable asset. I emailed them our trip idea and not only did they LOVE the concept, but they helped us research the locations, set up English speaking guides and transportation for us to get there, and even helped get us special access to take photos in some of their country's most elite locations. The trip hadn't even started and already we were being treated like celebrities!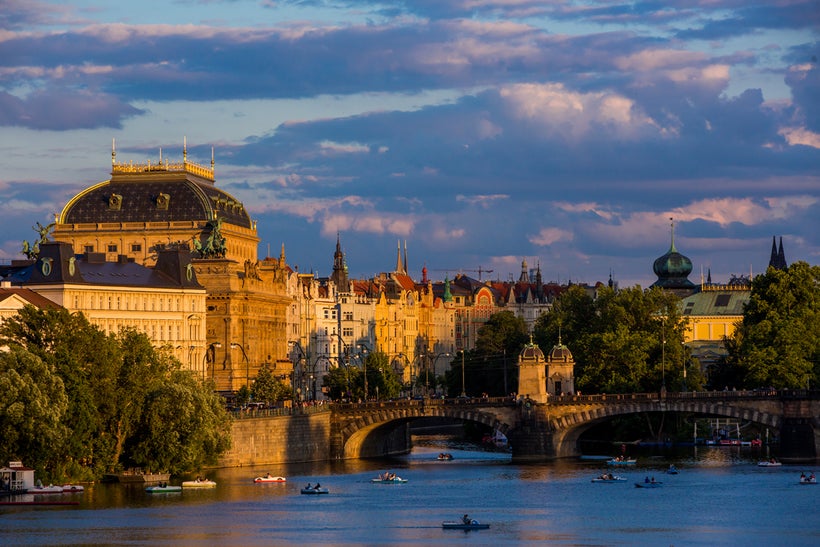 Dress impeccably
Bond is rarely disheveled and he takes pride in his appearance. Whether it's formal or casual, his clothing is well pressed and tailored to fit. Now that we had help with finding the locations, we would have to look the part. James Bond and his Bond girls are always impeccably dressed. I went and bought some wigs so I could play the role of different Bond girls, but I needed the clothes pull the looks all together. So I contacted celebrity and honeymoon stylist, Caley Rinker, and told her of our idea. Not only did she LOVE the idea, but she agreed to take on our project.
What Caley does as a service is pretty unique and amazing. Not only will she let you dig through her racks of couture gowns and clothing at her studio to borrow, but she will actually shop for you and pull clothing, accessories, and shoes and send them ahead to your hotel or honeymoon destination. You can decide to keep or send the clothing back after your trip. For you honeymooners out there, it's an amazing service that most newlyweds don't even think about because they are so focused on the wedding day attire alone. She helped plan out about 10 matching outfits and took care of everything, so we wouldn't have to travel to Europe with huge trunks of luggage like they did in the olden days. I guess being James Bond DOES have it's perks!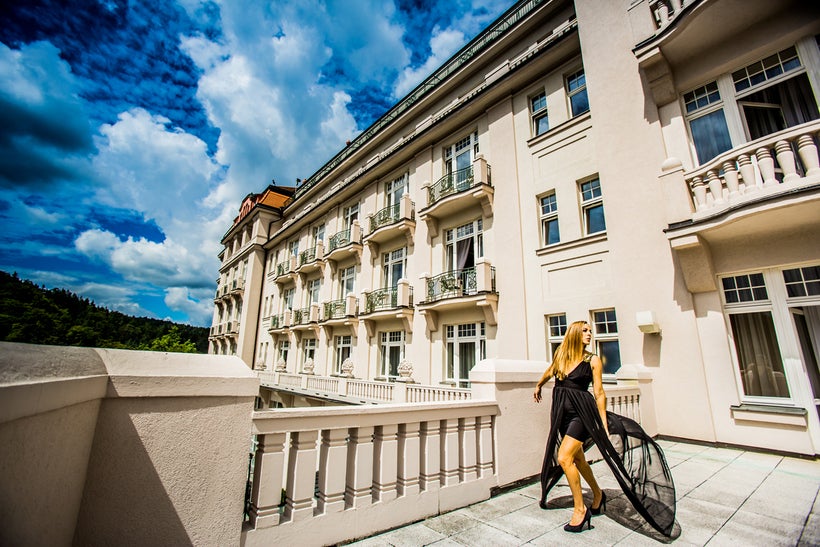 Be Sophisticated
Now that Winston and I were set on our locations and looking the part, we now had to ACT the part. We wanted to "Do as Bond would Do" and be able to communicate in foreign languages. By using my Google Translate app, Winston and I learned a few phrases in Czech, French, and Italian so we could get by while on our trip. If nothing else, being able to say the basics like "Hello", "Thank You", and "How are you?" really helped us a lot on our trip and made people want to help us out in our crazy James Bond mission.
Just like Bond, Winston and I also love to taste a little bit of the good life. We decided we would treat ourselves to decadent meals and fancy cocktails on our trip. Winston even played the part by ordering 007's signature "shaken-not-stirred" vodka martini wherever we went and I ordered champagne. Adding a little role play to our adventure was so much fun and added another element to our themed trip.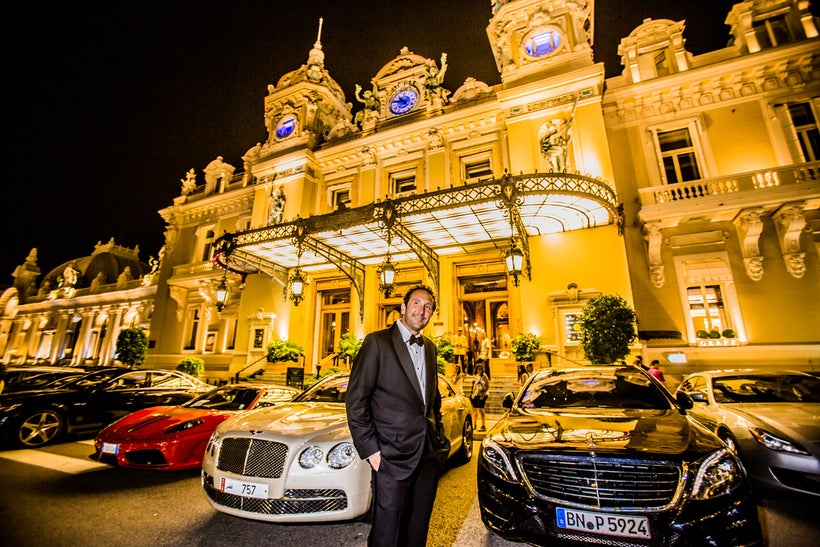 Be Daring
Winston and I aren't spies, but whenever we have an opportunity in life to try new adventures and flirt with danger, we jump at the chance! We didn't skydive or bungee jump on this trip, but we did rent a luxury sports car for our shoot and drove through the countryside to nearby castles and along the Italian Riviera. We got on motorcycles and boats, found secret passageways, explored ancient palaces, learned about the history, hiked up into medieval villages, and pretty much tried every adventure that we could and looking sharp while we did it!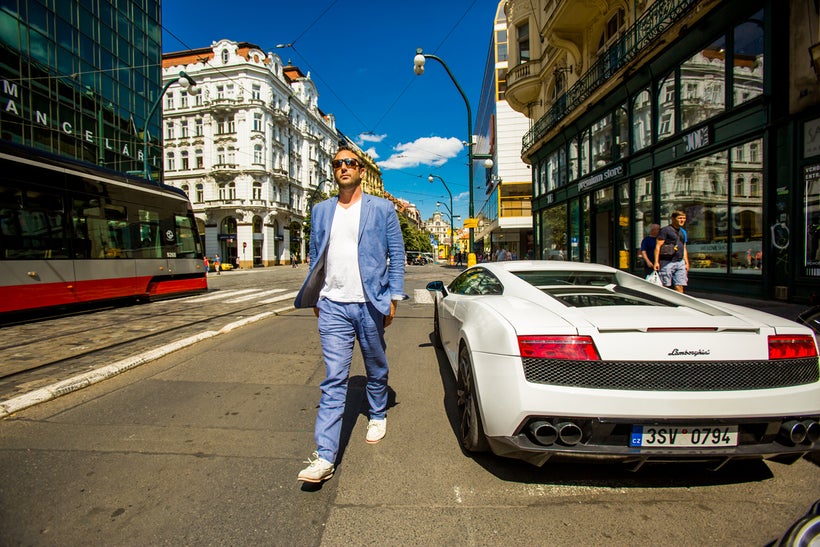 Our Mission in The Czech Republic
Finally after all of the suspense and planning of our James Bond European Adventure, the day had come and Winston and I found ourselves landing in Prague Airport and jumping in our Bond car to drive to our first set of locations in the beautiful mountain spa town of Karlovy Vary. We didn't realize that the "Miami Airport Scene" in the movie was actually shot right here at Prague airport, so our Bond-themed movie tour had already begun without us realizing it!
KARLOVY VARY
The hour and a half drive out of the city through lush green rolling foothills and spa forests was stunning and once you climb up into the mountains, the windy road brings you back down into one of the most quaint, picturesque cities you will ever visit. The world famous spa town of Karlovy Vary, also known as "Carlsbad" was founded in 1350 and is a perfectly preserved hidden treasure. The town sits on 15 mineral hot springs that have been proven by centuries to have healing effects when you drink them. You will find tourists and locals alike carrying hand crafted porcelain cups so they can dip them in the springs and drink them as they stroll through the cobblestone streets.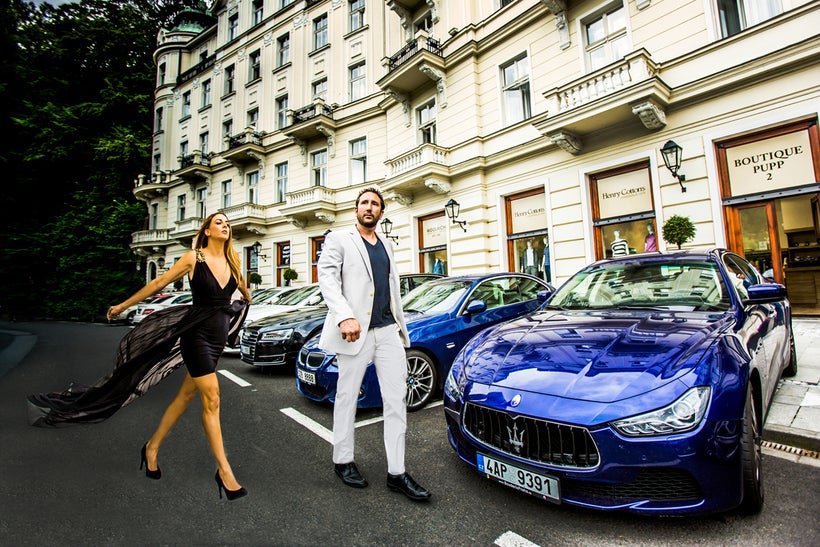 Karlovy Vary is also famous for hosting the most prestigious film festival in Central Europe every July. This small town of 50,000 gets taken over by film fans and there is live music, food tents, film screenings, and world premiere events all day, every day for about a week. Their most famous hotel, The Grand Hotel Pupp, becomes the film academy headquarters, during this time. This Baroque-style luxury hotel is nestled into the mountainside and is the epitome of what you would think a huge Chalet in the Alps would look like. Because of it's aesthetics, it is no surprise that the Grand Hotel Pupp has been the backdrop of many movies over the years like Queen Latifah's The Last Holiday, The Philanthropist, and Shanghai Knights, but the most famous movie filmed there was of course, James Bond's Casino Royale.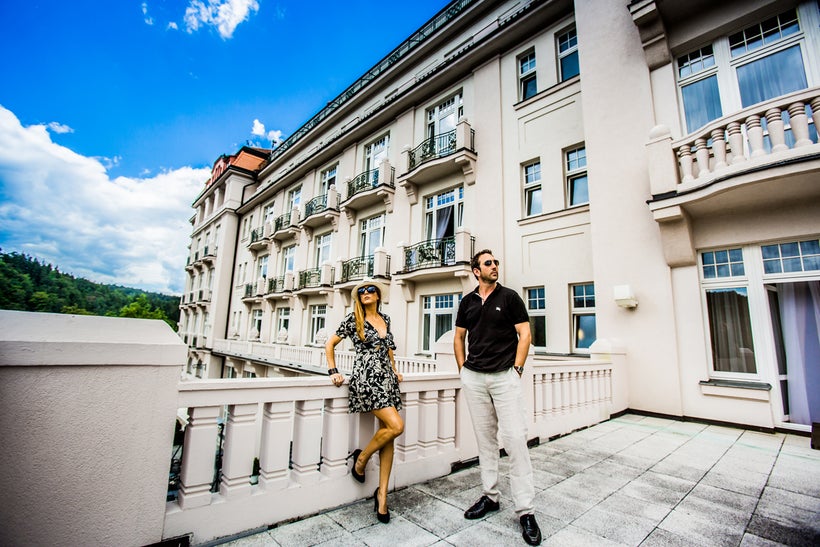 LOKET
Karlovy Vary is in an area of The Czech Republic known as the West Bohemian Spa Triangle. (Yes, Bohemia is a real place.) In this region is a beautiful village called Loket, which in Czech means "elbow". This name was given to Loket, because the river that runs through Karlovy Vary flows into Loket and then makes a 90 degree turn right at the castle, like an elbow. You can ride your bike, kayak, or walk along the beautiful gardens and river to get to Loket from Karlovy Vary, but in our case, we took our Bond car and our next change of wardrobe out with us!
Subscribe to The Morning Email.
Wake up to the day's most important news.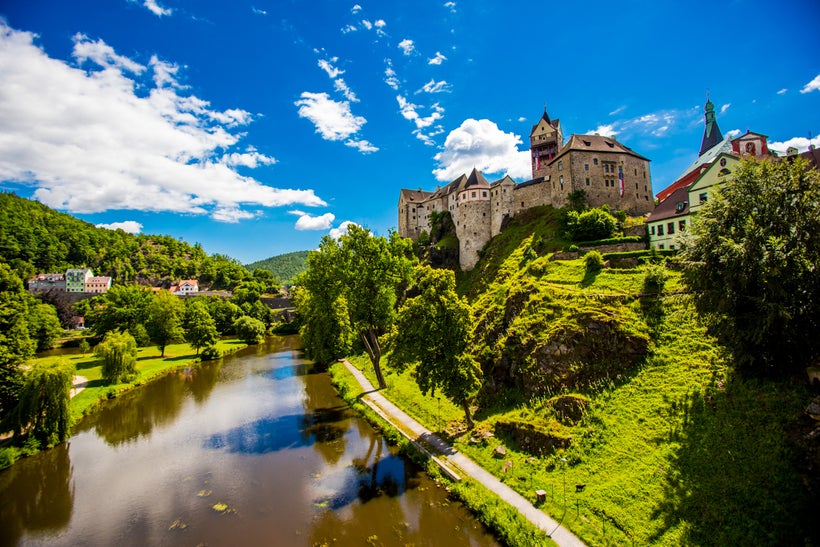 The castle scenes and some village scenes of Casino Royale were filmed here and Winston and I toured the medieval castle, had lunch at a centuries old pub, and then chose the location for our next look on the bridge crossing the river moat into Loket. I put on a short black cropped wig and transformed into the another one of Winston's bond girls.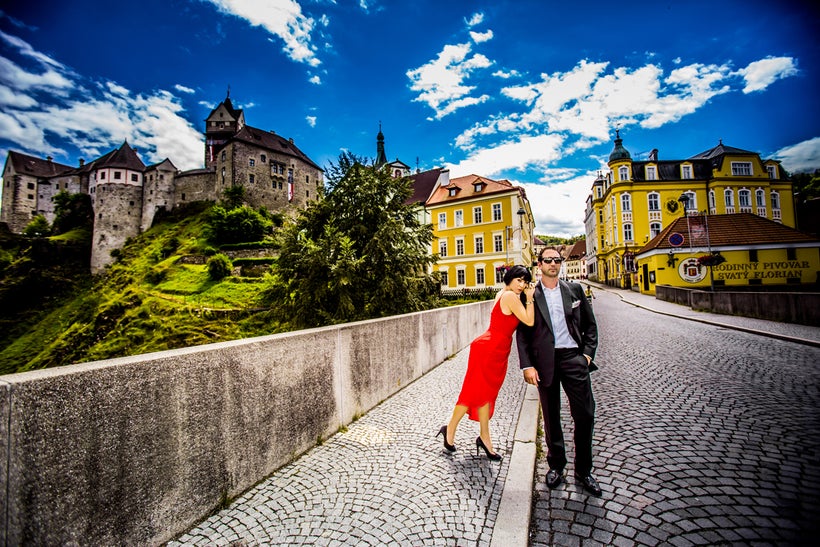 It is impossible to come to the West Bohemian spa triangle without getting spa treatments ourselves. We were staying in the decadent Hotel Imperial which has I think the best view of all of Karlovy Vary as it sits on the top of a mountain overlooking the valley and town below. In fact, you have to take a funicular that burrows through the rock to get down to the town below. The exit of the funicular pops you out right in the heart of Karlovy, just steps from the Grand Hotel Pupp and all of the action of the film festival. This stately hotel has one of the best spas in town and the suites all with 15 foot ceilings were so grand and luxurious. So of course Bond AKA Winston would be enjoying a post spa-treatment cocktail with one of his Bond girls here:)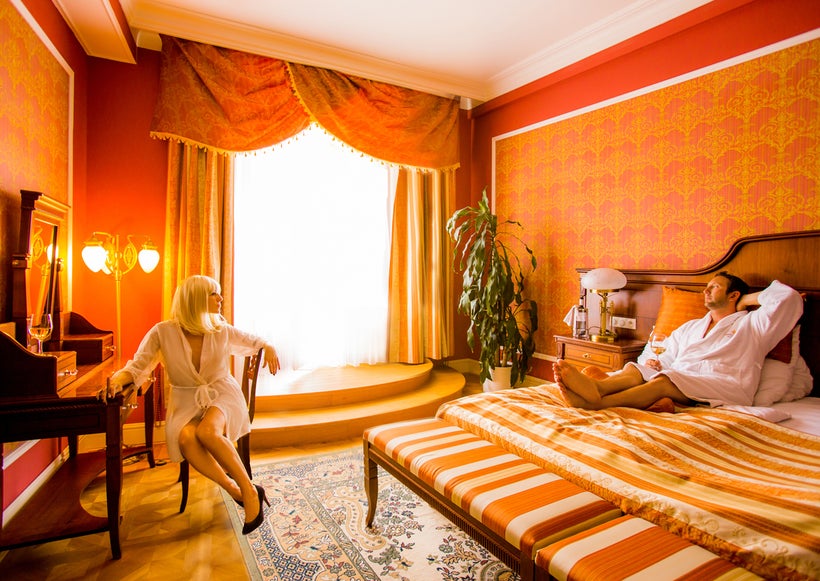 Before Winston and I left Karlovy Vary, we explored the other spa towns that make up the West Bohemian spa triangle, Mariánské Lázně and Františkovy Lázně and also the nearby Becov Castle. There is so much history in this place dating back thousands of years and it was fascinating to be combining my love for history, adventure, beauty, photography, and of course romance into one trip!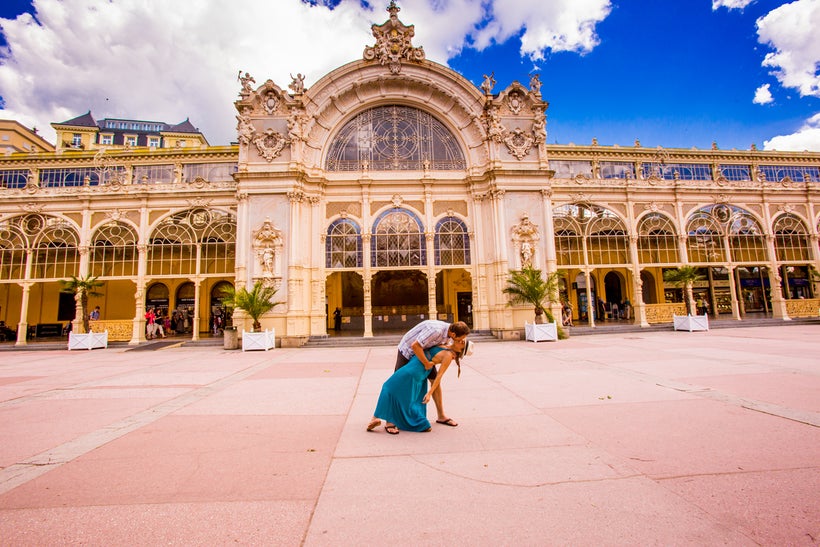 The entire town of Mariánské Lázně is centered around beautiful gardens and walkways and is even more quiet and peaceful than Karlovy Vary. The lush forests you drive through just to get here adds to the magic and mystery of this town and you feel like you have walked into a time warp. Unlike Karlovy Vary, the mineral springs here are cool, but still have healing properties. As you walk around the famous colonnade and pass the singing fountain here, you can sip the mineral-rich waters and enjoy one of the many outdoor bistros! I think this whole region of the Czech Republic near the German border, is a hidden gem and a must-see!
PRAGUE
After a few days of getting pampered and rejuvenated in the Karlovy Vary region, it was time for Winston and I to drive to the big city, Prague, to continue on our James Bond-themed adventure. A large percentage of foreign films are shot right here in Prague's Film studios. Even in Casino Royale, most of the scenes that were supposed to be shot in Miami or elsewhere, were shot right here in Prague.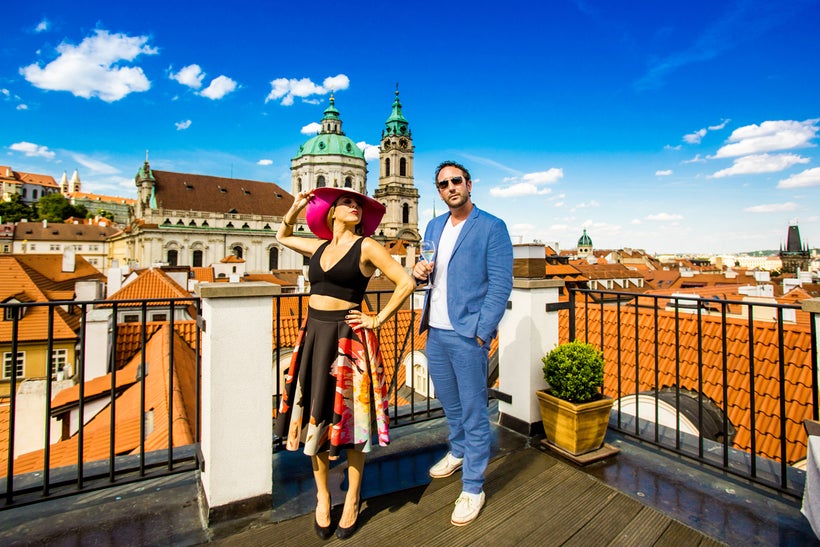 Prague may be one of the most beautiful cities I have ever visited in Europe and a lot of that was due to luck. Fortunately for Prague, it was one of the few cities in Europe spared from the bombings in World War II and because of that fact you can see centuries of different architectural styles as you scan the skyline. The most dominant feature of the city is Prague Castle, built in the 9th century, high on a hill towering over the city. It is the largest ancient castle in the world and at its center is a 14th century Gothic church that is straight out of a fairytale. Everything has a rich history and you never know where the narrow, cobblestone streets will take you.
There are a series of 800 year old bridges that cross the Vltava River and connect the different sides of the city to one another and there is even a section where it reminds you of Venice Italy, with narrow canals and quaint waterfront bistros.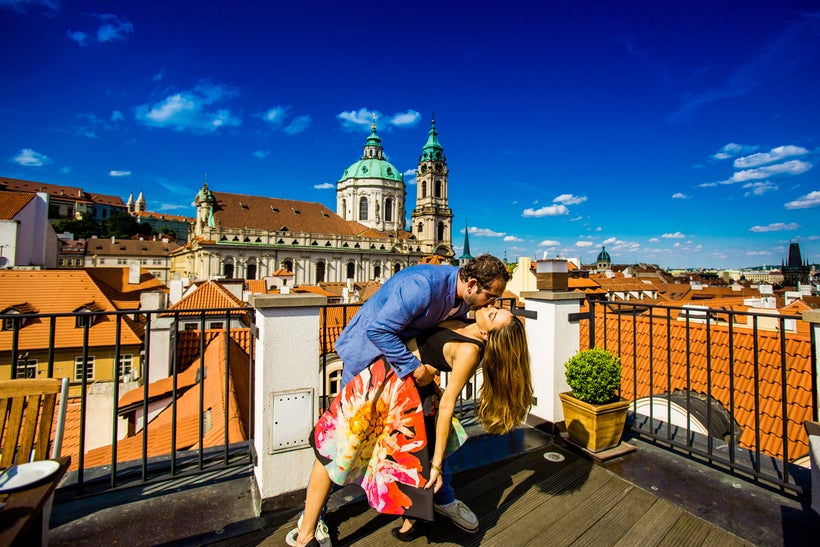 The rooftop of the Aria Hotel is by far one of the best views in all of Prague. With almost 360 views of the city below, we decided to sip on champagne at Coda restaurant and do one of our James Bond fashion shoots here. Many scenes from James Bond were filmed across the city of Prague, so we had a guide walk us around to each of the locations. What was supposed to be the Venice Hotel in the movie, was actually the Prague National Museum and the Body Worlds exhibit scene in Miami was actually the Ministry of Transport Building here. The monument on Vitkov Hill and the tank are both statues from these locations, so it was fun to get a walking history tour of the city and still be visiting scenes from our favorite movie as well.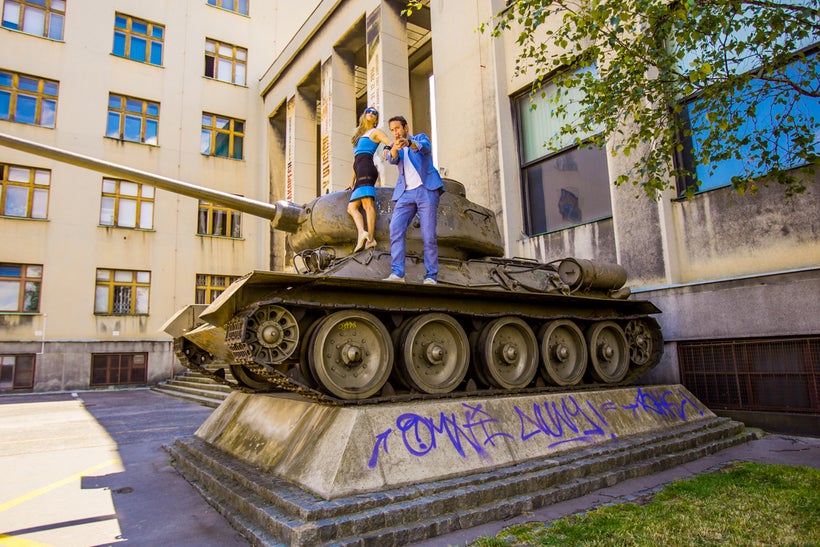 Prague's version of the Cistine Chapel can be found at the famous Strahov Monastery. In the movie Casino Royale, it served as an interior committee room for London's Parliament, but in real life it is one of the most valuable and best preserved historical libraries in the world housing priceless books dating as far back as the 9th century. In 1794, Anton Maulbertsh painted the library ceiling with a theme "Journey of mankind to wisdom" giving it the feeling of walking into a sacred hall. It is hard to explain in words the beauty and experience of stepping foot in this library. NO ONE gets permission to actually walk inside this room, ever, except for Daniel Craig… and apparently Winston and I. Again, being Bond definitely has its perks!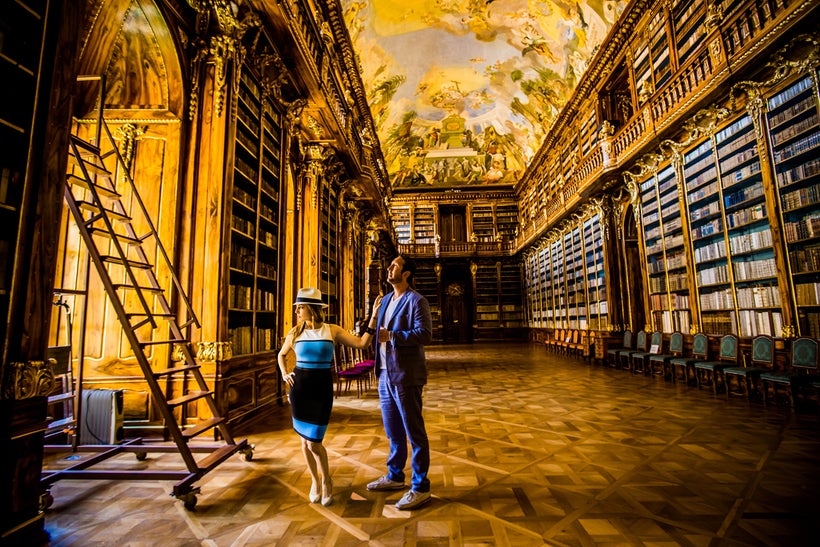 Here in Prague you can't judge a building by its door, because behind it could be the most beautiful courtyard and landscaped garden you have ever seen. It is deceiving, but what gives Prague its mystery and charm and it was one of the reasons we loved our Hotel Aria. This contemporary boutique hotel in a former theater houses a secret. If you take an elevator to the bottom floor, guests can step outside into an 18th century Baroque garden called Vrtbovská Zahrada. The experience of stepping into the garden was sort of like falling through the rabbit hole in Alice in Wonderland, because it is just so surreal and beautiful on the other side. Aria Hotel is the only hotel that has access to these gardens and it is hard to believe that such a vast, landscaped, quiet and serene place can exist right in the heart of the city!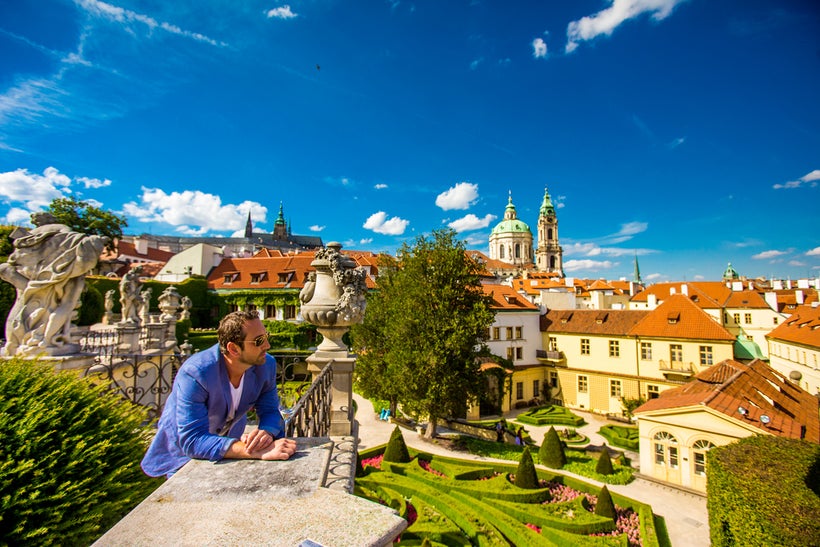 Just a short 12 minute walk from Hotel Aria is their sister boutique hotel, The Golden Well, which also boasts a hidden elevator secret of their own. They, too, have a spectacular view of the city from their rooftop, but this hotel has an even bigger secret. It used to belong to the Roman Emperor and Bohemian King Rudolph II and was a royal residence in the 16th century. The secret passageway from the house to inside the castle walls above can now be accessed by the guest elevator inside of the Golden Well. Yep, one second you are in the lobby and then the elevator doors open up and you are inside of the castle walls. The magic of this city is never ending!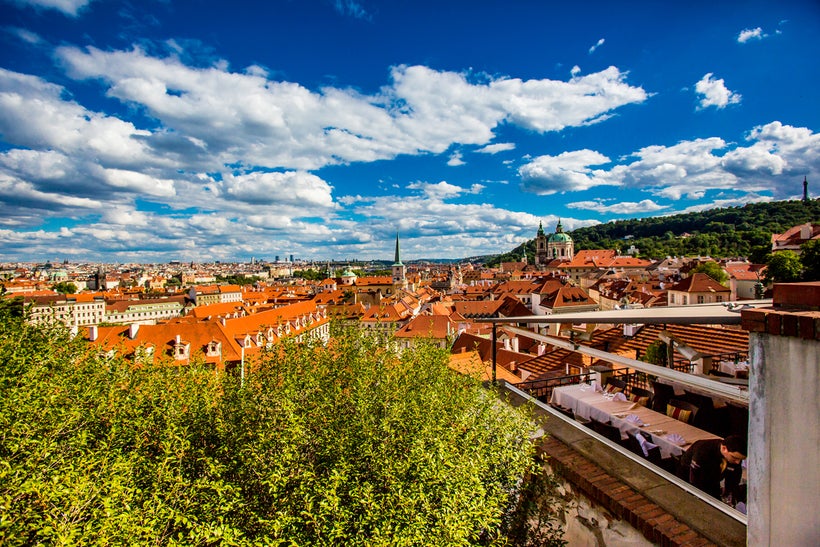 Just as nothing is as it seems here in Prague, Winston and I discovered that the main Casino scene filmed in the movie Casino Royale was actually the famous Monte Carlo Casino in Monaco! So it looked like Winston and I were jumping on a jet plane to the South of France to continue our adventure!
MONACO
Monaco is such a strange place. It is its own country, like the Vatican, yet could entirely fit inside of Central Park in NYC. For being the second smallest country in the world, it manages much of the world's wealth and everywhere you look there are mega yachts worth over 100 million dollars and Lamborghinis and Ferraris zooming past you. You can never be too dressed up here, so it was the perfect place to slip on a tux and gown to go out for the night at the world famous Café de Paris and the Monte Carlo Casino. I was wearing a gold sequined gown, so I wanted the casino lights to sparkle off of it and the deep blue of the twilight sky to contrast with it, so we waited until the perfect window of time to shoot just before dinner. I feel like the whole trip was in preparation for this shot, because let's be honest, James Bond always seem to be his best in a tux.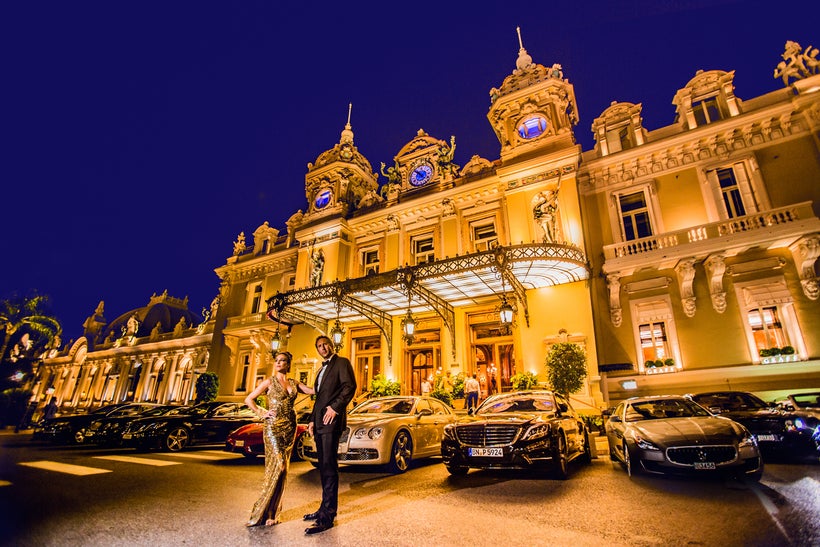 Although we looked fabulous, security wouldn't let us use a tripod here, so we had to enlist some tourists to help us take this shot. We chose the front of the casino since all of the luxury cars get lined up by the valet here. Monaco definitely is a rich man's playground and we felt like celebrities for the night. Everyone was wondering who we were and afterwards we celebrated with some martinis and gambling of course.
PORTOFINO
How do you end a fabulous James Bond-themed adventure? In the spirit of spontaneity, Winston and I had to ask ourselves, "What would Bond Do? The movie Casino Royale ended in Italy, so we thought we should do the same. Within an hour we had rented a car and were cruising along the Cote D'Azur from Monaco to the Italian Riviera. Not knowing our final destination, we ended up in Portofino, a tiny fishing village on the Italian Riviera coastline near Cinque Terre.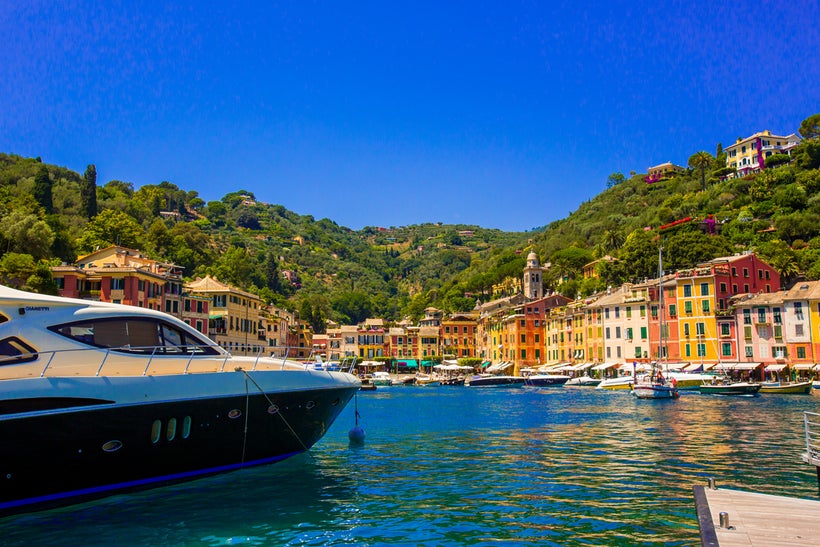 The windy, coastal road to get there went through quaint village after quaint village with pastel-colored houses, high-end boutiques and seafood restaurants overlooking the harbor lined with everything from fishing boats to super-yachts. We wanted to get the best view of the harbor which involved hiking up a shaded path leading from the Piazzetta to Castello Brown, a 16th-century fortress high on the rocky cliffs. Up here was where we found panoramic views of the town and the Ligurian Sea. This would be the final backdrop for our James Bond, Casino Royale-themed adventure across Europe, and quite possibly one of my favorites.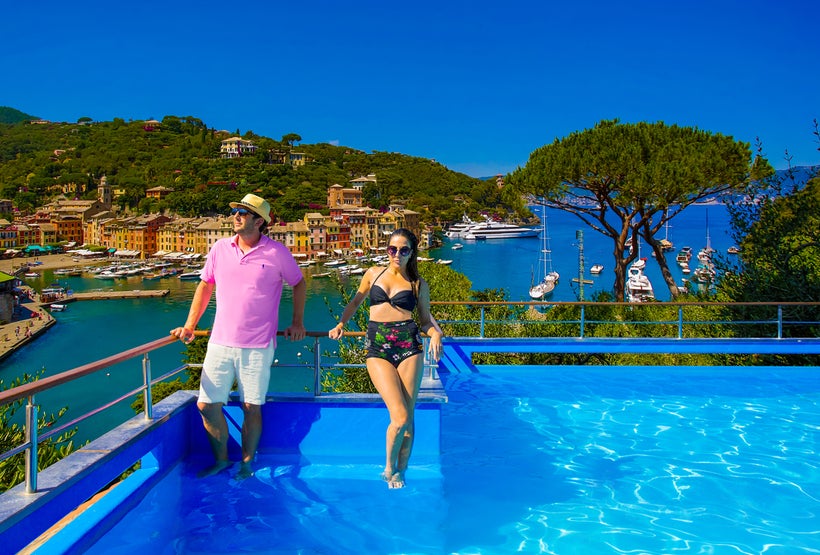 I don't know what it is about Italy, but the atmosphere is so laid back and romantic. We spent our days lounging in our rooftop pool, indulging on fine wine and fresh seafood, and then strolling hand in hand through the villages along the water reminiscing about our journey. There were floating docks you could swim out to and get an even more beautiful view from the water of the many castle ruins and magnificent Italian villas. We truly lived the James Bond experience on this trip from the outfits, to the locations, to the lifestyle and of course the romance. What a spontaneous adventure it was and as we lazily watched the boats sail by, we started brainstorming what our next sexy adventure would be.
Click to view the full feature.