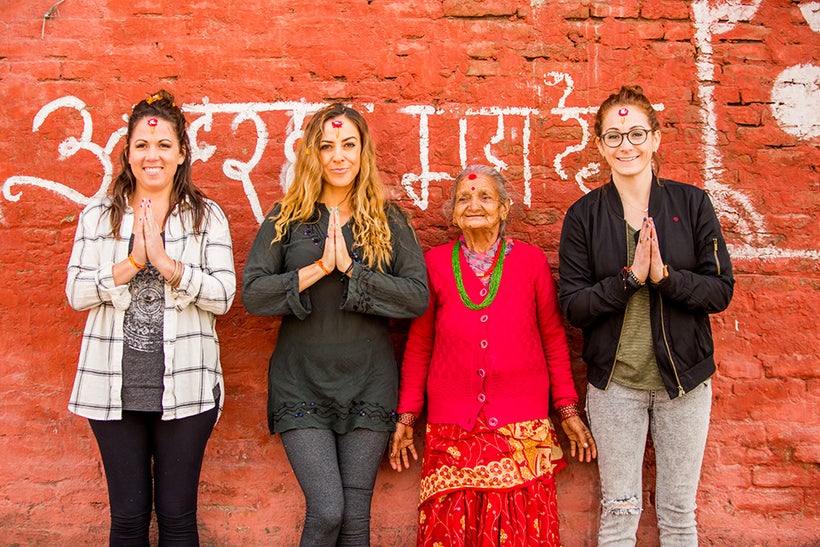 Most people when they think about Nepal, they just think of it as home to the majestic towering peak of Mount Everest, the tallest point on Earth at 29,029 feet a place where usually only jetliners roam, not humans. But there is so much more to this tiny country wedged between India and China and surprisingly enough it has maintained it's own unique culture and vibe.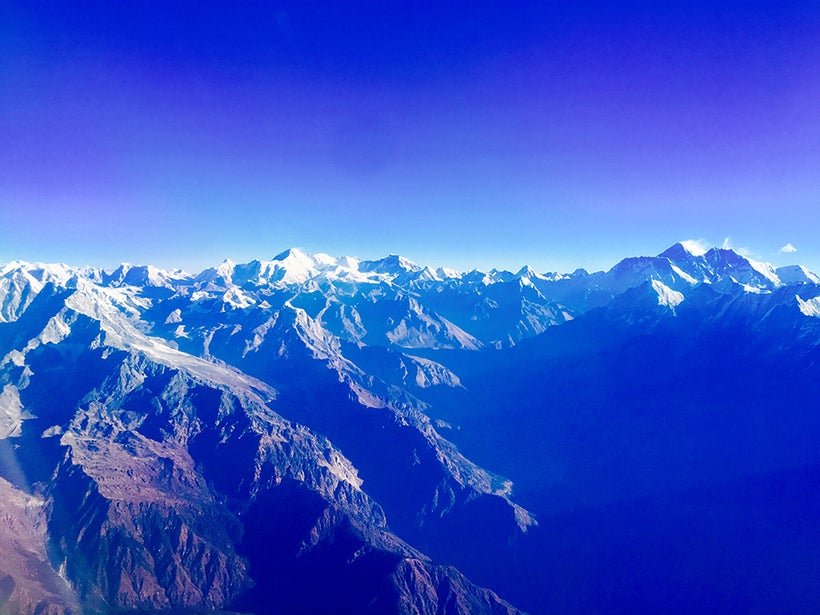 There is so much more to Nepal than the Himalayas that dominate the skyline. From sacred temples and cows, to Buddhist monks, endangered animal sanctuaries, and paragliding and adrenaline activities, Nepal will surprise and captivate you. There is definitely something for everyone and who knows, you may even come across a rare Yeti sighting!
So to celebrate the Nepalese idiosyncracies, I wanted to share some fun facts about Nepal while uncovering the secretly awesome things to do while traveling there. In only 10 days, you can really dive in and get a taste of what this country has to offer, but you will definitely be left wanting more.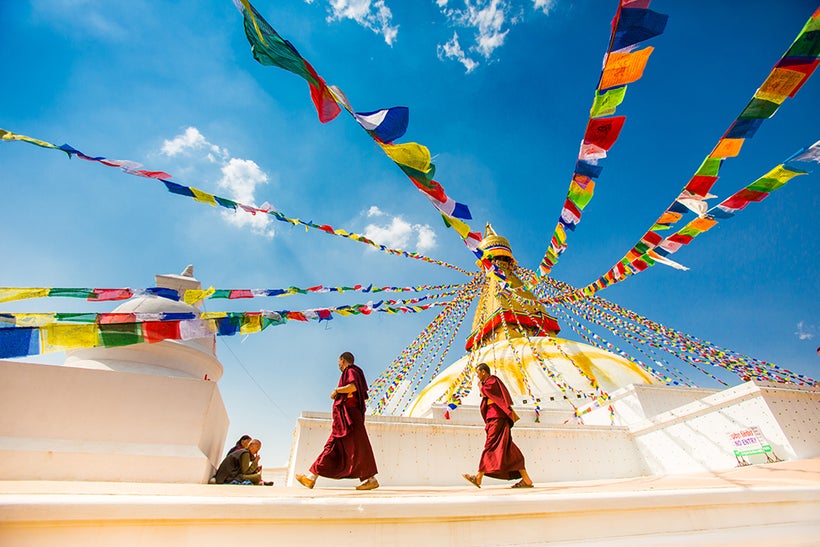 Right now it is actually the year 2073 in Nepal according to their calendar. April 13th is when they celebrate their New Year's Eve!
I actually discovered this while eating a traditional Nepalese dinner at Krishnarpan, the Nepalese specialty restaurant inside of Dwarika's luxury boutique hotel in Kathmandu. We were sitting on pillows on the floor along long wooden tables and we were brought customized menus that not only had our names printed on them, but the date, which the year read 2073. To spend an evening at Krishnarpan is to take a culinary journey through the fascinating terrains and cuisines of Nepal. Serving the finest Nepali food, expect a slow dining experience reminiscent of the ritual feasts enjoyed by the Newari people, because meals range from six to twenty two courses! Next to you is a small saucer where they skillfully pour endless sake from a kettle 4 feet above the table without spilling a drop, leaving you drunk, full, and happy after a 3-4 hour dining experience.
As if the year wasn't trippy enough, the Nepali time zone is 45 minutes off of the Coordinated Universal Time. The time in Nepal is based off of Mt Everest, and not the time zone lines, so trying to call home you will always be off by 15 minutes to the hour.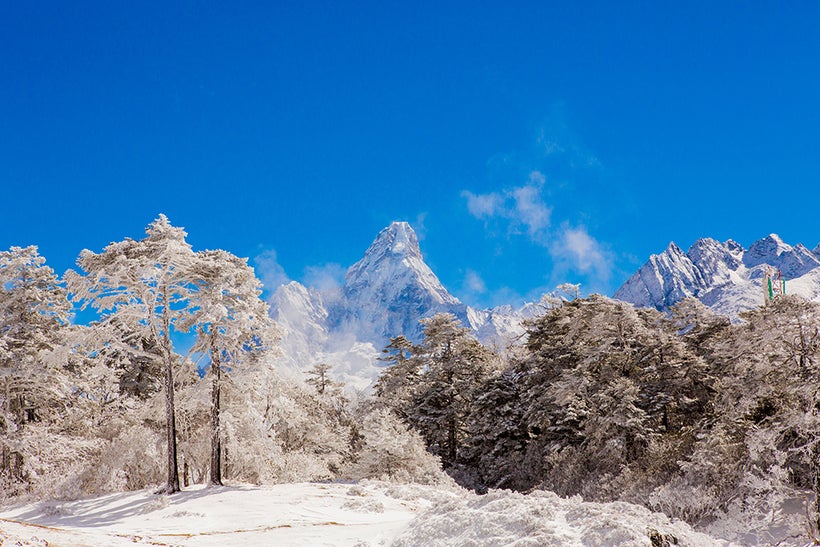 Mount Everest actually has two other names, Sagarmatha and Chomolungma
Despite his objections, the Royal Geographical Society named the tallest mountain in the world after Sir George Everest, but the Nepali word for Everest is actually Sagarmatha, meaning "forehead of the sky". Also, local Sherpas, (who are actually the name of an ethnic group in Eastern Nepal, not just the word for someone who lugs your gear), call it Chomolungma meaning "Goddess Mother of the World".
For those of you that are as fascinated by Mount Everest as I am, but value keeping your fingers, toes and life and don't have $60,000 and 4 months to kill to actually attempt the grueling trek up to the Everest Summit, don't fret because you can still get up close and personal to the world's tallest mountain through various flightseeing flights that leave from Kathmandu on round trip 1-2 hour journeys daily with weather permitting.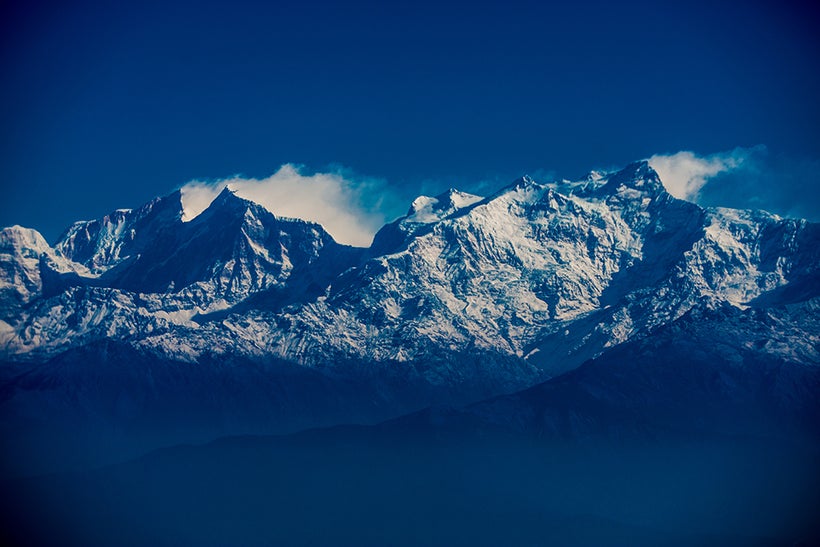 For only $250 on Yeti Airlines, you can book a seat on a small plane that flies along the Himalayan ridge and points out the other 8 of the 10 world's tallest mountains that all lie in Nepal. While sipping on champagne, you will get invited into the cockpit for photos and have breathless views of Everest as you fly past, without actually being breathless!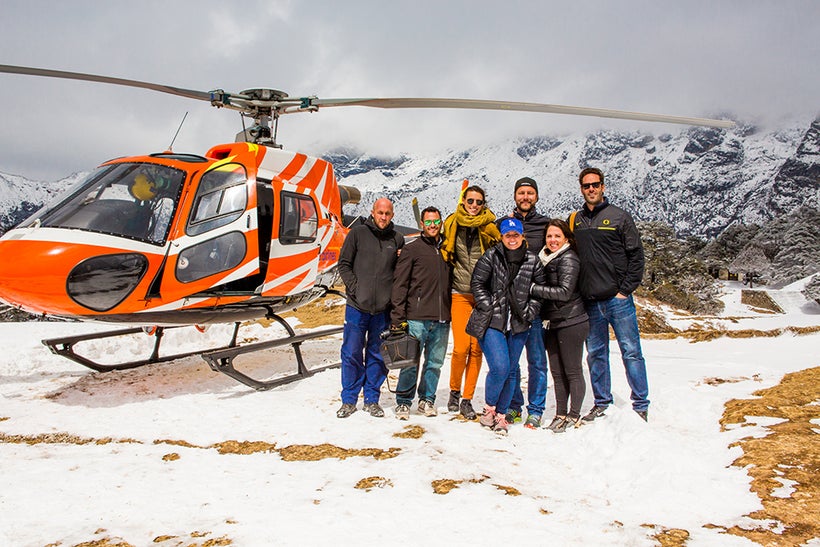 If you dig a bit deeper in your wallet, roughly $1200 a person, you can book a private 3.5 hour tour on a helicopter with Shree Air that lands right near basecamp on Everest. You will enjoy aerial views of the Himalayas on your flight, land next to Everest Base Camp, learn about the traditional cultures of the Himalayan tribes, and stop for breakfast at the highest hotel in the world! But beware, at 20,000 feet the second you step out of the helicopter at basecamp altitude you will feel the cold and like someone sucked the breath out of your lungs! Even the act of taking a photo will leave you a little light-headed and feeling like you are 90 years old! They only allow you to be up there without oxygen tanks for about 5 minutes to avoid getting altitude sickness, but the experience will give you a whole new appreciation for the hikers that are up there attempting to summit. It is beyond words how beautiful standing at the top of the world is, even if it's only for a few minutes.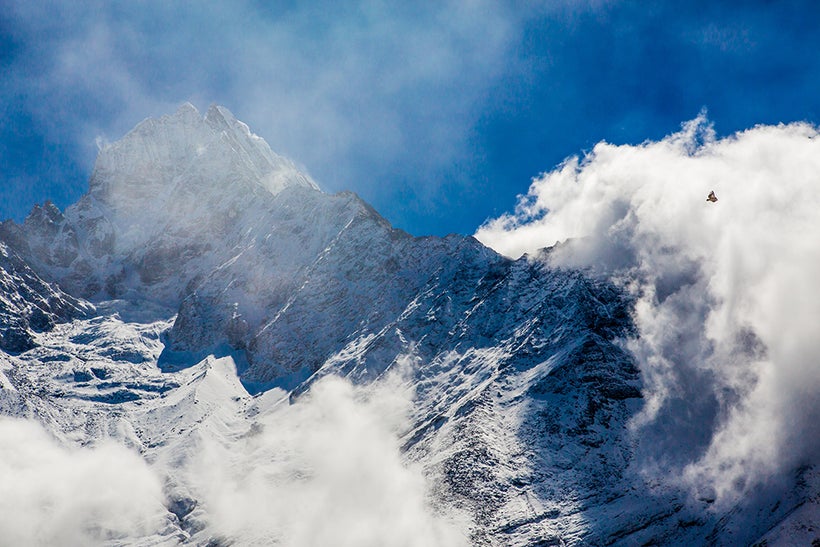 Nepal has had maintained ZERO poaching of their endangered animals; elephants, rhinos, and tigers for over a year
According to National Geographic, On World Wildlife Day March 3, Nepal celebrated 365 days with zero poaching. No rhinos, tigers, or elephants were killed. Nepal has become the gold standard for the rest of the world on how to achieve zero poaching.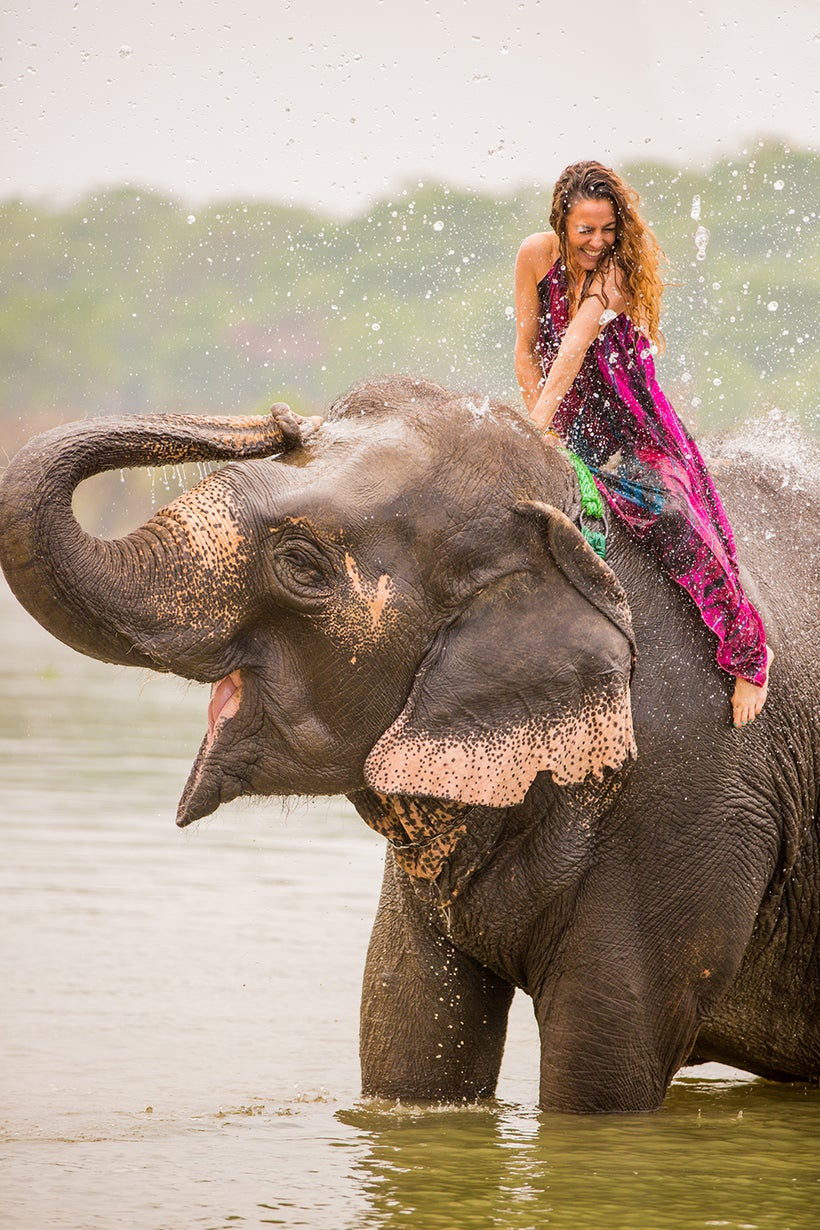 Their secret?
For years Nepal has ensured local communities benefit financially from the parks and ecotourism. Those benefits come not only from employment, but also from sharing revenue, such as entrance fees and license fees for tour and lodge companies, with local people. The government actually gives 50 cents of every tourist dollar to local communities, which makes them hold more value for rhinos alive than dead.
So just by the act of visiting sanctuaries like Chitwan National Park you are helping to preserve these amazing creatures and you can interact with them through wildlife safaris, and even assist with bathing the elephants in the river. Chitwan National Park in Nepal is one example where elephant rides are a positive force for conservation. Elephant safaris are one of the most popular way to discover these exceptionally rare and gentle species in Chitwan.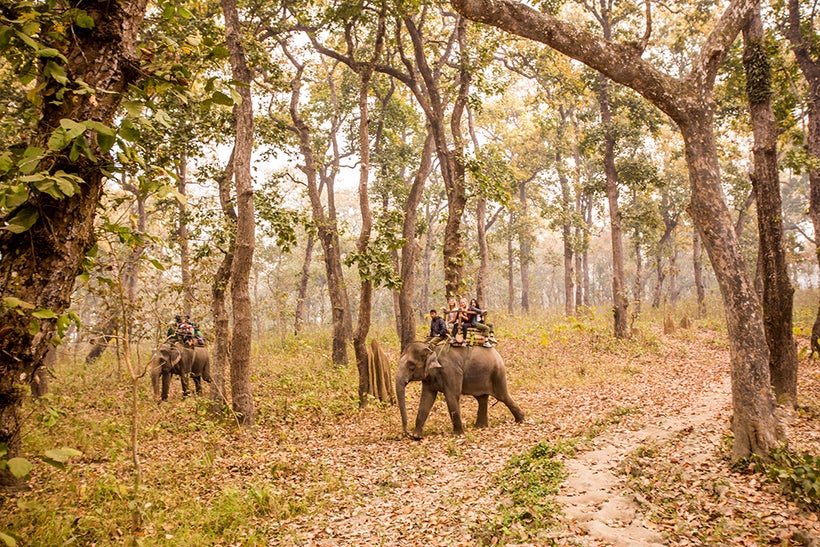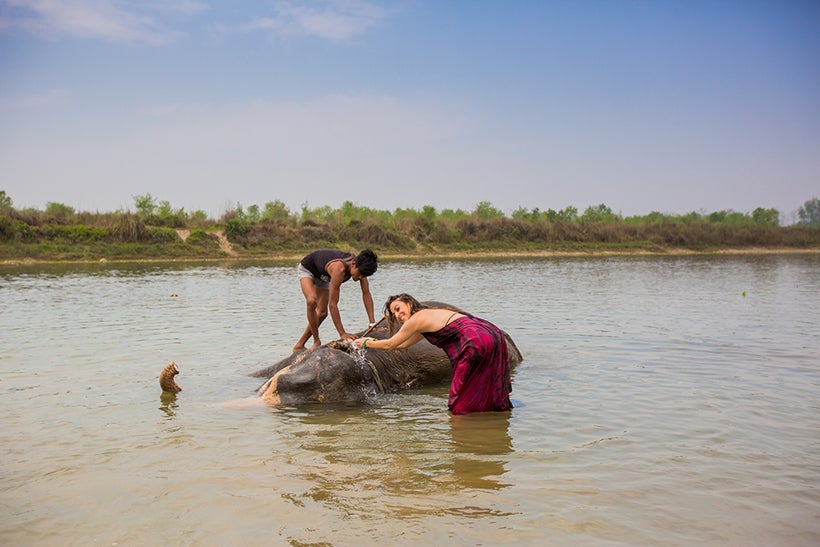 One of the best paragliding spots in the world is in Pokhara, Nepal
Far from the earthquake epicenter, and almost unaffected by the disaster, Pokhara remains a quaint little hippie, lakeside town with spectacular scenery, adventure activities, and accommodation and food choices galore. Whether you've returned from a three-week trek or endured a bus trip from hell, Lakeside Pokhara is the perfect place to recharge your batteries.
Often called the mirror of the Himalayas, from the lake, and possibly even from your hotel bed, you can on a clear day enjoy the view of the snow-capped mountains perfectly reflected in the lake, just twenty or so kilometers away.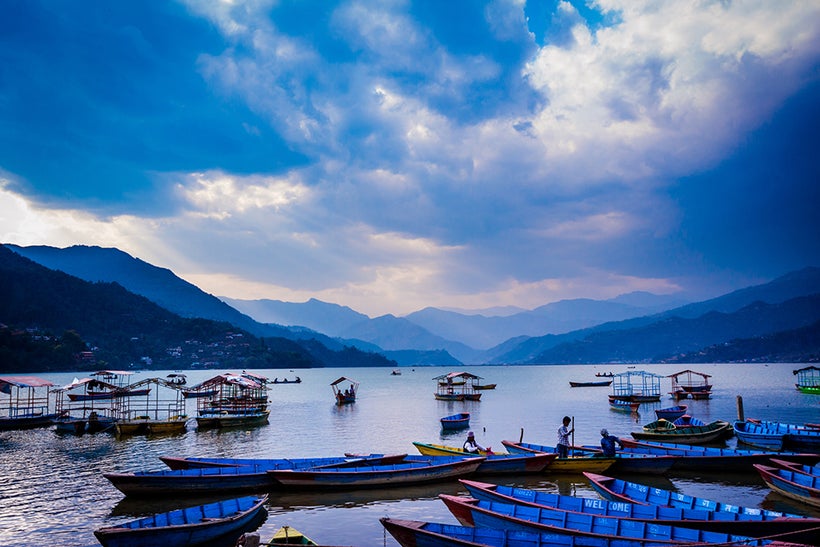 You can spend a lazy afternoon paddle boarding or canoeing on the lake to an island temple, hike up to the Peace pagoda, explore nearby bat caves, or even the hidden outdoor lakeside movie theater. It's the gateway to some of Nepal's world-famous treks, but what will grab your attention is the constant swooping of dozens of colorful paragliders that fill the skies.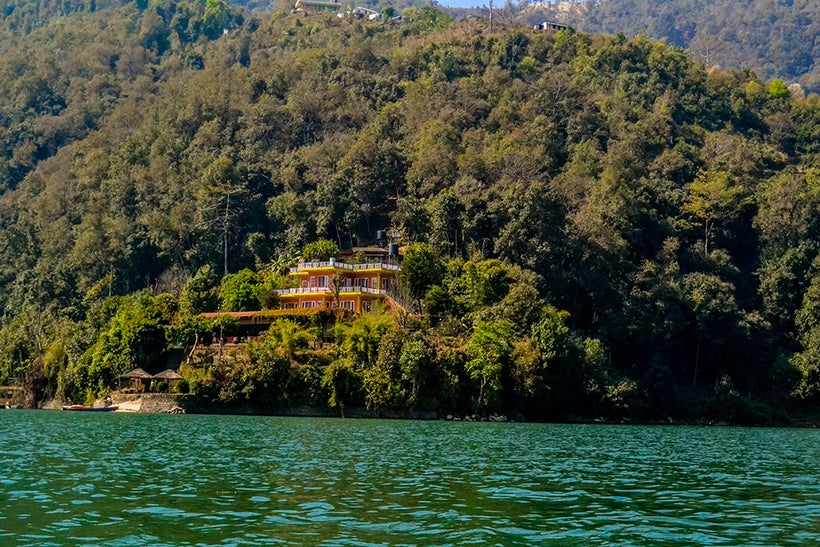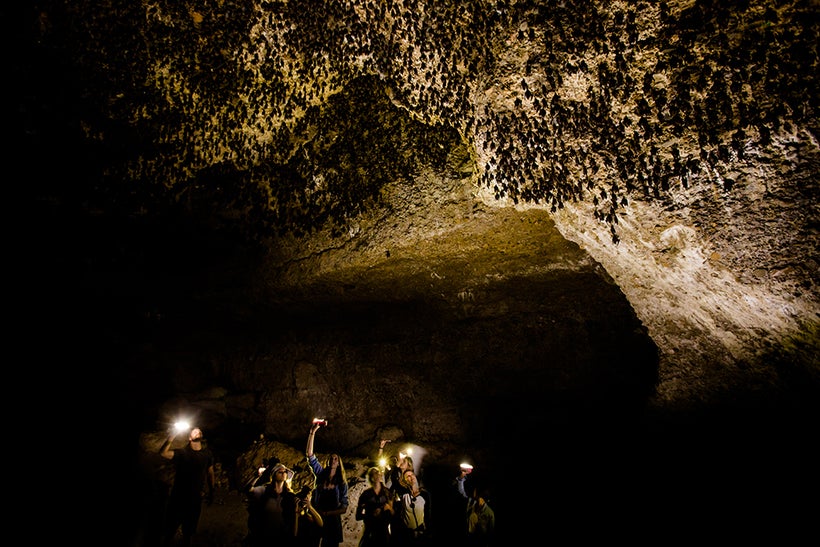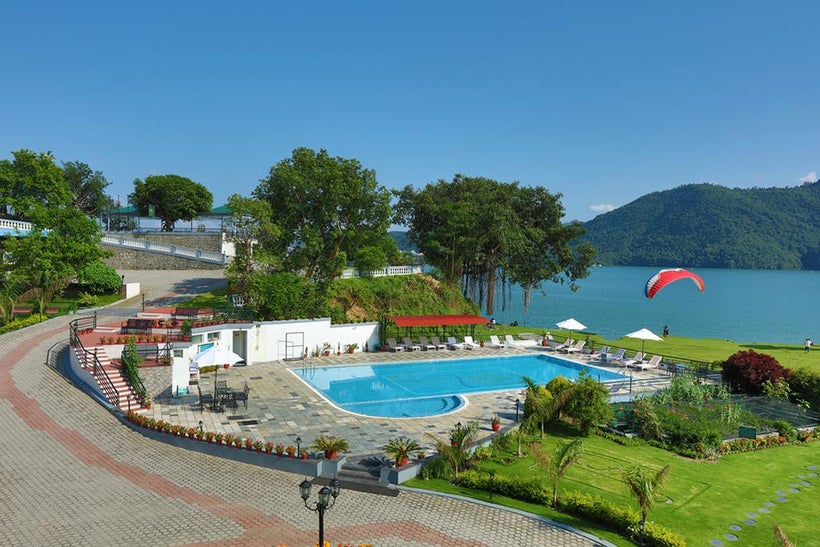 From the Waterfront Resort in Pokhara, I stumbled across this adrenaline activity while sipping on cocktails by the pool. I could see people circling the nearby mountaintop with parachutes, then spiral down over the lake and landing in a field with goats and cows directly next to me at the pool. After inquiring, I found out that for $70, you can shuttle up to the nearby peak on a crazy switchback mountain road, strap yourself to a tandem instructor, and literally run off a cliff!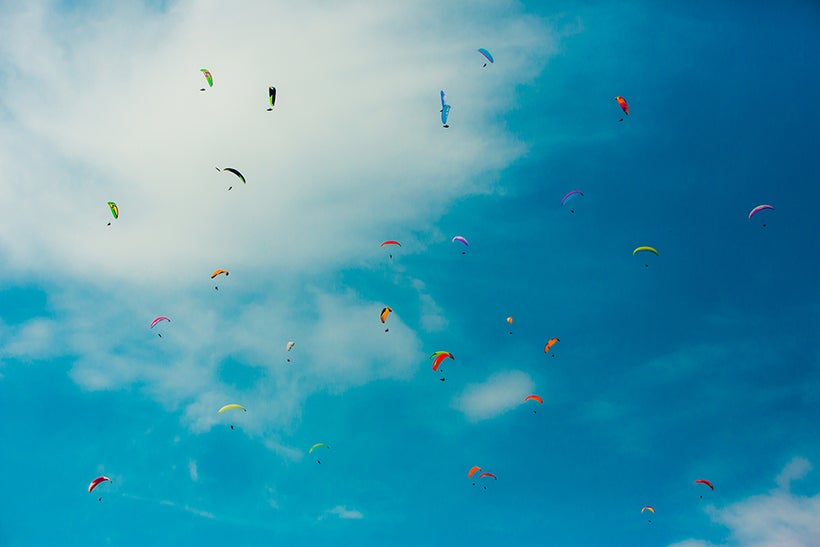 Pokhara is one of the top 5 commercial tandem paragliding locations in the world, because it has all the right ingredients: stable thermals, convenient take-off and landing zones, the safety of a large lake and incredible mountain views. The best part is that if you stay at the Waterfront hotel, you can have the full "James Bond experience" of jumping off a cliff, gliding around for half an hour doing corkscrew tricks surrounded by hawks, then land right next to the pool of your hotel, take off your parachute and go directly to your lounge chair for a cocktail…no big deal!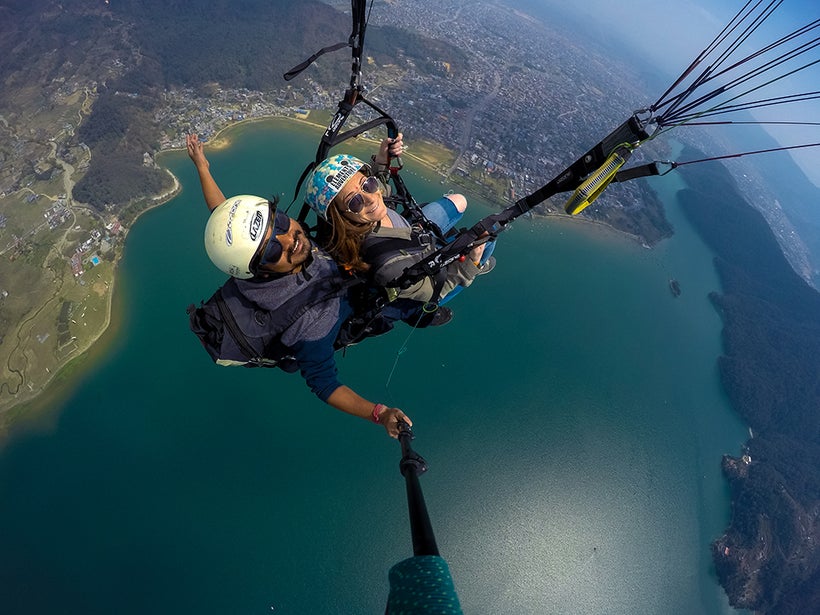 The Nepalese flag is the only national flag that is not quadrilateral in shape. It is made of two triangles. The triangles are said to represent Hinduism and Buddhism. They also represent the Himalayan Mountains.
Hinduism and Buddhism are the two main religions of Nepal and they both coexist in perfect harmony. At any given time you will see the red and orange-robed Buddhist monks walking around the streets or praying at temples juxtaposed with cows that roam freely all over Nepal, even in the busy chaotic streets of Kathmandu. Cows are considered sacred in the Hindu religion and cannot be killed. So good luck finding a burger to eat and even if you did find one, it most likely would be water buffalo.
The best ways to experience both religions while staying in Kathmandu is to go to Pashupati, hike to the sacred monkey temple, or to visit Boudha Stuppa.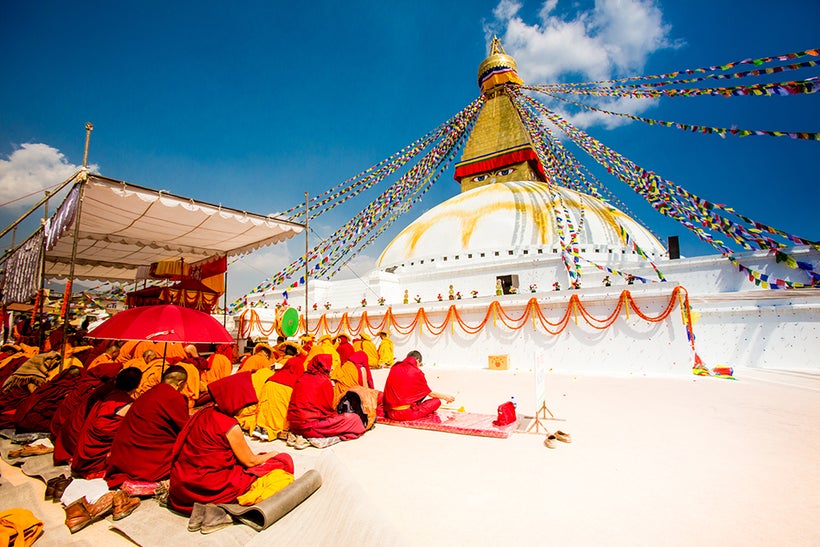 Buddhism:
Boudhanath Stupa (or Boudha Stupa) is the largest stupa in Nepal and the holiest Tibetan Buddhist temple outside Tibet. It is the center of Tibetan culture in Kathmandu and rich in Buddhist symbolism. From above, Boudhanath Stupa looks like a giant mandala, or diagram of the Buddhist cosmos. And as in all Tibetan mandalas, the five Buddhas also personify the five elements (earth, water, fire, air and ether), which are represented in the stupa's architecture.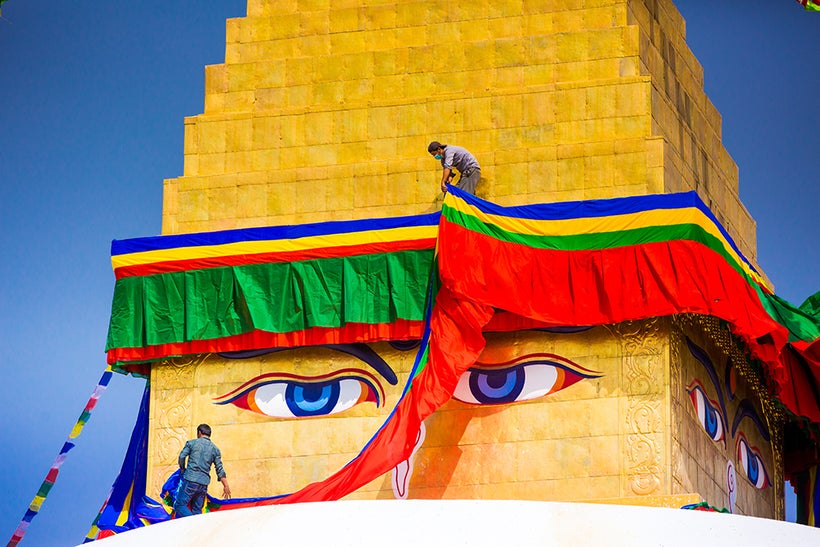 Here you will find hundreds of monks chanting, playing instruments, wearing ornate head dresses and praying around the base of the stupa and if you are lucky you can watch them elaborately decorating the stupa. While there you can participate in the kora, or Buddhist prayers, by walking clockwise around the stupa spinning the hundreds of prayer wheels as you go from right to left, while listening to the chants of the devout monks doing it along with you.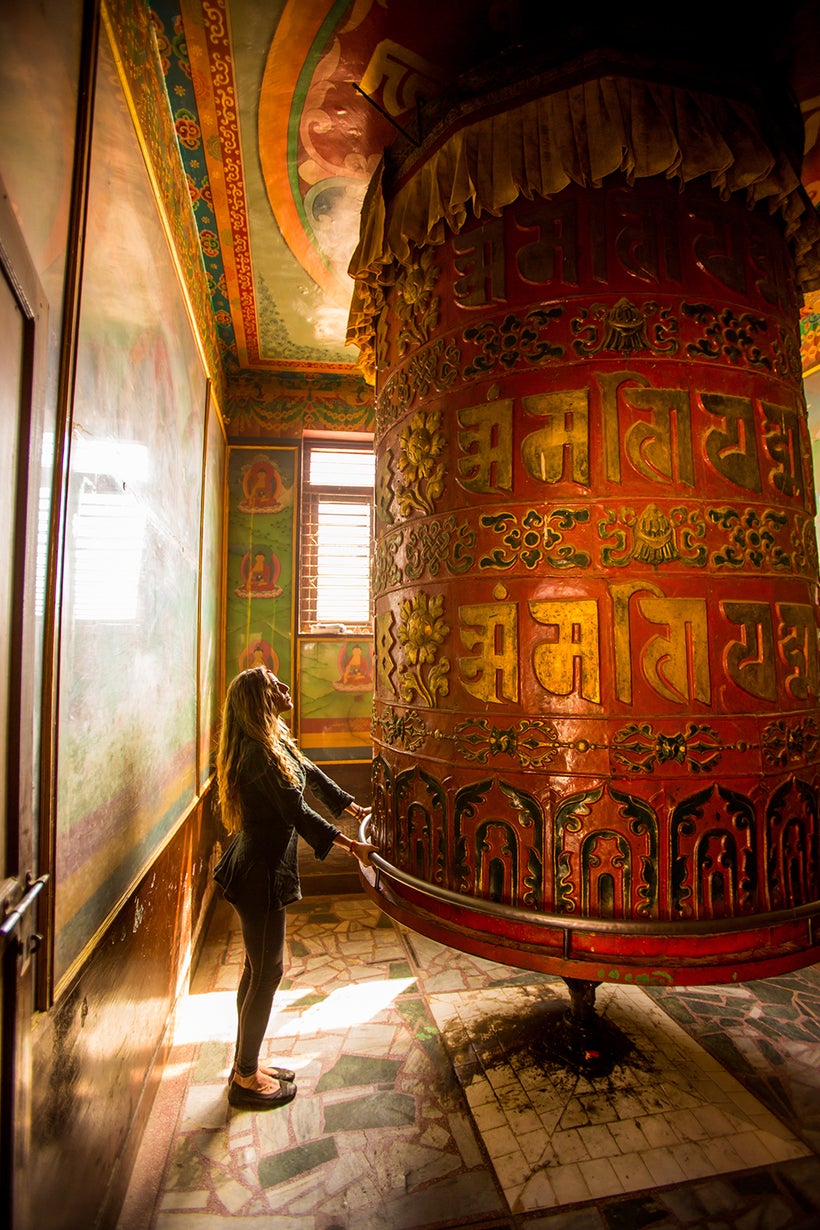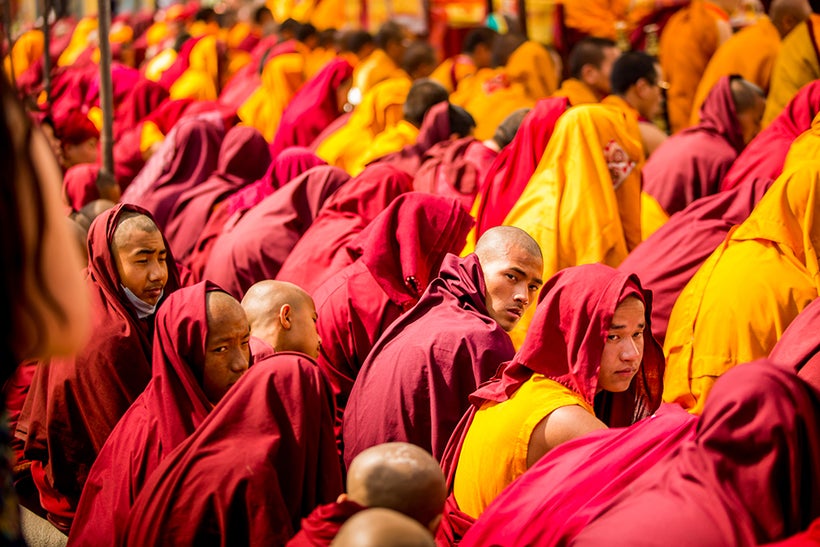 Hinduism: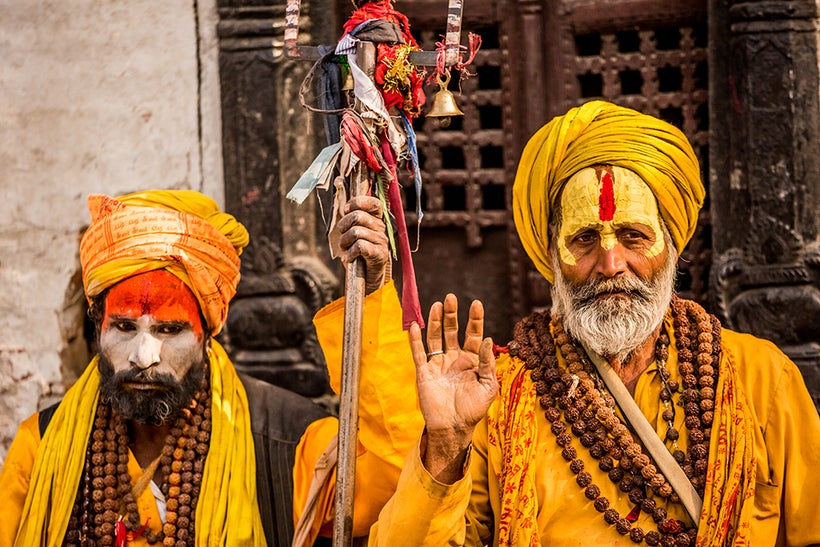 One of the most sacred Hindu temples of Nepal, is Pashupatinath Temple, located on both banks of Bagmati River in Kathmandu. Pashupati is the most important temple dedicated to god Shiva. Every year this temple attracts hundreds of elderly followers of Hinduism who seek shelter for the last several weeks of their lives, to meet death, be cremated on the banks of the river, and travel their last journey with the waters of the sacred river Bagmati, which later meets the holy river Ganges. Hinduists from every corner of Nepal and India are arriving here to die or bring their dead.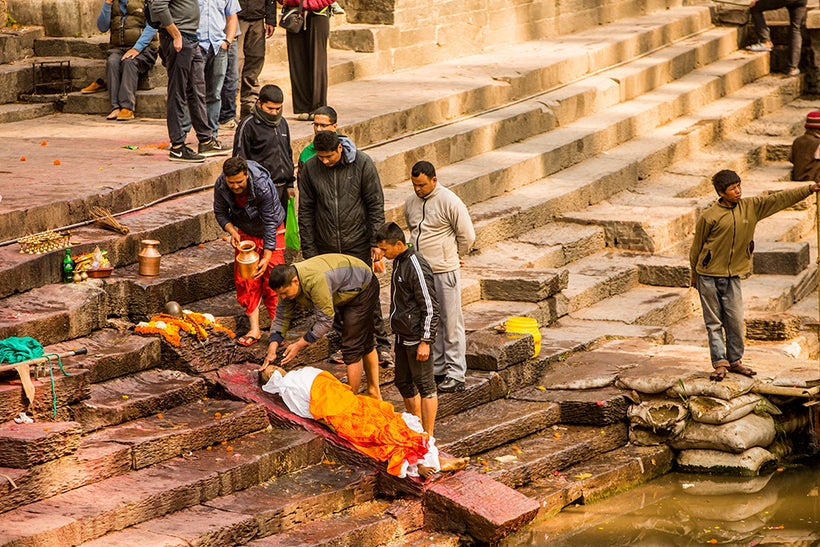 It is believed that those who die in Pashupatinath Temple are reborn as a human, regardless of their karma. All around the banks of the river you can find brightly painted Sadhus, or holymen who are trying to acquire liberation from the cycle of death and rebirth by meditating and astrologers that can predict the exact day of your death or just read your palm if you prefer not to knowJ This place is huge, like a city within a city and has been in existence since 400AD. There is a powerful energy there and at any given time while you are there visiting, you will get the chance to see one open air cremation and watch how they prepare the bodies for the cycle of death and rebirth.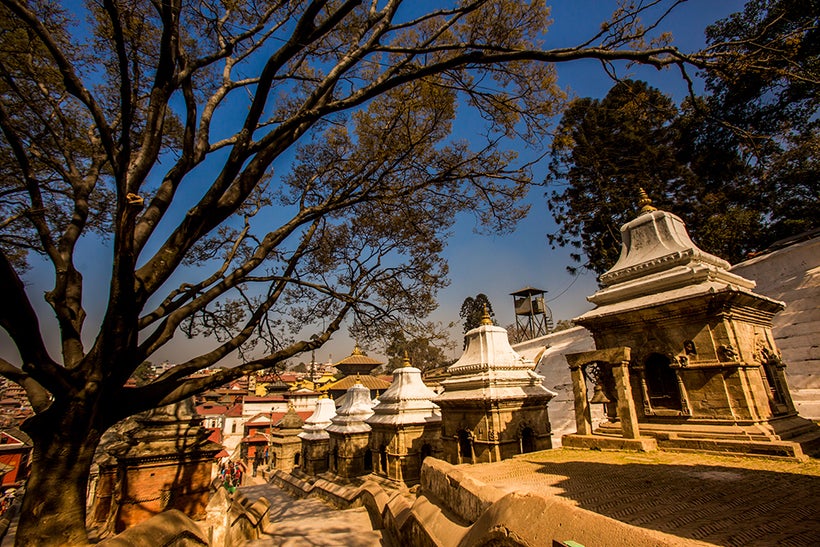 Or blend both Buddhism and Hinduism at the Sacred Monkey Temple: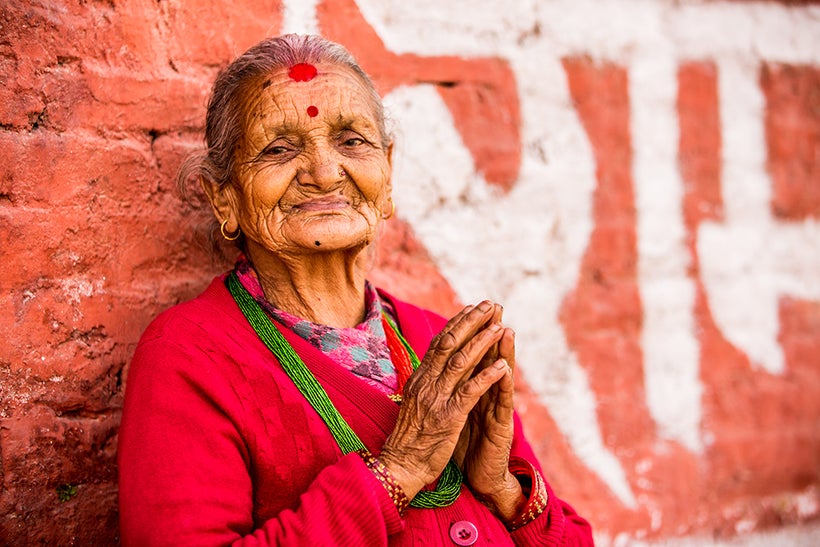 This is a workout, wildlife excursion, and spiritual escape all wrapped into one. Be prepared to huff and puff your way up 365 steep steps to meet some monkey friends at this sacred Nepali site, home to hundreds of monkeys considered holy to both Tibetan Buddhists and Hindus. Located atop a hill west of Kathmandu city, the Swayambhunath complex has been in use since the 5th century A.D. and consists of a magnificent domed stupa, as well as a variety of shrines and temples.
The sights at the summit are worth the trek and struggle up the steep staircase. From the top of the hill, you can see a panorama of the Kathmandu valley, along with playful monkeys swinging from trees and prayer flags hanging around the colorful temple. Although the monkeys are somewhat active during the day, the stupa truly becomes a monkey temple at night when hundreds of monkeys become a lot more active and frolic in the sacred area.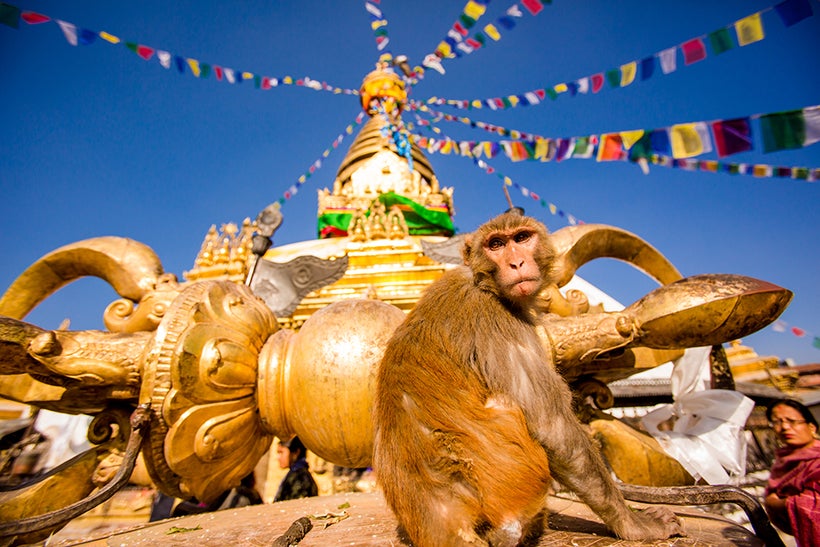 Nepal's Holi Pigment Throwing Festival is celebrated only 1 day a year. The next time you can experience it is Friday, March 2nd, 2018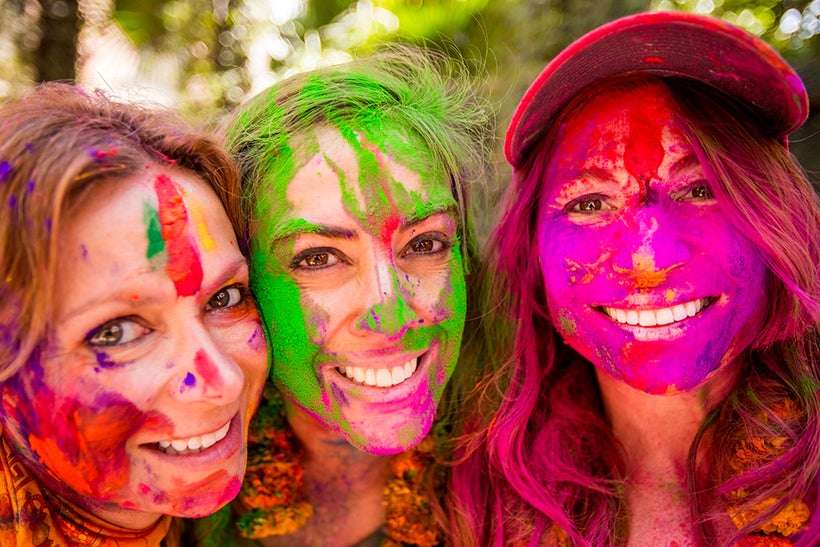 Unlike India, Nepal only celebrates Holi for one day, not two weeks. If you want to experience one of Nepal's most lively and colorful festivals you can think of planning your trek to Everest Base Camp at the same time as the spring festival of Holi. One of the most important festivals celebrated during the year by Hindus in both Nepal and India. The festival marks the start of spring and the triumph of good over evil. Nepal is dominantly a Hindu country so this is one of the most important festivals of the year as well as an official holiday.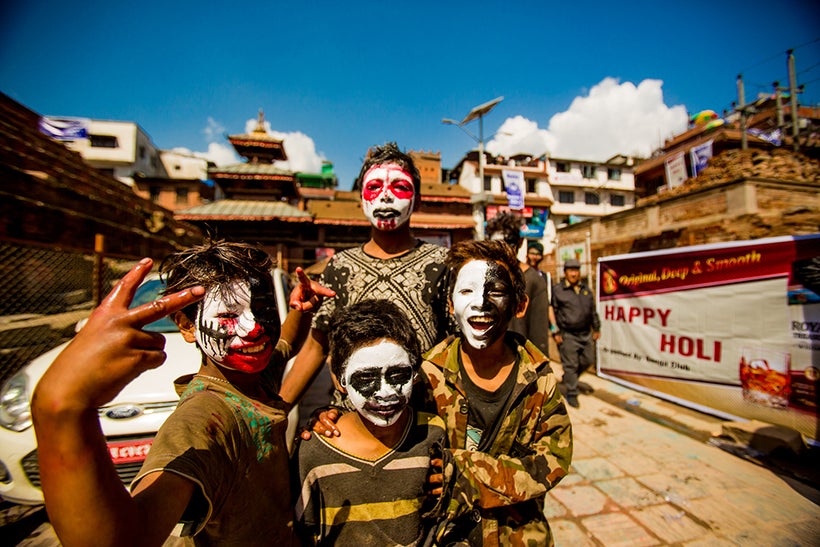 Unlike many of the Hindu holidays there is no religious requirements or prayers and it's a day set aside purely for fun and mischief. If you want to participate make sure to buy some of the dried color powders or you can arm yourself a water spray gun that you can buy on the street. Adults typically wear white and kids will often elaborately paint their faces. Definitely expect strangers to come up to you on the street and wish you "Happy Holi" while smearing colored pigment all over your face, so be sure to be armed with your own set of dried pigment to return the greeting!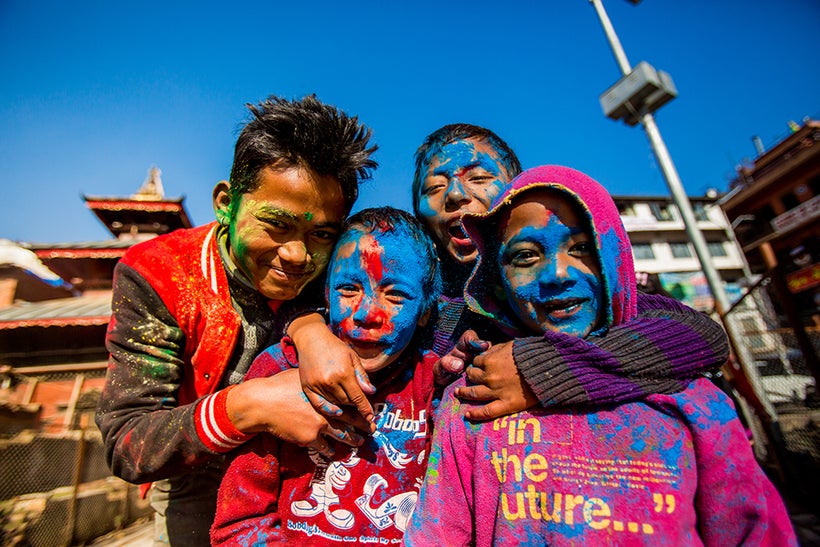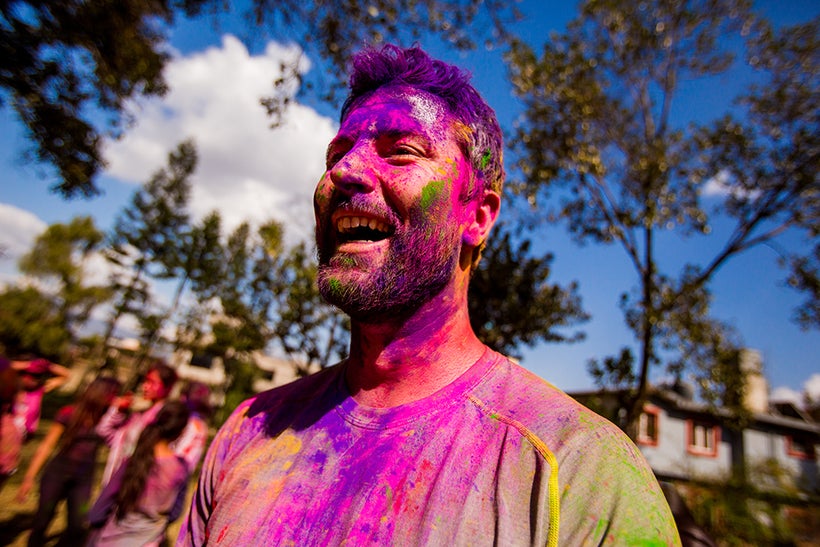 It can get very intense during Holi and is almost like gearing up to walk through a war zone, because people throw pigment, buckets of colored water and water balloons at each other from their balconies and it gets MESSY, but it's all in good fun! Everyone finds themselves participating one way or the other whether it was by choice or not. Be prepared to completely plastic wrap your camera and throw away whatever you are wearing that day, because there is no way to ever get it clean again, but it's all worth it!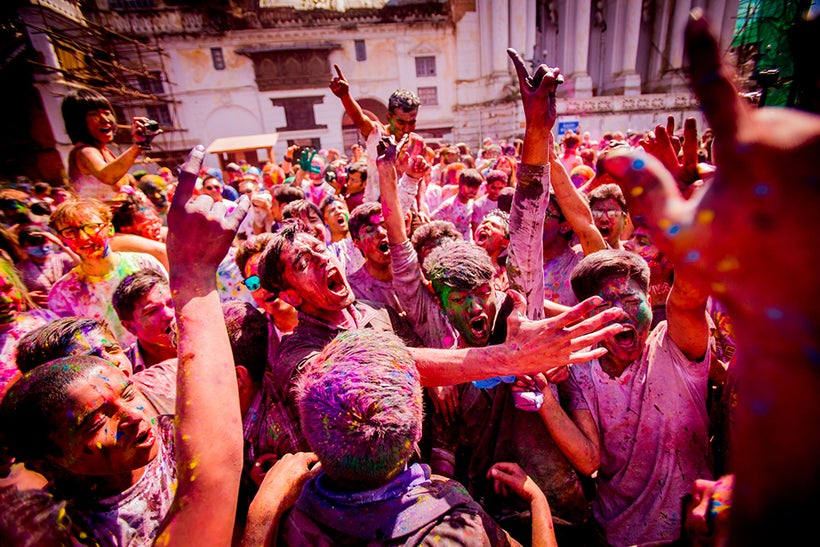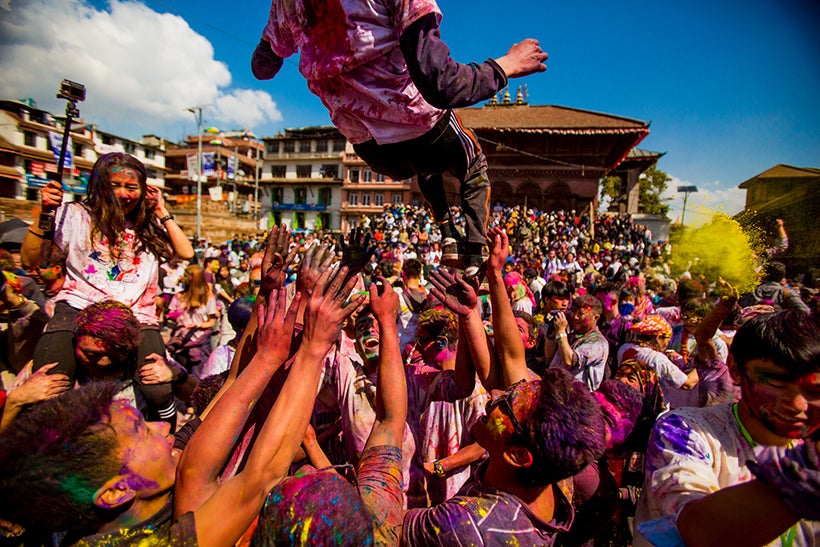 If you are in Kathmandu, the best place to "play Holi" is in the streets of Thamel and Durbar Square. Durbar square can be absolutely packed with people whereas the small streets of Thamel are filled with kids looking to sneak up with water-guns and balloons. Another random Nepalese twist on the Holi tradition is having your lassi tea spiked with bhang, or marijuana, and other spices. Beware going into a shop for tea on that day, because you may get more than what you bargained for!