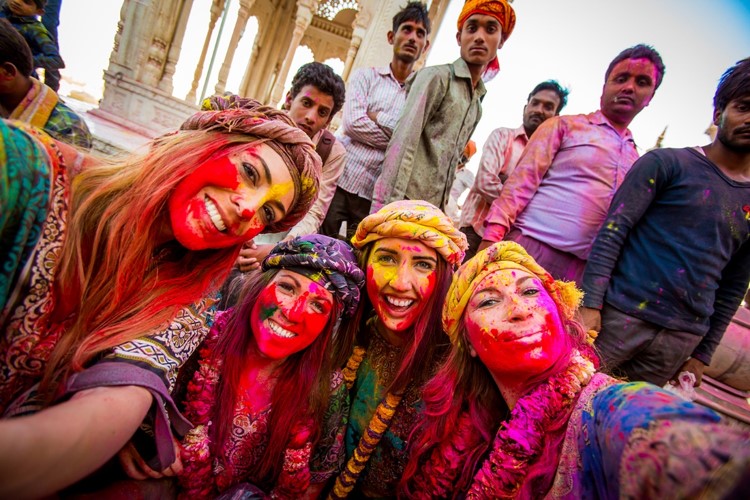 Today we'd like to introduce you to Laura Grier.
So, before we jump into specific questions about the business, why don't you give us some details about you and your story.
For me, growing up in Indonesia and the US planted the seed for what would become a life-long quest to travel and document the world. The BEST advice I ever got was from a conversation I had with my mother when I was 13 years old. That day at school my mother told me I would never have a desk job. At the time, I thought she was shattering my dreams of being a Zoologist. She simply stated that I would never have a desk job. That I can't sit still or be quiet for any length of time and that I shouldn't FORCE it, if it's not in my nature. My mother plainly asked me what I was good at. Not what I LOVED to do, but what I was good at. So, I said, I am adventurous and fearless, I am creative, and I am good at talking to people. Then my mother said, "Ok, based on this I don't ever see you being a Scientist. You have to sit in a laboratory for hours on end with a microscope. What is it about Zoology that you love?"
I said, that I wanted to travel the world and be around animals and to study them. I wanted to experience new people and places. So, then my mother said…Why can't you be the photographer filming the show and NOT the Scientist?" And it was like a light bulb went off. That made total sense! And from then on, I decided I was going to study photography and nothing has gotten in my way since.
I went on to receive a dual degree from Syracuse University in both photojournalism and art photography. During college, I obtained top secret clearance with the Central Intelligence Agency working in their photo imaging department and worked Summers and Winters at Langley. I studied abroad in London and did an independent study for the rock and roll-themed magazine, Mixmag. Two years later I understudied with National Geographic photographer, Ed Kashi, in Florence Italy. Then I graduated from Syracuse and had all of this amazing experience, but no money, no actual equipment because I had been using the gear from my university, and no idea of what to do next and where to begin my actual career as a photographer.
I decided to pack up everything I owned in my car and drive out west till I reached warmer weather in Los Angeles. At first, I funded my dream by bartending to pay my bills. I even lived out of my car for a few weeks when I first moved to LA. I have always tried to focus on a life of travel and have worked hard to build my body of work and persona as a Travel /Adventure Photographer. It all started with just getting out there and doing it, long before I was getting paid to shoot overseas.
My 20's I lived off credit cards to support my travel habit and it definitely paid off. I hustled and worked very hard and then eventually the referrals snowballed and I didn't have to search for work anymore and people were finding me. I had a couple of breaks though including going on the TV show Wheel of Fortune when I was 21 and I won $7,000 which allowed me to buy my first camera and really start my photography business and eventually quit bartending!
Since then, my photography has taken me to 68 countries on six continents. I am a freelancer for National Geographic's catalog and a variety of media giants as well as entertainment studios. I have been published countless times in over 25 different magazines. Recently, one of my photos won the World Wide National Geographic Traveler Contest for the Top Ten Best Travel Photos of the year.
In 2014, I decided to start taking my travel photography business to the next level and started writing for Huffington Post Travel and Venuelust. My journalism opened the doors for many press and travel related jobs shooting for Boards of Tourisms and hotels around the world. I love to share and teach and have been a platform speaker for Canon, Creative Live, WPPI, WIPA, Catersource, Step Up Women's Network, and the Wedding MBA Conference. That same year I launched my first International Photography Workshop in Guatemala in 2014 and have hosted trips and workshops all over the world from the Arctic circle to my most recent workshop in Nepal to benefit the Unatti orphanage for girls.
Presently, I am a Los Angeles based Adventure Travel Photographer, Writer, Photo-Anthropologist, and self-proclaimed jetsetter. I founded and own Beautiful Day Photography, one of LA's most highly regarded wedding companies specializing in Destination Weddings, Wanderlust by Laura Grier, my personal blog and shop for my travel fine art and jetsetting around the world, and Jetset Collective Media focusing on brand visual marketing and strategy for travel brands and hotels.
During the year, I can be seen overseas shooting weddings and travel, balancing language books in one hand and camera in another. I love that I have been able to craft my career around the things I am passionate about and love (travel, weddings, and adventure) while making a living at it. My career path has all come back full circle, just like my mother suggested to me back when I was 13 and I have never looked back since then 🙂
Overall, has it been relatively smooth? If not, what were some of the struggles along the way?
I wish someone would have told me… That I had more control over the types of jobs I wanted and to go brand myself from the beginning. Also, I wish someone would have explained that "success" is not based on getting the most money or celebrity jobs, but based on if you are doing what you love. I would have been less hard on myself. Also, to not compare yourself to others and be ok with being unique. My lack of confidence in the beginning definitely slowed down my career progress.
Also, I constantly struggle with finding balance in my life. Don't we ALL wish we knew the answer to THIS question. I think that is our constant life struggle as entrepreneurs. I travel about 50% of the year and sometimes for extended periods of time. I feel like the more I travel, the more I long to travel. I am always planning the next trip before I have even returned from the present one I am on. It defines me and I love it and I extremely passionate about it, but it can also sometimes make me feel imbalanced. I know it has taken a toll on my previous relationships where it was hard to be apart for long periods of time while I was traveling for work. I long to have my home and exercise routine and more free time to see friends, study my music or do other things. This is the life I have always wanted though and I know that I need to soak it all in and take advantage of this while I am young and able, but the travel can be hard and lonely at times. I sometimes experience the most incredible places and things by myself…. well, with my camera 🙂
Please tell us about Wanderlust and Laura Grier Travel.
If I could describe my business in three words I would say; Adventure, Global, Visionary
I founded both Beautiful Day Photography, specializing in Destination Weddings, and Wanderlust, my personal blog about my travel fine art and behind the scenes while jetsetting around the world.
When I went out on my own and founded Beautiful Day Photography, I had to ask myself "What kind of business do I want to have?". If I truly wanted to be Indiana Jones and to have this life of adventure, I would have to focus on destination weddings. But how would I book destination weddings? How would I convince a client to spend more to have a photographer fly out with them? I had to ask myself WHAT made me different and unique, and the answer was that I am giving them a VIBRANT EXPERIENCE. Not only through my imagery, but with the service I provided as well. I love to travel and have adventures and I will do whatever it takes the get the shot. I LOVE to tell a story that takes them on a surreal journey of their wedding that looks as beautiful and glamorous as they have envisioned it themselves. For my couples, they are experiencing their weddings with heightened emotions, like they are on a high, so I feel like I just enhance my own images to match their vision. I am there every step of the way and filtering their own wedding through my eyes and THAT is my selling point. So, when my client hires me, they are hiring ME, not just my photography, to capture the fun, beauty and adventure of the ENTIRE experience of the trip, not just the wedding itself. I AM Branding myself as an EXPERIENCE not just a vendor.
If you had to go back in time and start over, would you have done anything differently?
If I had to do it all over I would…DO exactly what I did. I may have changed some of my choices in relationships but not in my business lol. If I had to do it all over I would have focused on travel earlier in my career and given a little more energy to my personal relationships and been a bit more balanced…but that is also something you learn with age and experience though, so I think it all happened the way it was supposed to.
Contact Info:
CLICK TO VIEW THE FULL FEATURE!