Andeana Hats is partnered with Awamaki, an NGO located in Ollantaytambo, Peru. We asked them to write us a guest blog post explaining how everyone in our community can help out our Quechua Artisans during this unprecedented time. Please read on below to get to know the wonderful work of Awamaki.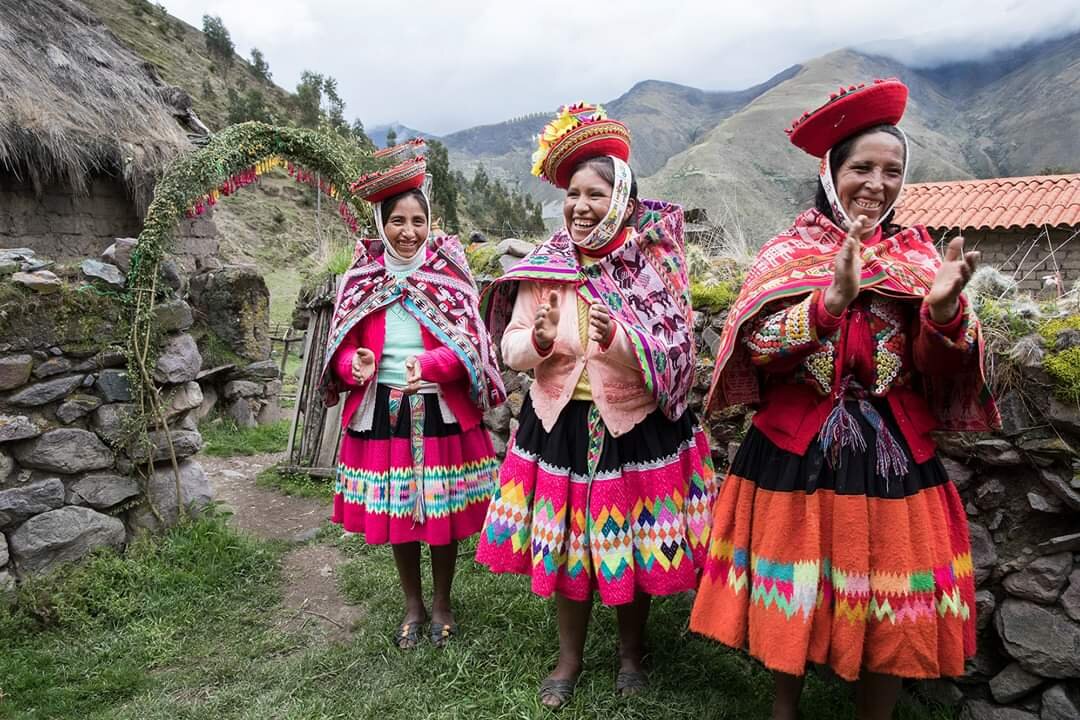 High in the Andes mountains, indigenous Quechua women live in rural villages where they weave and farm. Many have never been to school. Most do not read, write, or speak Spanish. There are few economic opportunities in their villages. However, the women are highly skilled artisans. For generations the women in their families have produced incredibly complex woven textiles.
Awamaki works to empower these women so that they can earn an income, care for their families, and transform their communities. We have formed a strong partnership with Andeana, who source their beautiful textiles intention bands from our artisans.
WHAT DOES AWAMAKI DO?
Awamaki's work connects artisans to markets through our programs in sustainable tourism, fair trade craft sales, and volunteering. The women's artisanal cooperatives program provides skill training and education to the cooperatives and also connects them to local and global fair trade markets for their crafts. Awamaki's sustainable tourism program trains rural and indigenous women to host visitors, sell their hand-woven products, teach Spanish and Quechua and lead Peruvian cooking classes.
Many of the communities we partner with are tucked away high up in the mountains around Ollantaytambo, with only steep dirt roads as access to the town and limited public transport. The community members lead very simple lives, with little access to materialistic goods. They live with a strong sense of community, educating their children about their native language and culture and how to live amongst the surrounding nature.
The communities spend their days cultivating potatoes or herding sheep and growing whatever else the weather will permit. However, the high-altitude, cold climate limits their farming practices. The families are able to eat the meat from their sheep or alpacas and use the fleece to weave their clothes and home textiles. The women keep busy with their crafts, gaining supplemental income by selling their products to tourists. Meanwhile, many of the men work as porters for treks to Machu Picchu and around the Sacred Valley.
HOW HAS COVID-19 AFFECTED THE COMMUNITY?
It is difficult and complex to put into words how the current health crisis has impacted these communities. The health crisis is spreading rapidly in Peru, and the government has taken drastic action. Peru's borders are completely closed, the tourism industry shuttered, foreigners stranded, public transport forbidden. Police and military patrol the streets to enforce the lockdown.
Our artisan partners have sequestered in their villages. They would need to walk many hours to reach the nearest market or store. But even if they did, without any income from tourism, it is impossible for them to buy essentials like medicines, fruits, vegetables, oil, and rice. Their families rely on tourism for all of their cash income, and the indefinite suspension of tourism will have severe effects. With retail operations suspended in Peru, our textile production has come to a halt also, taking away artisans' supplemental income. Our most remote partner community, Kelkanka, has even lost all communication as there are no phones in the area and homes are far apart from one another.
These communities epitomize slow living and minimalism. They are resilient and happy, never shying away from sharing what little they have; this lifestyle is a part of their moral fabric. Their can-do nature inspires us, and their strong connection to the land, to their crafts, and to their community is a beautiful lesson during the toughest of times.
HOW TO HELP?
At Awamaki, we strive to give a hand up rather than a handout; opportunity rather than material support. But we recognize that sometimes, material support is what's most needed. Please join us in solidarity with these strong, resilient women leaders and extend your hand to support their families with a donation.
Our artisan partners have told us that their top expense is purchasing food for their families. All donations during this time will be used to support their food purchases and economic security. Donations can be made via our GoFundMe page: https://charity.gofundme.com/o/en/campaign/artisan-relief-fund/awamakius
With you, we can minimize the impact of the pandemic. Together, we have gotten this far, and together, we will keep going.
To learn more about Andeana Hats, please feel free to contact us. We hope you enjoyed learning more about Awamaki and the work that they do. You can also Shop Andeana Hats or learn more about our Intention Bands by clicking the links.
OTHER ANDEANA BLOG POSTS YOU MIGHT LIKE:
ANDEANA SACRED VALLEY PERU WOMEN'S RETREAT 2020
ANDEANA TRAVEL DIARIES: BEHIND THE SCENES OF OUR ANDEANA HATS RETREAT IN THE SACRED VALLEY