My whole life I grew up hearing about the feuding drug cartels and cocaine trade of Colombia. I had the fear of God put in me by my mother to never go there and that it was too dangerous, especially for a single girl to travel around. To be honest that was ALL I ever heard about the country and to make matters worse, I got hooked watching the Narcos series on Netflix. Watching Narcos wasn't all bad though. I admit it may have added even more Colombian stereotypes to my already limited knowledge of the country, but watching the show and all of its cinematic aerial shots of Medellin, the Amazon, and the countryside made my Wanderlust and curiosity go into overdrive. While the mystique surrounding Pablo Escobar has grown over the last two decades, the criminal entity he founded, the Medellin Cartel, no longer exists.
I'm all about creating my own opinions firsthand by just GOING to a foreign country. I find that most Americans make up their minds about places and cultures without ever experiencing them firsthand and I have always vowed to personally break that pattern and to educate myself. I realized that the best way for me to get over my fear of traveling to Colombia was by... traveling to Colombia.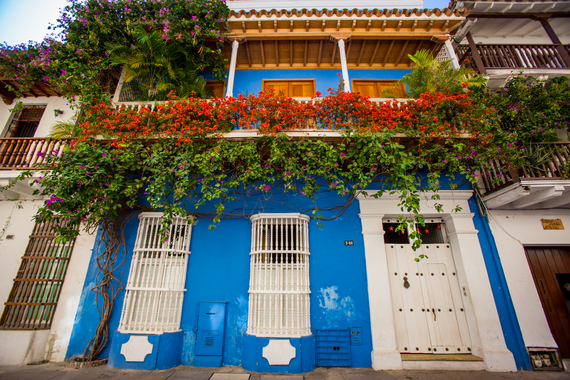 At first I started planning this trip with my girlfriend and fellow photographer Jodee Debes. We figured we should see Bogota, Medellin, Cartagena, the jungle, and end our trip with some Caribbean islands off the Northern Coast...basically we wanted to get a sampler of each region of the country. With our Spanish skills, we booked hotels and rental cars with no problems...until my mother heard of our plans. She was very upset that we planned on traveling alone AND especially that we planned on driving. After some convincing and due to our limited time there, we decided to cancel the long drives and do jumper flights between the cities and then just rent cars when we were there. We also decided to invite my boyfriend at the time, Winston, and another friend Markus to come join us to have some Guardaespaldas with us, AKA bodyguards in Spanish. In retrospect, this ended up definitely being the way to go, since jumper flights within Colombia are less than $75 each way and a one hour flight saves you 8 hours of driving. What I am about to share with you are the hidden gems of Colombia and a few helpful tips if you are planning to go there.

I started this trip having no idea what this country had to offer. I had fear about going there and especially I had trepidation about going to Medellin, Pablo Escobar's home base and hide out for many years. It's hard to believe that only 15 years ago it was voted one of the most dangerous places on Earth. Instead, now I found a country rich with beauty and kind people who are working hard to rebuild their homes and lives after such violence that they grew up with. I found love, adventure, culture, and so much natural beauty. I found people who traded their complicated lives to live out their days on one of the many small islands off the Caribbean Coast. But mostly, I changed my entire attitude and opinion about Colombia and would love to come back again and explore even more. I love that I can share my photos and adventures in hopes that I can change a few more attitudes of Americans out there that I am sure feel the same way I felt before. So many Colombians are exhausted of the dark, complicated legacy that Pablo Escobar left for their country. Especially for this reason, I want to share what I found to be the eight best hidden secrets of Colombia.
1. La Sal de Catedral or The Salt Cathedral of Zipaquira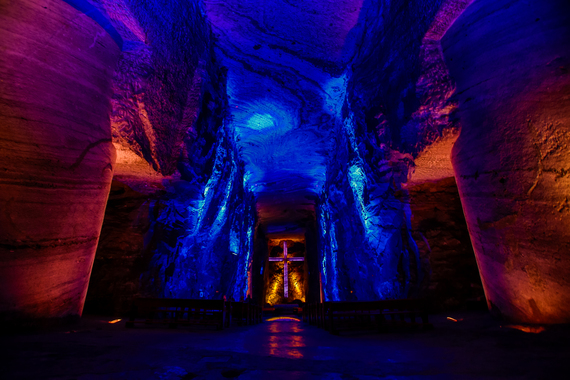 About an hour and a half outside of the capital city of Bogota, there is an underground Roman Catholic Church built within the tunnels of an old Salt Mine. The tunnels date back to the 5th century BC and once you climb 600 feet underground you will find cavern after cavern carved out with altars and massive crucifixes. It took over 20 years for the miners to carve these sanctuaries and you can spend hours in the labyrinths of the caves, learn how to mine salt, and even grab cocktails and check out art inspired by the caves in their attached underground bar!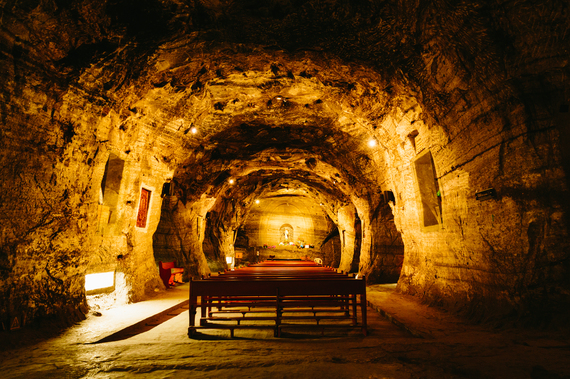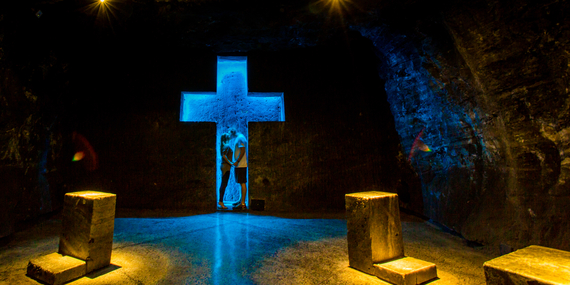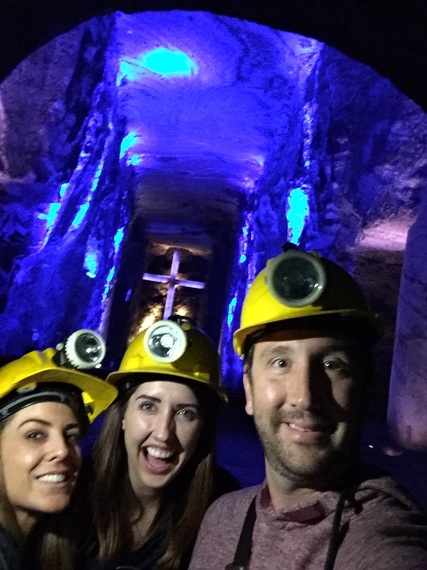 2. Riding Cuatrimotos or ATV's around the countryside of Medellin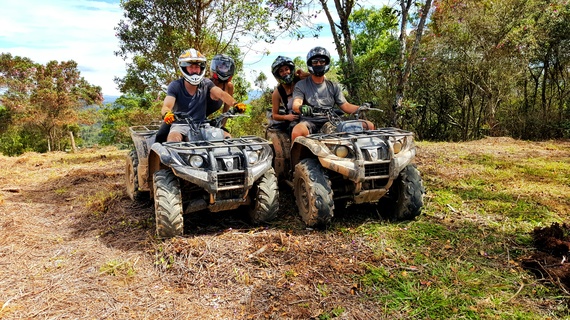 I had no idea what to expect when we first landed in Medellin. Based on it's dark past of violence during Pablo Escobar's reign, I wasn't expecting to find it to be such a beautiful, rural city. The entrance into Medellin is so dramatic and picturesque that we were inspired to take a tour to see the gorgeous countryside. And what is a better way to do this than on ATV's?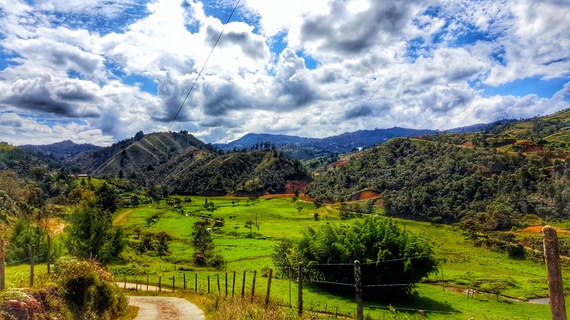 Imagine the city of Medellin set in the vibrant green backdrop of jungle and mountains. The city itself is shaped like a bowl where the main buildings of the city are at the bottom of the bowl and they are surrounded by hillsides covered with barrios and small communities. So when you first arrive at the airport you drive on windy roads over mountaintops and then descend into the city surrounded with 360 degree views of the mountains that twinkle at night with thousands of lights. It is truly spectacular!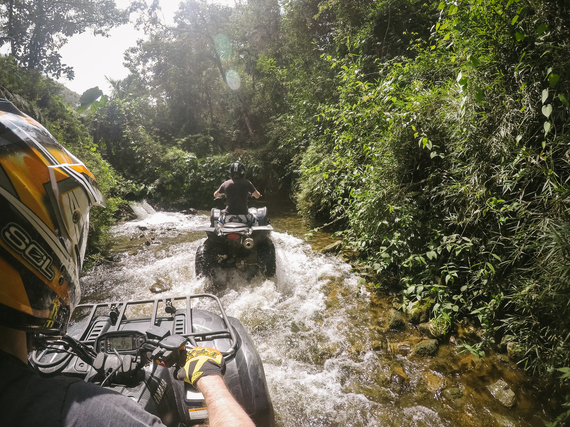 We decided to make an adventure out of it and rent ATV's for an entire afternoon (which was easy to do via what's app through their website Medellin Adventure Trails) An hour later we were zooming through rivers and jungles, quaint villages, and on rocky mountain roads in areas that you couldn't reach by car. We stopped so many times to take photos and we even stopped for lunch at a trout farm and enjoyed cool beers in the shade. Honestly, Medellin was such a pleasant surprise and far exceeded my expectations!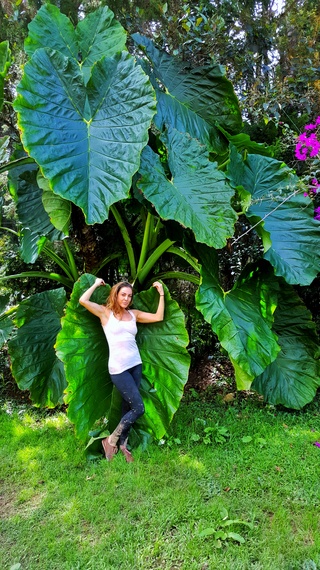 3. Visiting Parque Biblioteca de España (The Spanish Library)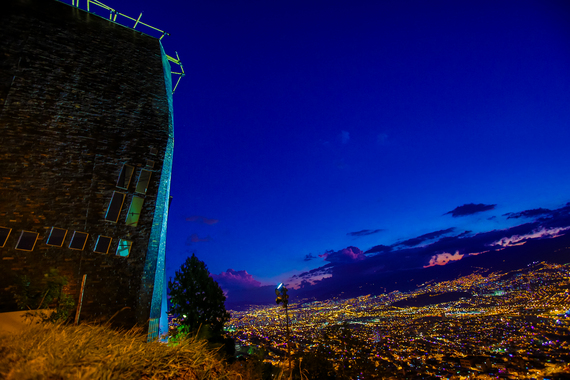 Over the last 21 years, the city of Medellin has worked very hard to rid itself of it's violent reputation by aggressively focusing on urban development. Part of this "urban revival" was to hold a contest with famous architects from all over the world to design innovative spaces within some of the poorest and most dangerous neighborhoods in the hillsides of Medellin. One of those buildings is called the Spanish Library and was designed by Giancarlo Mazzanti from Barranquilla. The library consists of three modern, monolithic buildings connected by a plaza and they dramatically rise above the surrounding neighborhood of Santo Domingo. You can reach it either by taxi or the Metrocable gondola that can carry you up the mountain.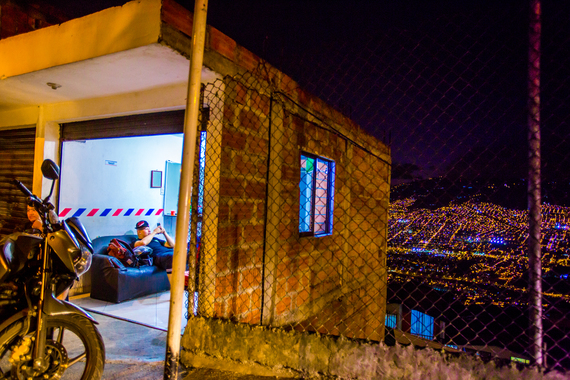 When we arrived at night on December 1st, it just happened to be a famous holiday in Colombia where everyone puts out their Christmas lights at once and set off fireworks around the city at midnight. Even though Santo Domingo is still one of the poorest neighborhoods in Colombia, they have million dollar views that rival the Hollywood Hills at night!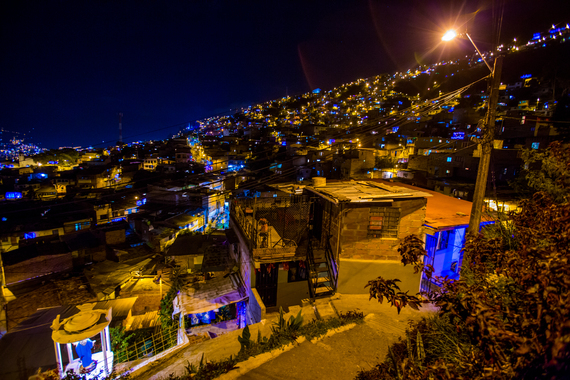 4. Tayrona National Park and its many natural treasures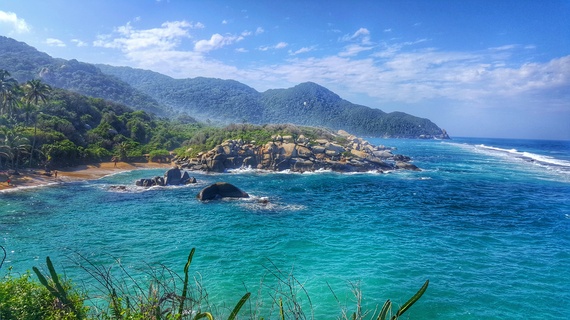 Tayrona National Park is about a 4 hour drive from Cartagena on the Northern Caribbean Coast of Colombia and has some of the most beautiful private beaches in South America. Most of the park is in the jungle with hiking trails that lead to ancient ruins of a lost city, waterfalls where you can spend the days swimming and cliff jumping, or even private beaches where you can rent a hammock for the night or camp out and swim or surf.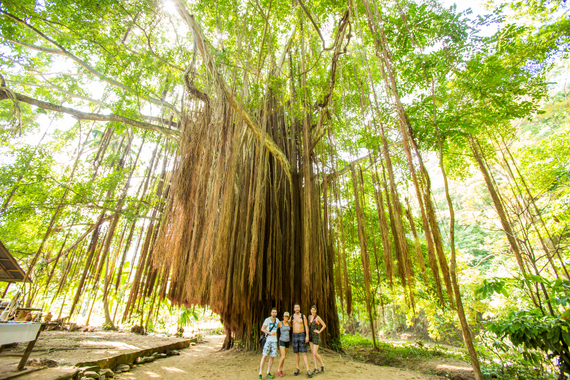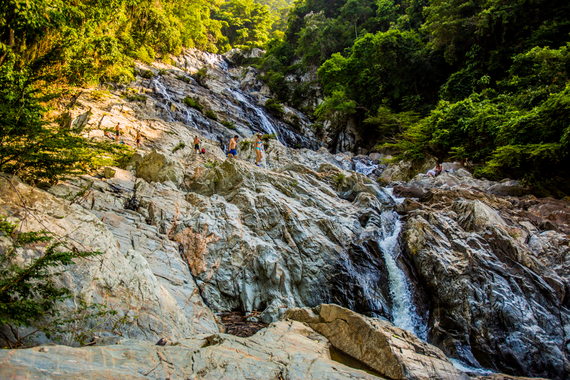 We stayed at Villa Maria Tayrona, an eco lodge up in the canopy of the jungle where some of the villas you have to walk across a suspension bridge to get to. We saw all kinds of wildlife from Monkeys to tropical birds and it was a perfect relaxing getaway from the hustle and bustle of the city. One of my favorite days of the entire trip was hiking through the jungle to La Piscina, a private beach inside of the national park. Along the hike, the indigenous Kogi people would cut open coconuts for you to have fresh water while you were hiking and you could stop and eat a delicious lunch at a local restaurant that you can only get to by hiking in 2 hours through the jungle.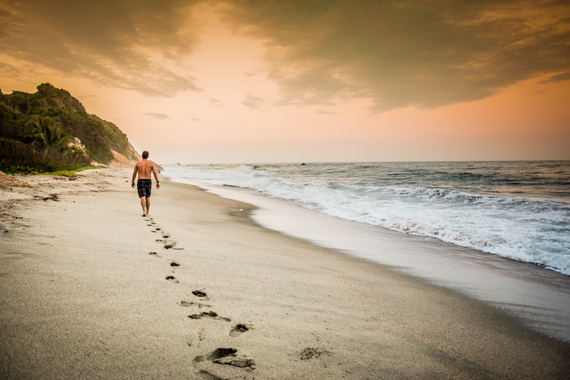 5. Cartagena- Ciudad Amurallada or The walled-in city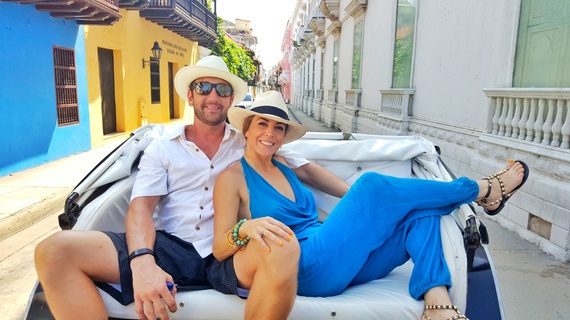 Cartagena to me is the most beautiful city in all of Colombia and one of the easiest for tourists to visit. Many people spoke English there where we did not find that to be the case in the rest of the country, so it was a lot easier to get around if you are a tourist. Located on Colombia's northern coast on the Caribbean Sea, it used to be a Spanish colony and one of the first sanctuaries for freed African slaves. Now, you can find colorful Spanish colonial style-buildings, cobblestone streets with quaint horse carriages that serve as taxis, and many fancy restaurants, clubs and hotels. The nightlife and vibe of Cartagena is that of the Caribbean and has awesome local cuisine and cumbia and salsa dancing. It's definitely MY kind of city; vibrant and alive with color and culture. It was a photographer's paradise to walk around the old part of the city.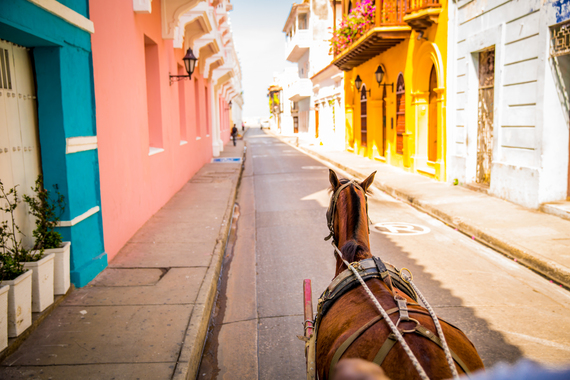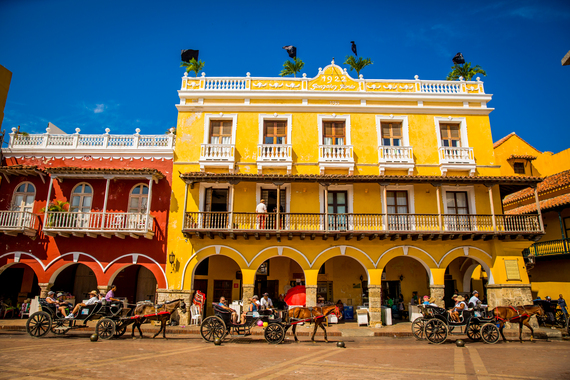 6. Climb inside El Totumo Mud Volcano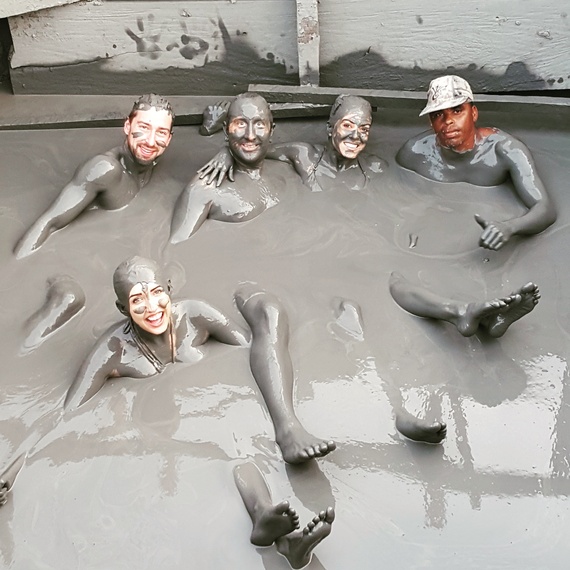 I had never even HEARD of a mud volcano till I came to Colombia, but it's a real thing! Mud volcanoes do not produce lava, but it is a fissure in the ground that continuously exudes a heated mud-like substance from deep within the Earth. The locals believe this mud to be healing and good for your skin, so it has become sort of a spa activity to do where you can float in the mud and get a massage.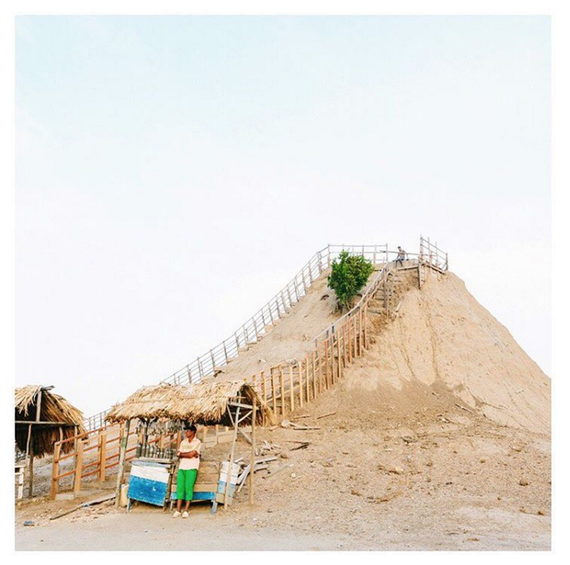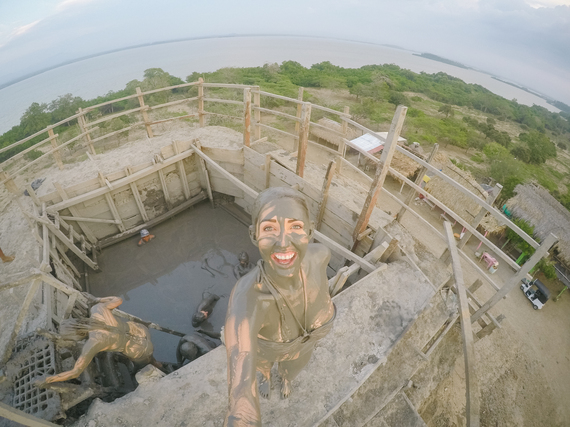 When you first arrive you have to climb up a 50 foot staircase and then climb inside of the volcano in the mud. What was so cool about this mud was that it was so dense, that similar to the Dead Sea you can't sink in it if you tried. You just float on the surface making it easy to just lay there while someone massages your legs and feet! The experience is then followed by a scrub down by local women in a nearby lagoon to remove the mud. Even with that, we were still finding mud in our ears for days afterwards, but it was SO worth the experience!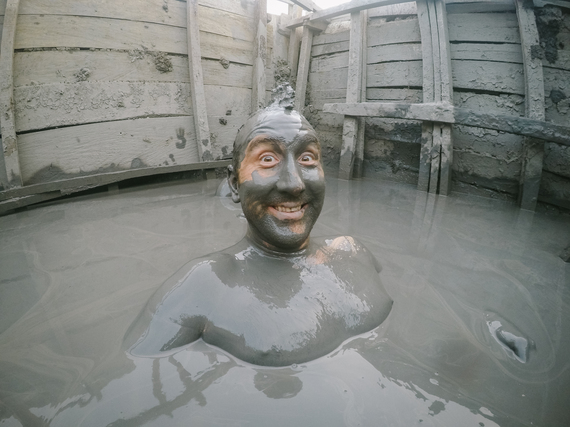 7. Rent a boat to tour the 27 Rosario Islands off the coast of Cartagena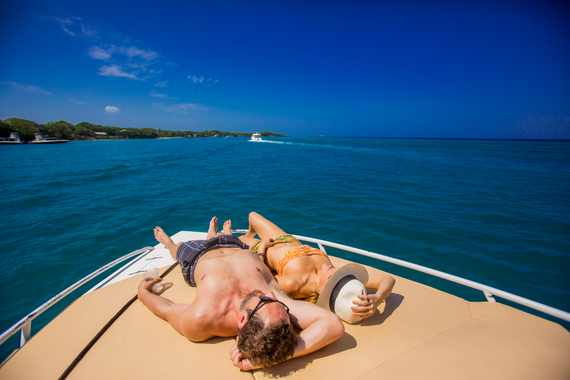 Escape Cartagena for the day and take a trip to the Rosario islands, about 1 hour off the Caribbean coast. This magnificent archipelago of islands are their own little private community where some of the islands are literally just large enough to have a small house on them floating out in the middle of the ocean and only accessible by boat. You can rent a house and stay out there or do as we did and take a day trip.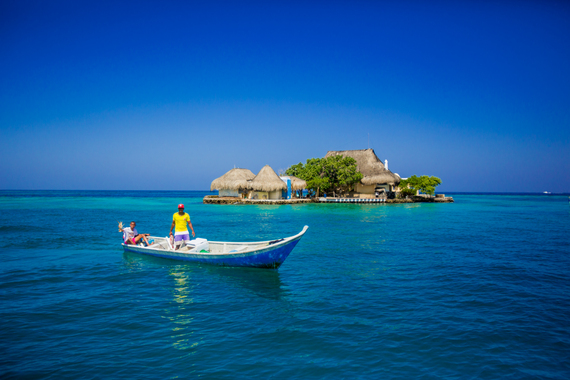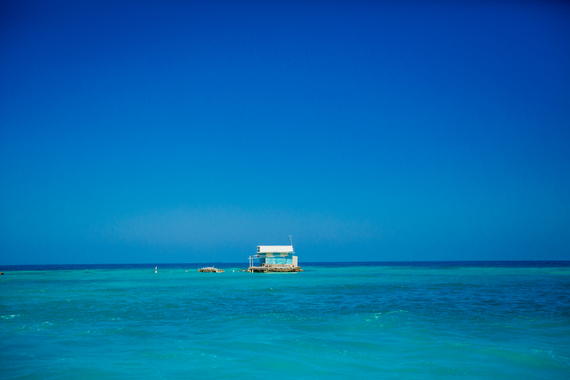 As you approach the islands, local fisherman row up to you and hold up live lobsters and seafood that they just pulled out of the ocean to sell to you. You can jump off your boat and snorkel some of the many coral reefs around there in clear, turquoise waters and do a wide variety of water activities. One of my favorite parts was stopping on one of the islands for a traditional Colombian lunch, where while you waited for your meal to arrive you can lay down on a sarong and get massaged on the sand by local women. It was the ultimate day of relaxation and pampering under the Caribbean sun!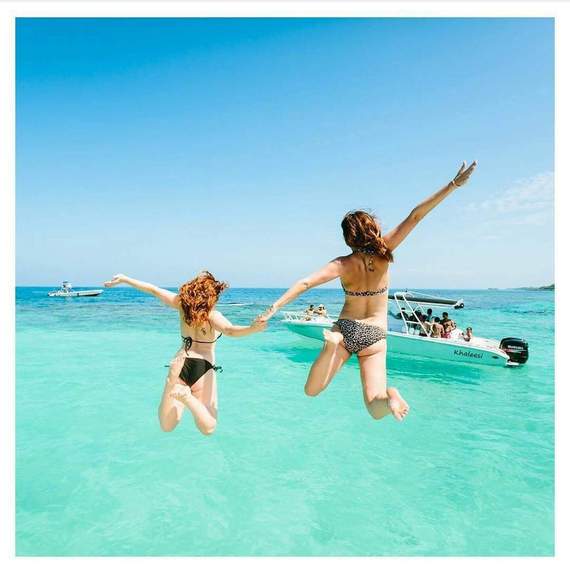 8. Scuba diving off San Andres Island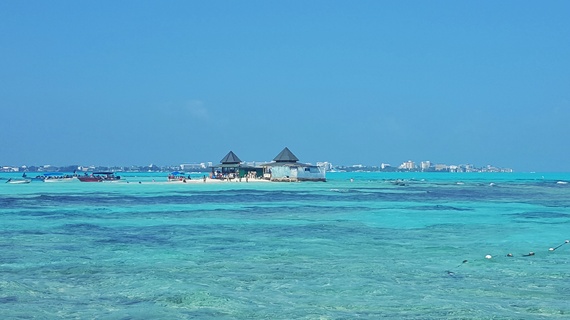 A short jumper flight from Cartagena can bring you to San Andres Island, a UNESCO World Biosphere Reserve and a scuba diver's paradise. We came here to explore this island and all of it's natural beauty that has been fought over for centuries by Spain, Colombia, Panama and Peru. We went kayaking through the mangroves, scuba diving, and rented a scooter to explore the island, but our favorite adventure was taking a boat to El Acuario to find their favorite local hang out, Bibi's Place. El Acuario is a tiny island that once you get off the boat, you then have to walk through the ocean waist deep and carry your bags military style to get to another island that is only 2 acres large. It's just large enough to have a private beach and a small reggae bar haven called Bibi's Place. Here you can relax in the sun, listen to a live band, and eat fresh seafood. It is one of the Caribbean's best kept secrets and such a magical place to spend the day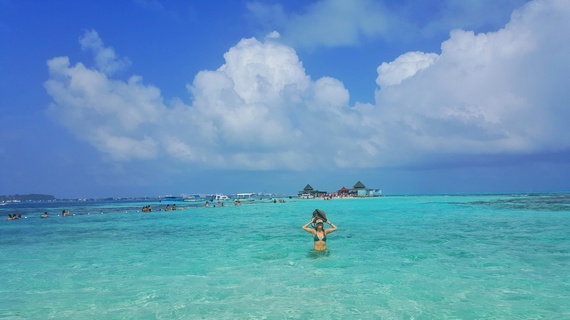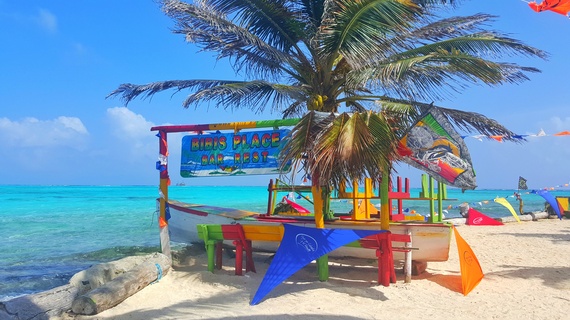 What added to this island's vivid and multi-ethnic history was that it was the haven for the Welsh Pirate, Captain Morgan. Yep, this guy actually existed and isn't just a character on as bottle of Rum. Captain Morgan used to live on this island and wait for the Spanish Armadas to sail by on their way back to Spain for South America laden with jewels and gold and raid the galleons. San Andres is a coral made island with many hidden coral caves, which made for perfect hiding places for all of that pirate booty. While we were there we climbed into some of Captain Morgan's caves and local legend has it that there is still buried treasure somewhere on the island. So just a tip for all of you treasure hunters out there!