YOU DON'T GET a whole lot of street cred for glamping.
Tell your friends you're going on a mission to Patagonia, and they'll imagine you hiking up snowy boulders and sleeping in flimsy tents on a mountainside. Real character-building stuff. Post pictures sipping Champagne in a jacuzzi that same night, and now you're a bougie tourist.
But really, who cares? Because when you can enjoy some of the most spectacular wilderness in the world from the warmth of a finely appointed yurt, street cred doesn't seem so important.
This is what you'll experience at the Patagonia Camp, ensconced deep in Chile's Torres Del Paine National Park, along the shores of Lake Toro. It's every bit the Patagonia you've imagined, with bright turquoise water lapping up against deep green Nothofagus trees and snow-capped mountains in the distance. But it is also the epitome of luxury.
For about $400-$500 a night, depending on how long you stay, you'll get an all-inclusive experience, full of daylong hikes, fine wines, great food, and plush surroundings. You'll also get the opportunity to go on themed retreats, with everything from yoga to photography dominating your itinerary. But most of all, you'll get a chance to experience one of the great travel destinations on the planet, without having to "rough it" at all.
The luxury begins when the wheels touch the ground.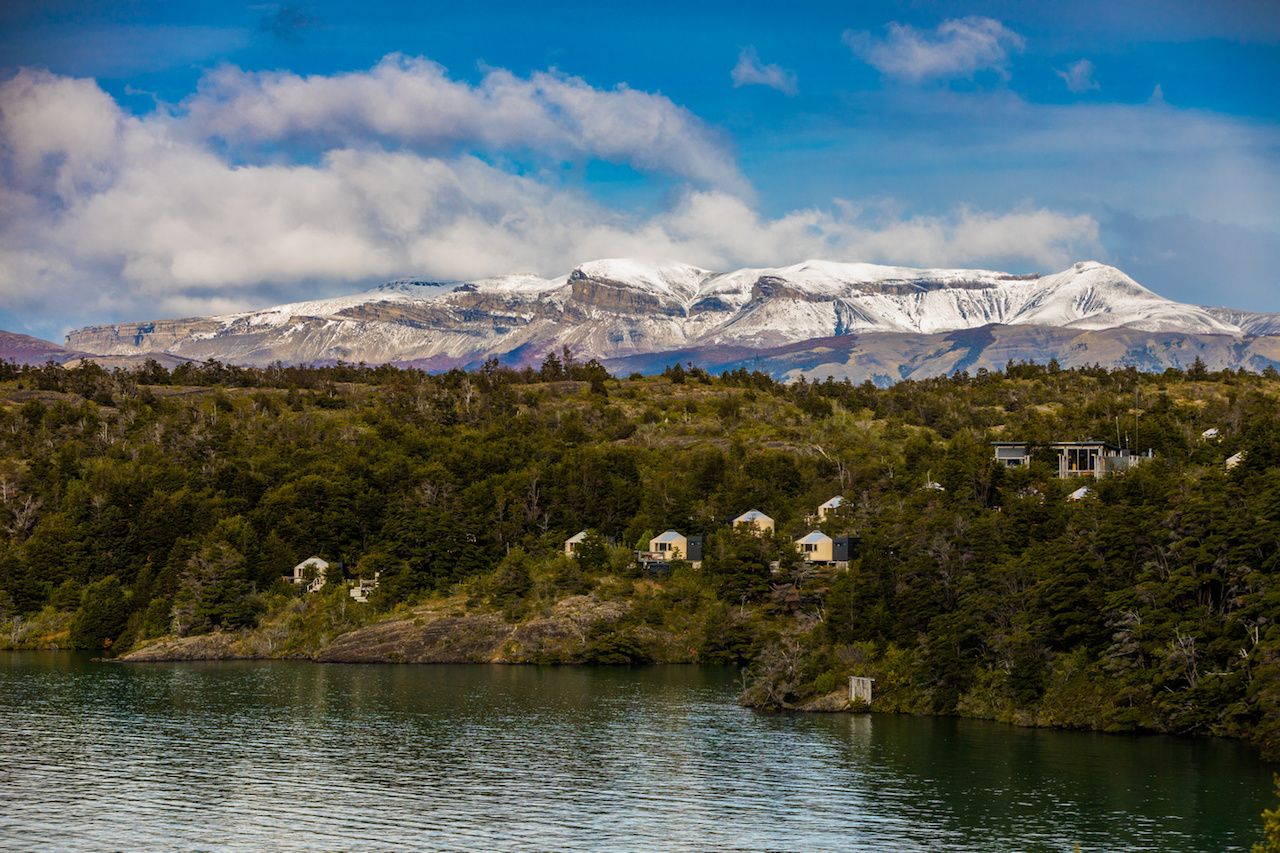 After a private transfer collects you at Punta Arenas airport in far-southern Chile, you ride about four to five hours into the mountains, past glaciers, lakes, rivers, and a whole lot of sheep. You arrive at the front gate, greeted by smiling, waving, fleece-wearing staff who speak both English and Spanish.
They lead you into the beautifully bright main lodge, where a wall of windows looking out on the turquoise lake and a dining room set for about 40 guests greets you. The Andean sunshine creates a natural glow off the wooden interior, and a host seats you on a plush couch while bringing you a glass of wine.
The wine is exquisite, the product of Matetic Vineyard, owned by the same people who own the camp. The Malbec is the obvious choice given where you are in the world, but the Syrah is the superstar.
After checking in and enjoying a bowl of warm nuts, you are led down a concrete path as the cool mountain air blows through your face. You arrive at a large, white yurt with a hot tub in front of it. This is home for the next few days. And while yurts traditionally have been fierce structures designed to withstand the winds of the Mongolian steppes, they've never been what one might describe as "posh." Your home, however, is different.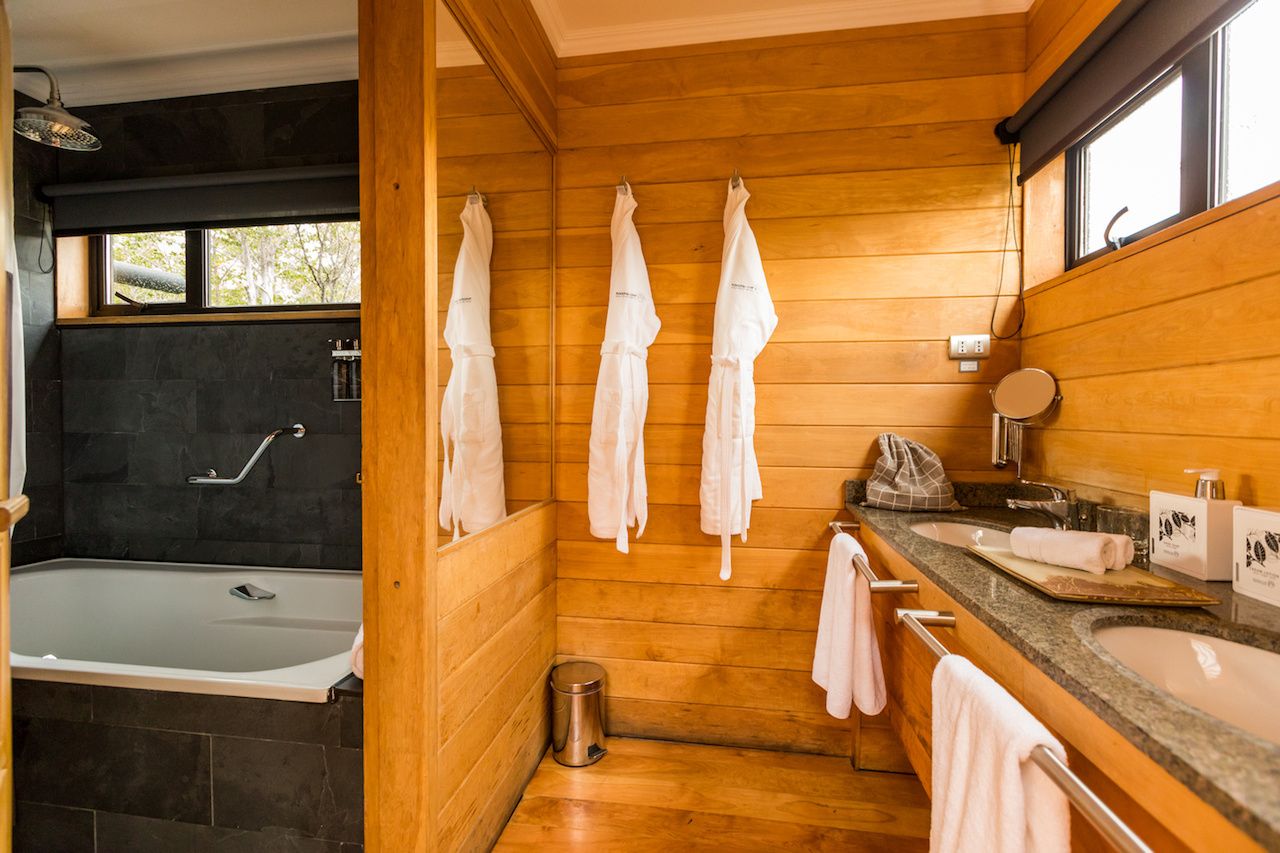 Inside you find hardwood floors and a comforting wave of heat. The twin beds set into wood frames on each side of the room are covered in wool blankets, with mattresses that feel like you're sinking into a slightly scratchy heaven.
Across a shared bathroom — complete with stone showers and heated towel racks — sits another bedroom with a panoramic view of the lake. This is a family yurt, as the camp calls it, designed for parents and kids to have different rooms. But they also have single-bedroom suites and a honeymoon suite. The host tells you to be back in the meeting room at 6:30 PM for a brief on the next day's excursions.
Setting off into the wild — kind of..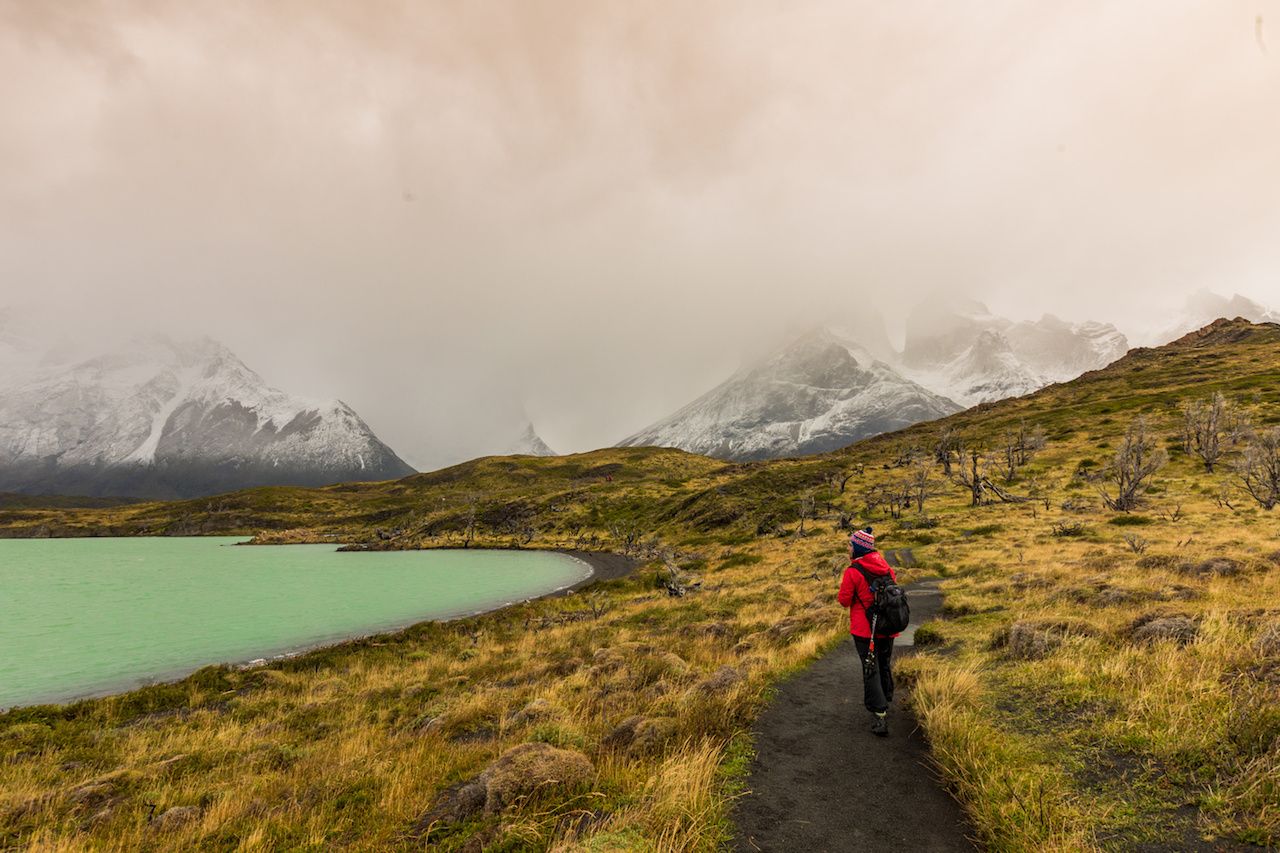 In Patagonia, weather can change instantly, so even though guides have a pretty good idea of what you can do the next day, everything is weather dependent. Today, the guide is offering a drive to view wildlife in the eastern part of the park, a five-mile hike to a lake, or an all-day trek to the famous Mirador de las Torres. You didn't come to Patagonia to sit in a car and look at animals, so of course you opt for the longest hike of the day.
The view at Mirador de las Torres (view of the towers) is one of the most iconic in all of Patagonia, a remote glacial lake that butts up against the region's most noticeable mountains. It's also not easily obtained, as the 15-ish-mile trail is the final part of Patagonia's famous W, ranging through steep hills, thick forests, and blustery snowy peaks.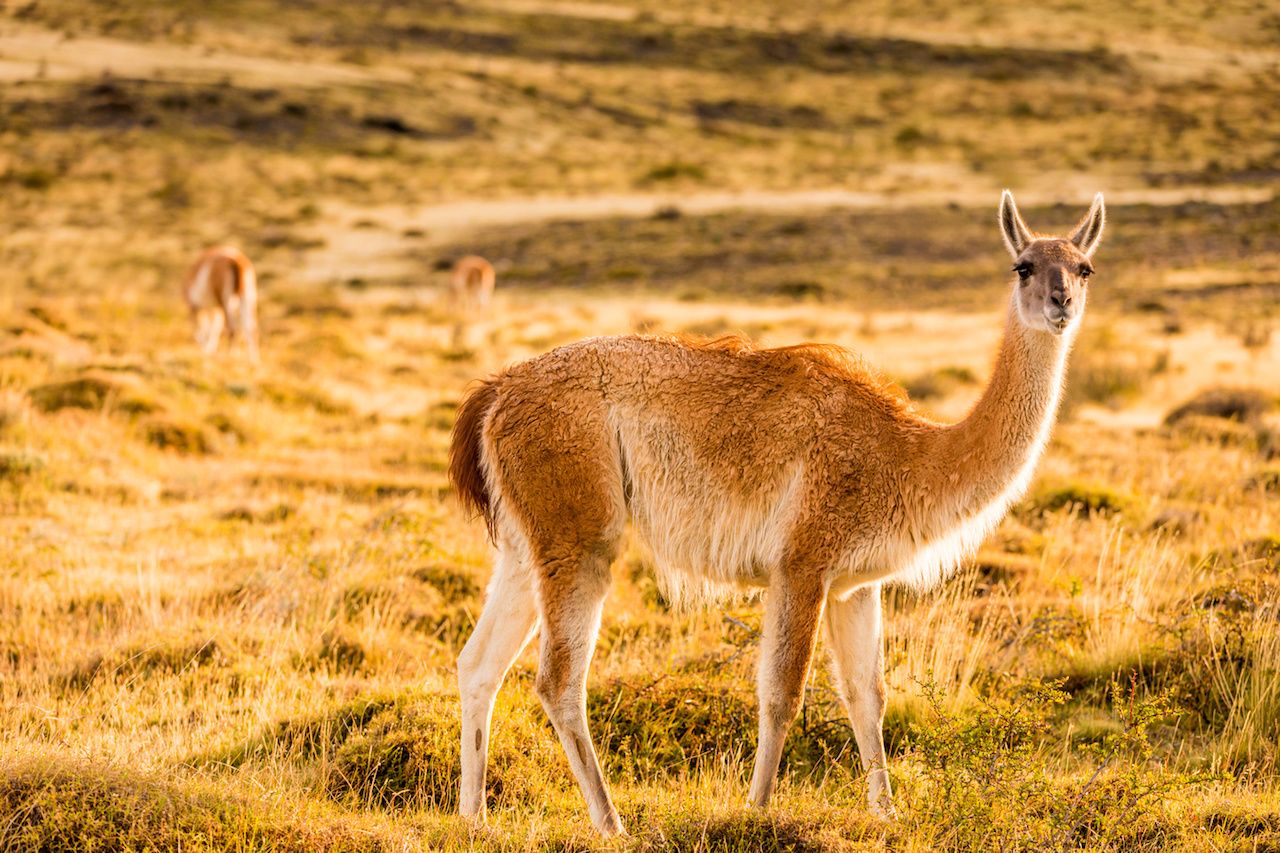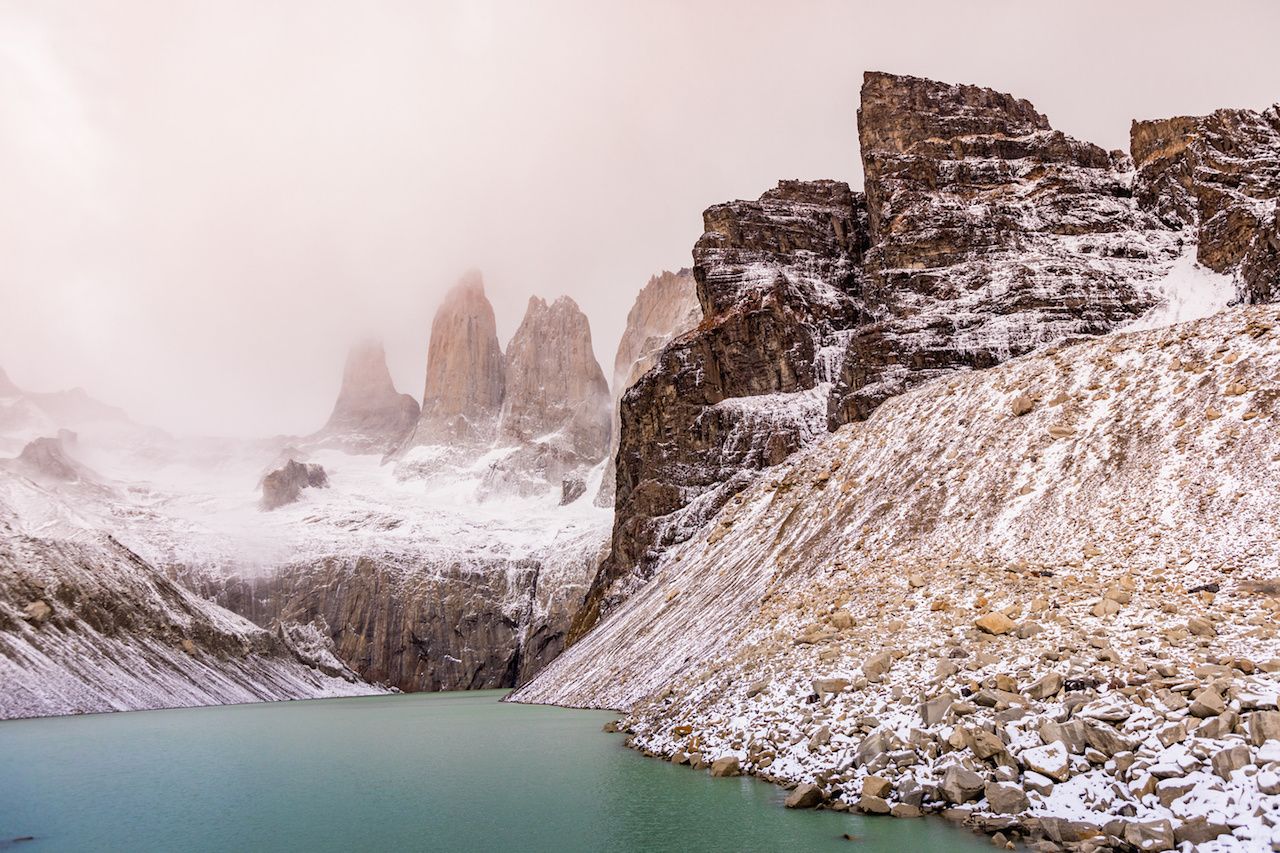 Before you leave, your guide hands you each a gourmet sandwich — ranging from fresh-cut roast beef with pesto sauce and arugula to falafel with fresh cucumber and tahini – along with chips, fruit, and a couple of chocolate bars. On this hike, there's no time to stop. But on shorter ventures, he sets up a full picnic lunch with soup, salad, beer, and hot chocolate, which you enjoy al fresco in the park.
The hike is long and grueling, and as you return to the parking lot after 10 hours on the mountain, your driver has a spread of charcuterie and beers waiting. After spending the final two hours of the hike talking about how good a cold beer would taste, it seems almost like the Patagonia Camp was reading your mind.
Bubbles under the stars
You return to the camp as the sun is setting, and instead of showering you instead ask the bar for a couple glasses of wine to take to your jacuzzi.
"Take a whole bottle," the bartender says. After all, all the liquor is included. "It'll keep you from having to come back up."
Muscles aching, dirty, wet, and exhausted, you change into a suit and slide into the hot tub. Immediately the pain of the previous 10 hours melts away. All you're left with are memories of the spectacular journey you had through the forest, a glass of wine, and warm bubbles. The view out over the lake isn't bad either, as you see other guests in kayaks fishing in the water.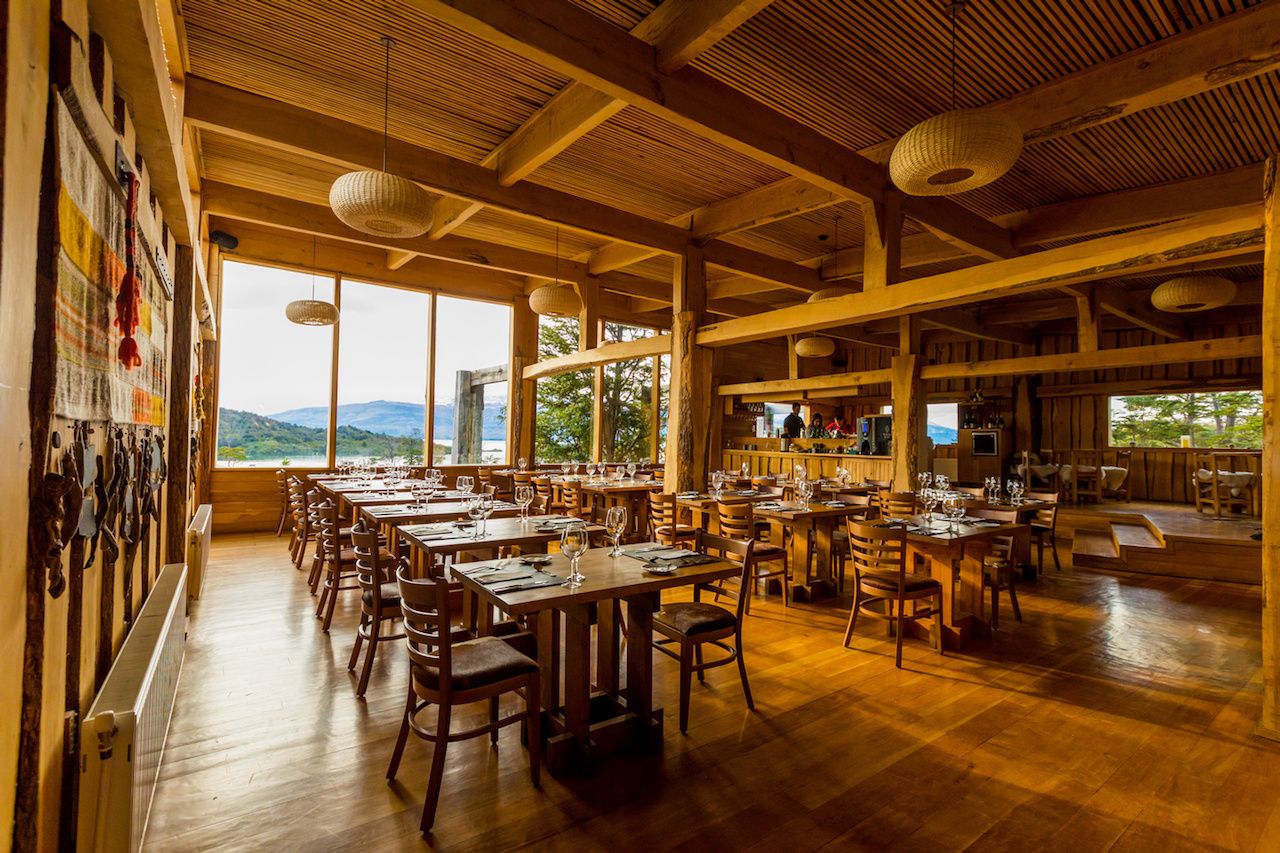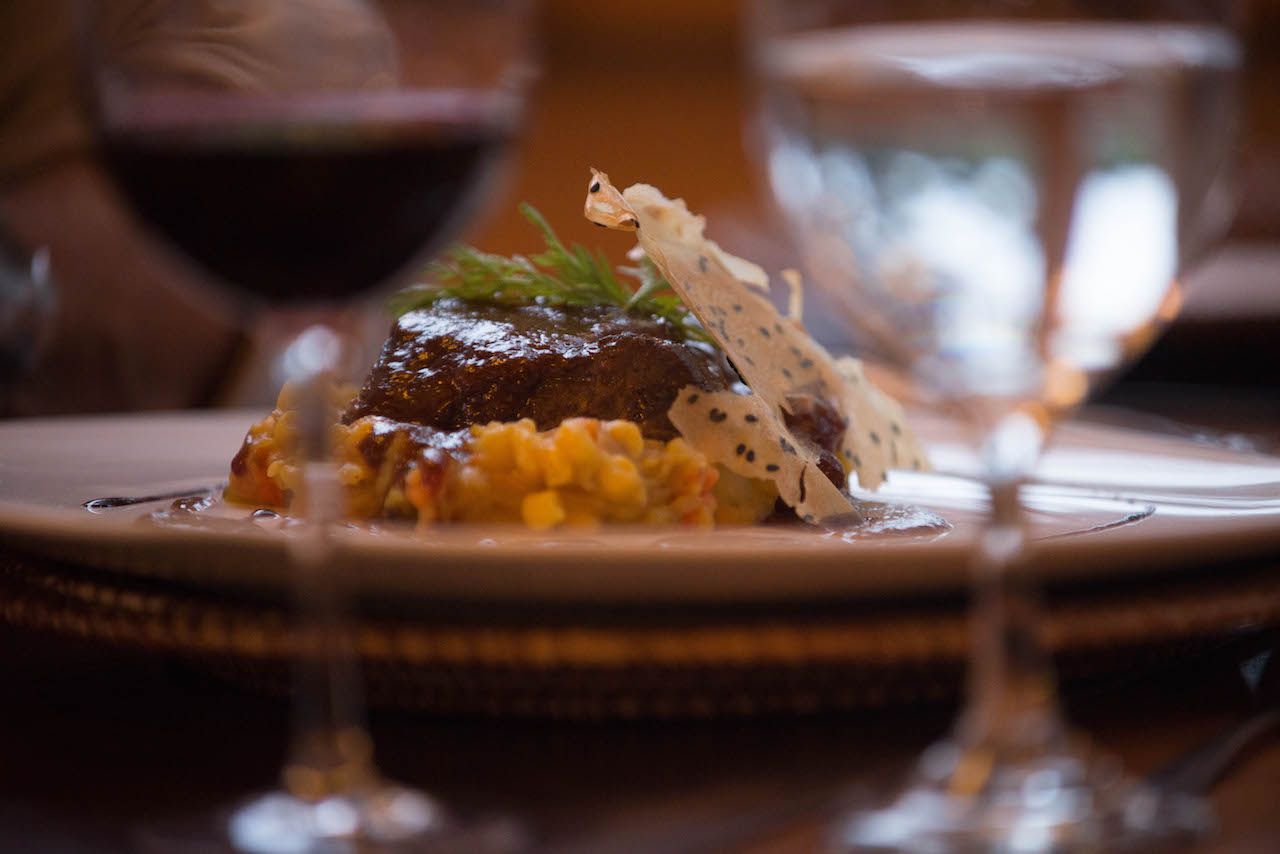 After a hot, high-pressured shower in your yurt, you head to the dining room where options are sirloin, fresh sea bass, and potato gnocchi. You wash your steak down with more wine and a couple of cocktails, before heading back into the night to end a perfect day in Patagonia.
Tempted by the canopy of bright stars overhead, you make one more trip into the hot tub before calling it a night. The cool air makes steam rise from the water, as you lay back and gaze at a sky totally different than the one in your hemisphere.
After you feel yourself starting to doze off, you put on the robe and slippers the camp provided and slip back into your luxury yurt, collapsing into the folds of your mattress for the best night's sleep you've had in months. The mountain air and 15-mile hike will help with that. But so will wine and high-thread-count sheets.
You wake up in the morning to a full breakfast, which you take back to your yurt and enjoy as the sun rises over the lake. You snap a picture and decide to post it when you get back upstairs, where the WiFi is surprisingly good for being four hours from the nearest major airport.
Perhaps people will think you're not as tough as they thought when they realize your Patagonia vacation was spent indulging when you weren't in the wilderness. But for those who aren't so big on sharing their sleeping bag with field mice and freezing at night, there is no better way to see Patagonia.