When I travel, I am always looking out for bizarre, fun and colorful festivals to explore and photograph. After all, any excuse to party can be a good one, especially when lots of people join in and make whatever activity is involved (no matter how outrageous) a completely normal part of the day.
Sometimes major festivals begin on a whim. They can be based on a historical event, religious beliefs, food and crop cycles, weather, sports, you name it and I am sure there is a festival somewhere created to worship it.
Normally, I hear about these strange and unusual celebrations while traveling to far flung places and discovering hidden cultures and indigenous peoples, so I was completely taken by surprise when I learned that right here in the US in the state of Colorado that they have one of the highest concentrations of bizarre festivals that you have never heard of, but have to go check out!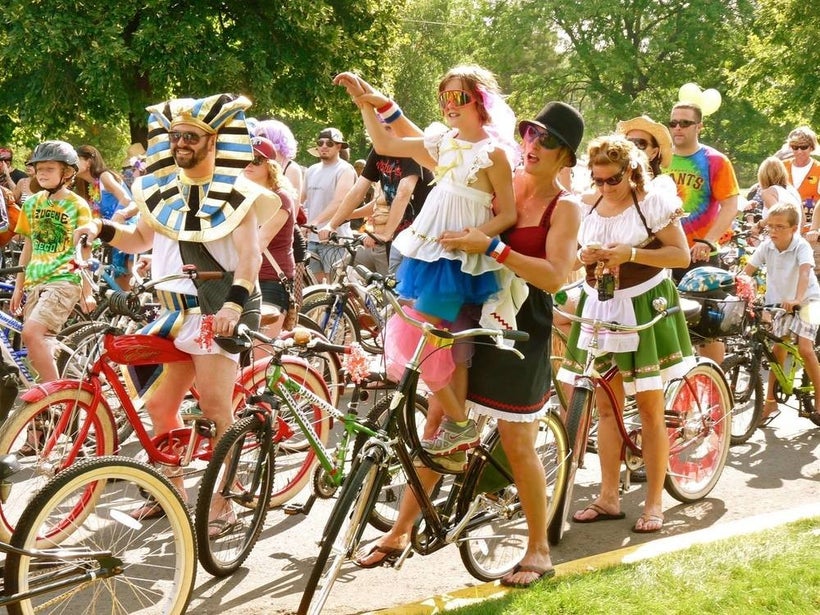 The facts sound like make believe: A festival to celebrate a headless chicken that lived for almost 18 months, coffin races, or a festival around a discovered frozen corpse. These festivals are nothing if not professional in their weirdness.
They also provide the biggest party of the year for some of Colorado's smallest, most out-of-the-way locales — providing a hearty slice of Americana far outsized in its capacity for eccentricity. Like to get weird? Plan a trip to Colorado and experience these very real festivals you probably never heard or can't even wrap your head around!
COWBOY SKIING AT STEAMBOAT SPRINGS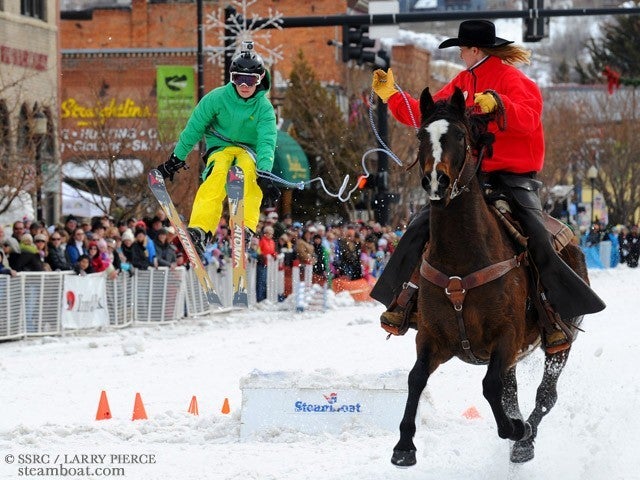 Texans should feel right at home in Steamboat Springs, Colorado, where residents gallop on horseback down Main Street, pulling people riding on snow shovels, and ranch hands strap on skis and careen down slopes like they're aboard bucking broncos. Nothing says Steamboat like cowboys on skis! That's what Billy Kidd, Director of Skiing, and Larry Mahan, six-time All-Around World Champion cowboy, were thinking when they made the decision to invite some of the ProRodeo cowboys up to Steamboat for some serious fun on the slopes. Forty years later Today, the Bud Light Cowboy Downhill has become a truly unique festival featuring cowboys who are excellent skiers and has evolved into a signature Steamboat event, as over 100 professional rodeo cowboys flock to the 'Boat for one of the most unique events in the West!
CORN ROAST FESTIVAL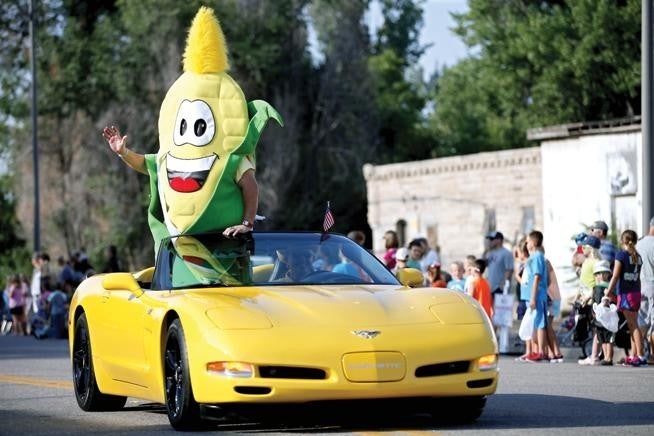 Over 15,000 attend this community event, it's a true sense of what the spirit of Loveland is all about! Supporting the Chamber's mission of promoting business and community prosperity is evident with this annual event and looking back on the history of the Corn Roast Festival.
Community member participation through the corn shucking competition, corn eating contest, corn roast parade, or volunteering to help with any of the various groups that help make Loveland's Old Fashioned Corn Roast Festival such a success. Getting plugged into your community is extremely important to the area but it is also a way for you to give back to the community and adds personal and professional benefits by building relationships and making connections that last a lifetime.
Getting plugged into your community is extremely important to the area but it is also a way for you to give back to the community and adds personal and professional benefits by building relationships and making connections that last a lifetime.
The 2017 Old Fashioned Corn Roast Festival will include the parade, corn shucking competition, corn eating contest, the second annual Cornhole Tournament and all the roasted and boiled non-GMO corn anyone could eat! In addition, people of all ages can enjoy a variety of entertainment, great vendors and more. General attendance and all concerts are always free and open to the public.
TOUR DE FAT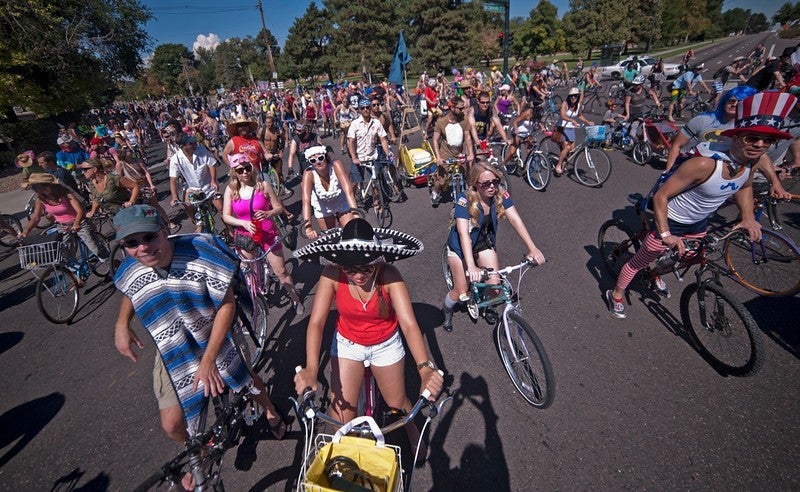 Now in its 19th year, Tour de Fat, New Belgium's nonprofit-supporting celebration of bikes, beer and bands, is coming back in 2017 with a bevy of changes, including a greatly expanded circuit, bigger headliners and an entry fee.
This year also marks Tour de Fat's change into a music-focused festival, which will pair a nationally-known headlining act with each city it visits. To foot the cost of the bands, the festival is abandoning its free-to-enter model, charging a ticketed fee that will also help Tour de Fat raise more money for the nonprofits the events support, which are localized to each participating city.
For most cities, the new model also spells the end of Tour de Fat's hallmark bike parade, save for three locations: Fort Collins, Boise and Tempe.
"We're still about advocacy and philanthropy and we're still a celebration of the bike and beer," New Belgium spokesman Bryan Simpson said, "but this was our best model going forward to keep it sustainable."
New Belgium Brewing has raised more than $4.5 million for partnering non-profits since its inception. This summer Tour de Fat hopes to generate more than $600,000 in support of local causes.
In addition to musical headliners, a touring ensemble of artists, Cirque performers, and general mayhemists will appear alongside local buskers and street performers. New Belgium Brewing will host a battle of the bands in many cities prior to the event to give local bands the chance to represent their hometown scene.
CRAWFORD COFFIN RACES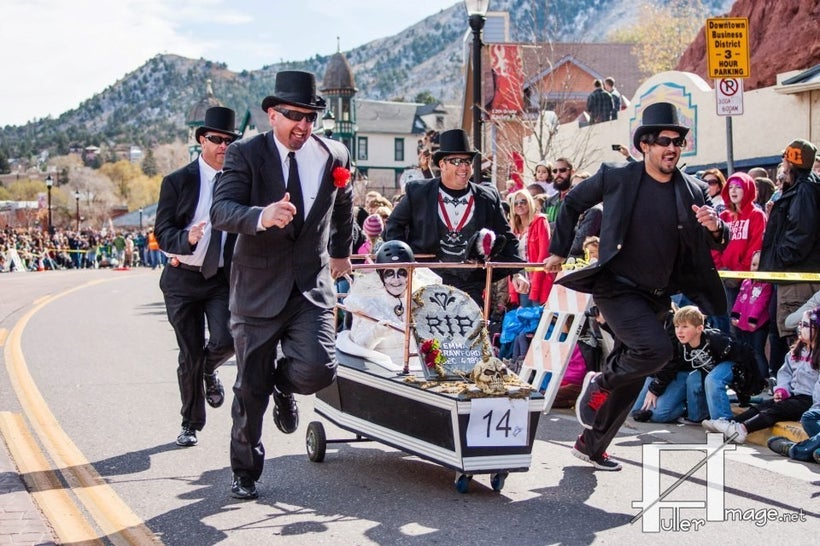 Legend has it that a young woman named Emma Crawford moved to Manitou Springs in 1889 hopeful that the clean mountain air and healing mineral springs would cure her tuberculosis. After accomplishing a hike up nearby Red Mountain, she let it be known that once she passed on, her wish was to be buried on the mountain.
She died soon after and was laid to rest on Red Mountain. Many years later, heavy rainfall caused Emma's coffin to dislodge, and it came racing down the mountain. The coffin was found by some children, but her remains were never discovered. Emma supposedly still haunts Red Mountain.
The legend of Emma Crawford lives on in the wacky Emma Crawford Coffin Race up Manitou Avenue. Costumed impersonators of Emma ride on coffin-like contraptions pulled by teams of four "mourners." A Parade of Coffins and awards for the best Emma and Most Creative Coffin complete the day-long event.
Stay in town for the Emma Crawford Estate Sidewalk Sale hosted by participating local businesses in Downtown Historic Manitou Springs. The night before, a Victorian Wake in Emma's honor is held at Miramont Castle in Manitou Springs.
FROZEN DEAD GUY DAYS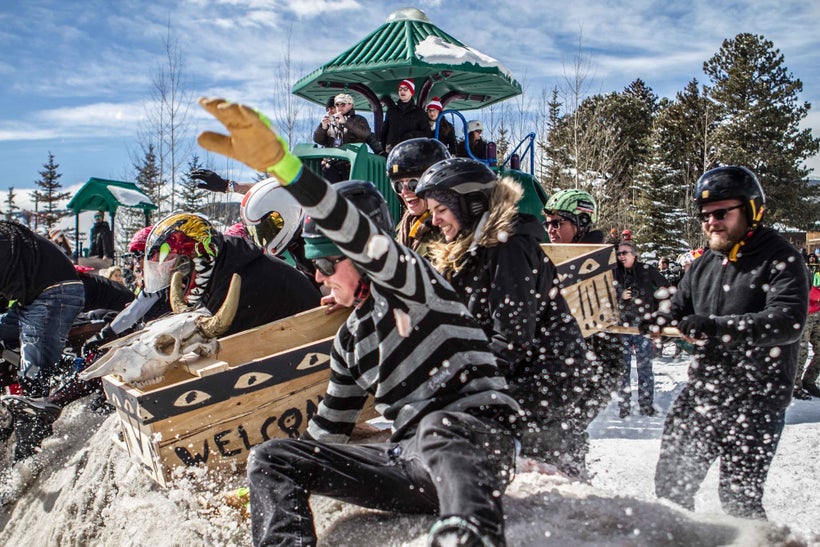 Frozen Dead Guy Days started in 2002, is an annual celebration held in the town of Nederland, Colorado, to loosely celebrate the 1994 discovery of the cryonic state corpse of Bredo Morstoel.
Known as one of the most unique and quirky festivals in the country, Frozen Dead Guy Days takes place in the Colorado mountain town of Nederland — three days of frosty merriment featuring 30 live bands in heated super tents and outrageous events like coffin racing, costumed polar plunging, frozen t-shirt contests and much more.
Celebrating its 16th year in 2017, Frozen Dead Guy Days continues to be a world-renowned spectacle. The home-grown frosty fest pays homage to Bredo Morstol, who is frozen in a state of suspended animation and housed in a Tuff Shed on dry ice high above Nederland. Thousands of adventurous, life enthusiasts come to participate in Colorado's "most frigidly fun festival" and view the events along with local, national and international media and entertainment.
MIKE THE HEADLESS CHICKEN FESTIVAL

The Annual Mike the Headless Chicken Festival in Fruita, Colorado is "Colorado to the Core". This festival is dedicated to the amazing story of one chicken's will to live. Events such as a 5k run, disc golf tournament, wing and peep eating contests, live music, delicious food and artisan booths make this a weekend to remember.
History was made on September 10th, 1945 when a strapping young rooster was pecking through the dust of Fruita, Colorado. The unsuspecting bird had never looked so delicious as he did on that infamous day. Clara Olsen was planning on featuring the plump chicken in the evening meal. Husband Lloyd Olsen was sent out, on a very routine mission to prepare the designated fryer for the pan. Nothing about this task turned out to be routine. Lloyd knew his mother-in-law would be dining with them and would savor the neck. He positioned his ax precisely, estimating just the right tolerances, to leave a generous neck bone. "It was as important to suck-up to your mother-in-law in the 40's as it is today." A skillful blow was executed and the chicken staggered around like most freshly terminated poultry.
Nothing about this task turned out to be routine. Lloyd knew his mother-in-law would be dining with them and would savor the neck. He positioned his ax precisely, estimating just the right tolerances, to leave a generous neck bone. "It was as important to suck-up to your mother-in-law in the 40's as it is today." A skillful blow was executed and the chicken staggered around like most freshly terminated poultry.
Then the determined bird shook off the traumatic event and never looked back. Mike (it is unclear when the famous rooster took on the name) returned to his job of being a chicken. He pecked for food and preened his feathers just like the rest of his barnyard buddies.
When Olsen found Mike the next morning, sleeping with his "head" under his wing, he decided that if Mike had that much will to live, he would figure out a way to feed and water him. With an eyedropper Mike was given grain and water. It was becoming obvious that Mike was special. A week into Mike's new life Olsen packed him up and took him 250 miles to the University of Utah in Salt Lake City . The skeptical scientists were eager to answer all the questions regarding Mike's amazing ability to survive with no head.
It was determined that ax blade had missed the jugular vein and a clot had prevented Mike from bleeding to death. Although most of his head was in a jar, most of his brain stem and one ear was left on his body. Since most of a chicken's reflex actions are controlled by the brain stem Mike was able to remain quite healthy.
Subscribe to The Morning Email.
Wake up to the day's most important news.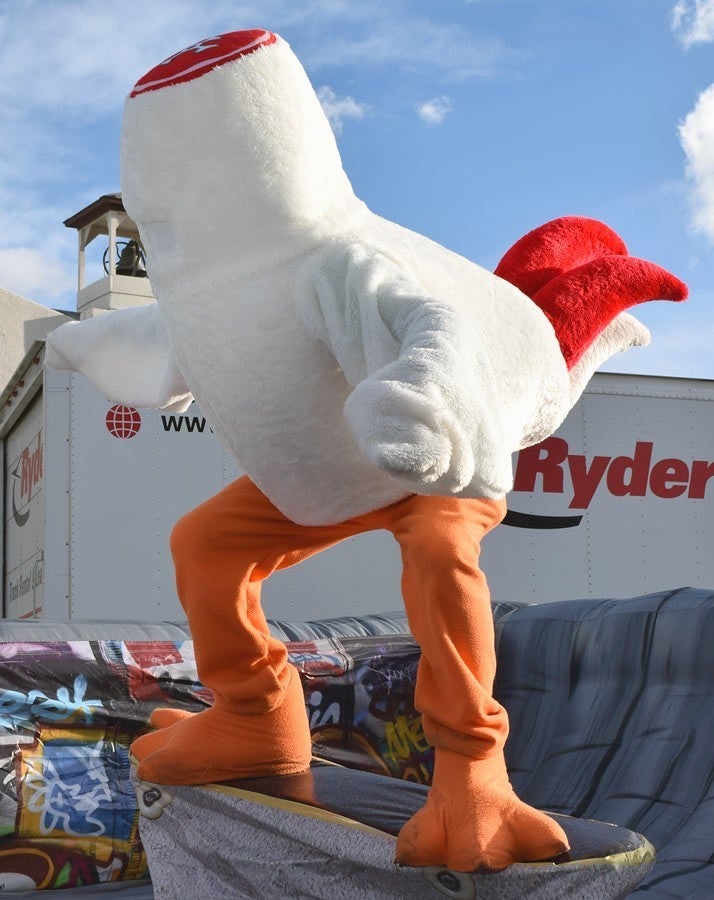 In the 18 MONTHS that Mike lived as "The Headless Wonder Chicken" he grew from a mere 2 1/2 lbs. to nearly 8 lbs. In an interview, Olsen said Mike was a "robust chicken - a fine specimen of a chicken except for not having a head." Miracle Mike took on a manager, and with the Olsens in tow, set out on a national tour. Curious sideshow patrons in New York , Atlantic City , Los Angeles , and San Diego lined up to pay 25 cents to see Mike. The "Wonder Chicken" was valued at $10,000 and insured for the same. His fame and fortune would earn him recognition in Life and Time Magazines. It goes without saying there was a Guinness World Record in all this. While returning from one of these road trips the Olsens stopped at a motel in the Arizona desert. In the middle of the night Mike began to choke. Unable to find the eyedropper used to clear Mike's open esophagus Miracle Mike passed on.
Now, Mike's spirit is celebrated every year at the Mike the Headless Chicken Festival the first weekend in June.
BURRO DAYS IN FAIRPLAY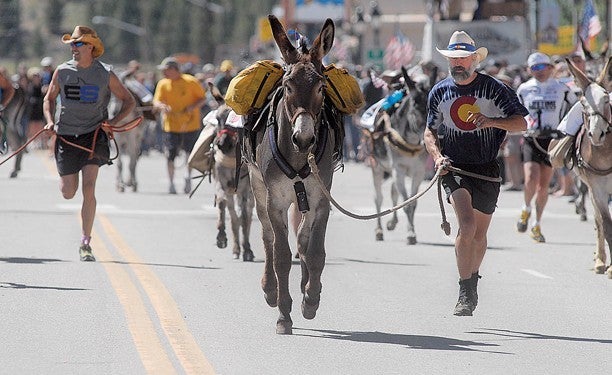 An annual event in Fairplay, Colorado since 1948, Burro Days celebrates the role of the burro in mining days of old.
Always held during the last weekend in July, the 69th Annual Burro Days will take place on Saturday, July 29 and Sunday, July 30, 2017.
Over 10,000 people participate in festivities such as: burro races, llama races, kiddies pack dog races, parades, contests, over 140 arts & crafts booths, over 30 food vendor booths, local musical entertainment, dance & BBQ, pancake breakfast, Cowboy Church services and more!
In 1949 when the challenge went out to anyone with the fortitude to race from Leadville to Fairplay for a $500 prize, every mountain town in the Rockies came alive in the following weeks trying to lure racers into representing them. Mosquito Pass became a mecca for aspiring racers. The local bars reported that those runners consuming more beer were producing faster practice times. The Fairplay Flume reported that there were more burros escaping from their pasture than ever remembered.
Some of the most exciting races were in the 1960s, when some marathoners decided to challenge the sport that was dominated by miners. At the time the race was dominated by nine-time winner Joe Glavineck of Leadville. He won his first race in 1955 and had some kind of special rapport with his burros that kept him in first place for over 20 years. His battles with marathoner Steve Matthews became legendary, showing that it takes more than being a good runner to win this race. Glavenick was the last of the true miners to win the race, but he beat the best runners of the time including some Olympic hopefuls who took the challenge.
In the 1970s the local mining industry declined rapidly with many of the miners having to relocate or take on new jobs - but the spirit of the race continued. During this time a cross country coach from Arvada, Lee Courkamp exposed burro racing to runners on the front range. Lee won the race two times and had a string of well trained burros. He inspired his high school teams to train with them and in the process won numerous state championships along with developing Olympic runner Jon Sinclair who also went on to win the 1977 race. Many of the present runners trained with Lee and have run his burros.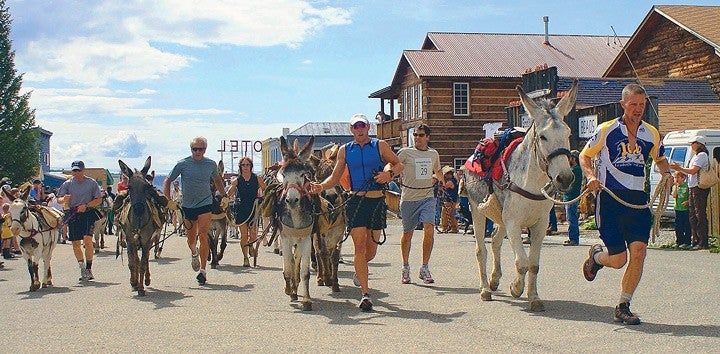 The current group of racers is probably the most diverse in history. Eight-time winner Ardel Boes, a math professor at the School of Mines in Golden was the first to break the 4 hour barrier which was felt to be impossible. Tom Sobal finally broke the seemingly "unbreakable" record of Joe Glavinek in 2002 with his 10th win. Tom also holds the course record of 3 hours 44 minutes for the 30 mile course. Hal Walters, a freelance writer, has won the race three times in the past six years.
As long as the "Pass" is there and a record to be broken, runners and burros will line up the last weekend of July to "Get Their Ass Up the Pass."
FRUITCAKE TOSS DAY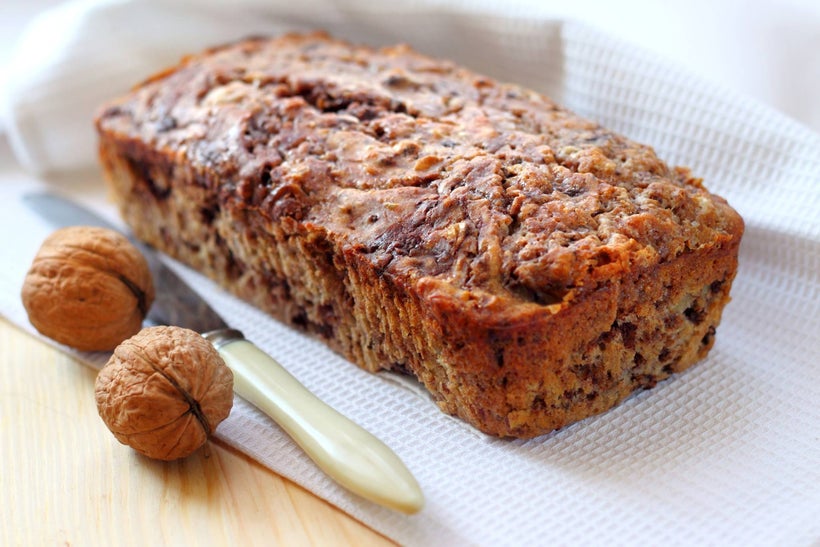 Let's be honest: nobody really likes fruitcake, and nobody ever really eats it, either. Heavy, flavorless and always too sweet, fruitcake is one of our century's biggest holiday jokes. So when Christmas is over, and you've taken the tinsel down, and thrown out the tree, what should you do with that old fruitcake that you've been using to prop open the door/to replace a missing limb/as a headrest? Fruitcake Toss Day has a "fruitful" answer.The event, which is reported as having originated in Manitou Springs, Colorado, was created in order to help people get rid of unwanted fruitcake after Christmas.
Manitou Springs has hosted the Fruitcake Toss tournament every year since 1995. During the competition, fruitcakes are thrown, hurled, catapulted and cannoned into the air using a range of inventive devices. Those braving this event would be wise to remember to look up occasionally – a frozen fruitcake in the face is a formidable force when fired from an exercise-bike-powered cannon.
The best way to celebrate this crazy holiday is simply to take part! Fruitcake Toss day is organized on the first Saturday of every January in Manitou Springs, and festivities are organized in the following manner:
Participants are expected to bring their own fruitcakes which should contain candied fruits, nuts and of course, flour, and not any inedible substances. The fruitcakes are inspected by the "Fruitcake Toss Tech Inspectors" before they are allowed to be used for competition to make sure they do not contain any substances hard enough to hurt a person that may get hit in the head with a flying fruitcake. However, you happen to forget your fruitcake at home, you may rent one on the spot.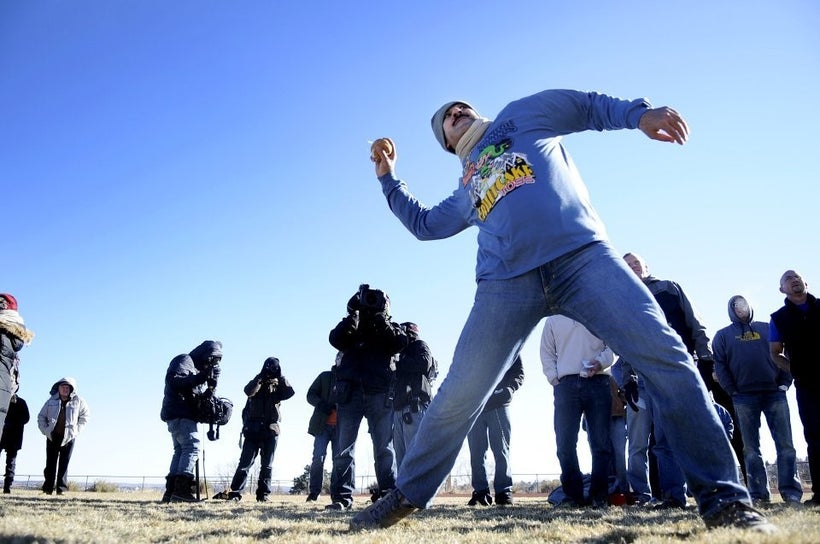 The Distance Competition is about hurling a 2-pound fruitcake as far as possible. The winner is the person able to hurl the fruitcake the farthest. The distance is measured at the final resting spot of the fruitcake, not where it first hits the ground.
Catch the Fruitcake is played in groups of three team members who are required to catch fruitcakes tossed by their own devices. In this competition, the fruitcakes must be a minimum of 1 pound in weight to make sure nobody gets hurt trying to catch them. The team that catches the most fruitcakes wins.
Accuracy with Targets is another great way to take part in the competition but not get as messy. Targets are placed out in the park at distances of 75 feet, 125 feet and 175 feet at varying angles. The goal is for each team to land in or as close to as many targets as possible. Have a great time at Fruitcake Toss Day, but don't forget to keep your eyes on the sky above you!
HOT AIR BALLOON FESTIVAL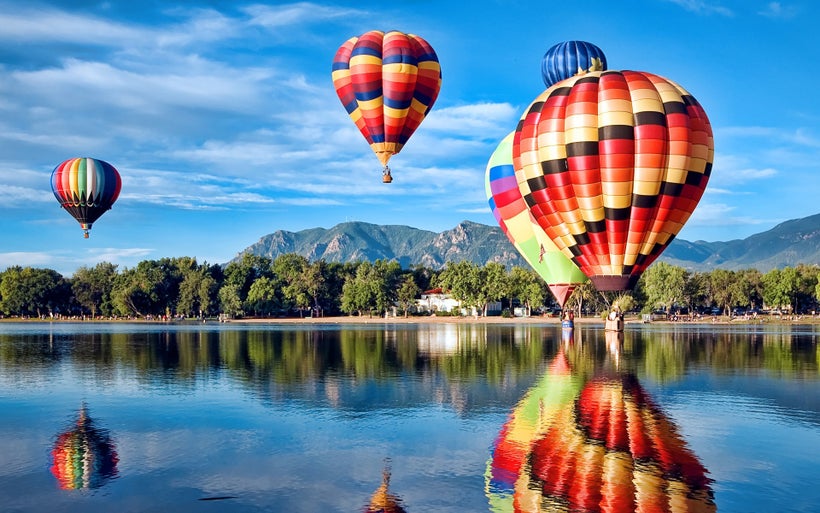 Catch sight of Colorado's vibrant fleet of hot air balloons as they turn the sky multicolored this Labor Day weekend. Completely revamped from the classic festival that Colorado natives have known since 1977, this festival continues the iconic event with live musical performances, dance troupes, car shows and skydivers, with play areas for the kids and vendors for mid-day treats.
The scenic area provides a spectacular setting to watch colorful balloons from all over the U.S. and Canada launch early in the morning and glow at night. This annual Memorial Day weekend event not only provides "oohs" and "aahs", but several activities throughout the day.
Enjoy great food, music, award winning wines, see the works of local artisans, watch balloon launches and skydivers or even participate in races. There is something here for everyone to enjoy!
HIGHLAND FESTIVAL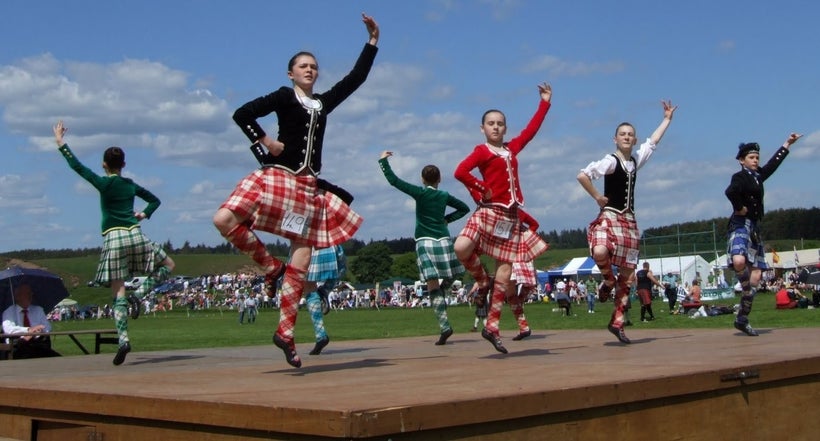 For more than three decades, Estes Park has been the backdrop for one of the nation's largest celebrations of the heritage, the sounds, the tastes, and the arts of the Scottish and Irish cultures.
Held annually the weekend after Labor Day, Estes Park's Longs Peak Scottish-Irish Highland Festival is the largest gathering of its kind between the Mississippi River and California, and traditionally hosts bands - from the marching kind to the rocking kind and everything in-between - hailing from Great Britain, Scotland, Ireland, Canada and, of course, the United States. Scottish Strong Man Competitions, hammer throws, putting the stone, and caber throwing contests are just a few of the endless medieval activities that you can behold. With jousting knights, dancing girls, hoisting athletes and calling bagpipes, groups and families of all ages will catch the Celtic spirit at this festival - surrounded by the scenic peaks of Estes Park!
One of the weekend highlights is the free hour-long parade on Elkhorn Avenue, Estes Park's main street featuring Bagpipes, drummers, dancers, clans in tartan, Dogs of the British Isles, brass military bands and precision drill teams. Also, festival-goers can browse Scottish and Irish Shopping Markets where they can find highland inspired jewelry, clothing, kilts, accessories, home décor, and more.
LOVELAND FIRE AND ICE FESTIVAL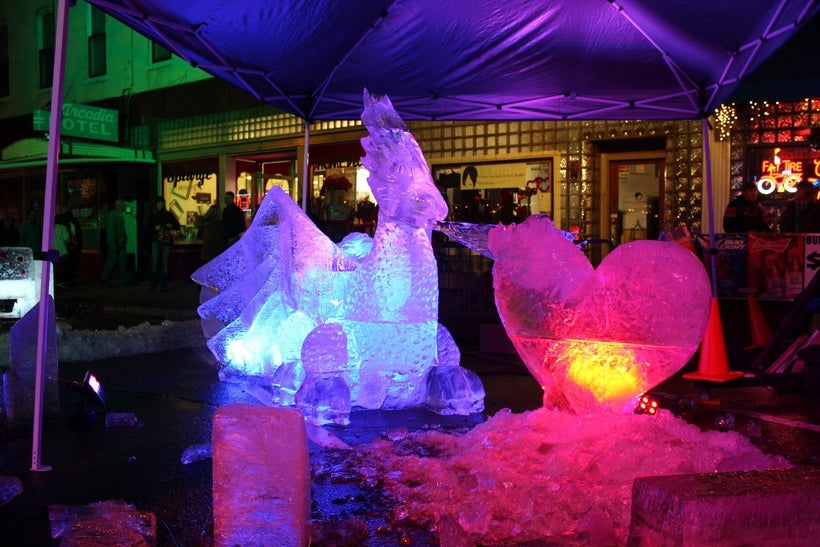 For people looking for something unusual to do on Valentine's Day, look no further. It's a appropriate that a town called Loveland would start a festival to celebrate love on the most romantic day of the year, Valentine's Day. The Fire & Ice Festival celebrates the passion of Valentine's Day, turning downtown Loveland into a magical destination where fire, ice, entertainment, and fun collide. The 2017 schedule will be packed full of live music, entertainment, and fun experiences! You don't want to miss a single performance, attraction or special event.
This family-friendly festival is free to the public and celebrates the heart of Loveland. From Fire to Ice; hot & cold, yin & yang – people of passion converge in Loveland, Colorado for Valentine's day weekend every year to celebrate love, life and the arts in all different forms.The Loveland Fire & Ice Festival brings together the arts of live entertainment, sculpting, culinary, our heroes vehicle showcase, fireworks and much more!
Loveland is well known for its immersive craft-brewing scene. This year, local craft breweries and distilleries will gather at the festival's ice bar for a weekend of ice cold brews and crafty cocktails to celebrate Valentine's Day. Experience Loveland's thriving craft beer with Grimm Brothers Brewing, Loveland Aleworks, Crow Hop, Big Beaver Brewing and more to get a taste of flavorful seasonals and local favorites. In addition to craft beer, local distillers will be showing off signature libations and custom cocktails. Additional details and ticket prices will be announced soon.
ELK FEST

The haunting call of the bull elk fills the Estes Valley during the early days of fall. To celebrate the annual elk rut and learn about the "wapiti," the Native American name for elk, Estes Park hosts the Annual Elk Fest in Bond Park and the surrounding area.
The free festival features bugling contests, Cabela's Archery Range, elk exhibits, the Rocky Mountain Raptor Program, elk seminars, elk-inspired arts and crafts, Native American music, dancing and storytelling, self-guided elk tour maps, a children's' area with elk-themed activities, and a craft beer garden.
Vendors will display artwork, handmade elk-ivory jewelry, and will offer distinctive elk cuisine. Mountain men from around the country will gather at the Mountain Man Rendezvous to sell their wares and demonstrate their skills.
Enjoy the Educational Seminar Tent to learn more about Elk and wildlife in Estes Park from a variety of professionals including Colorado Parks and Wildlife and Mile High Note Game Calls. Representatives from the Rocky Mountain Raptor Program will display on a gloved hand some of their magnificent rescued birds. It's amazing to see these majestic birds close up! Colorado Parks and Wildlife are on-site offering an Elk Camp where you can explore a variety of educational booths, and their staff will be helping in the field as attendees take the self-guided elk tour!
Live country, rock and bluegrass music will light up the park Saturday and Sunday with popular Colorado bands performing on stage.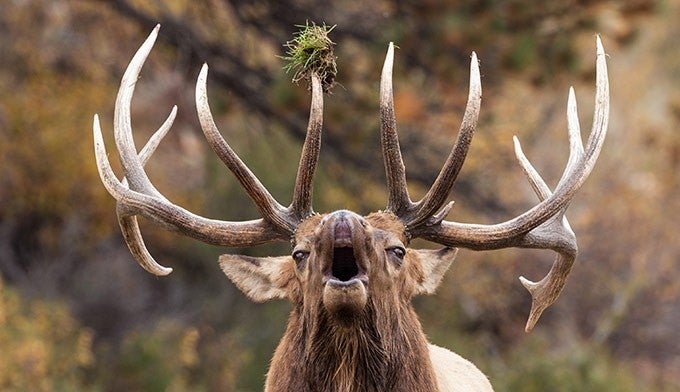 You can join in the drama of the event by helping scout the valley for large herds & competing bulls - exhibiting their rituals of bulges and battles! Take part in the amateur elk bugling contest with echoing elk calls, run in the 5k race, or experience the amazing outdoor adventures surrounded by vibrant yellow Aspen trees. Autumn in the Rockies doesn't get any better than Estes Park!
CLICK TO VIEW THE FULL FEATURE CLICK TO VIEW THE FULL FEATURE…